Savory, creamy, and packed with delicious mushroom flavor, this mushroom risotto recipe strikes the perfect balance between indulgence and comfort.
If you're looking for a dish that's comforting, nourishing, and a perfect way to incorporate mushrooms into your cooking, look no further than this recipe. With its creamy texture, earthy flavors, and wholesome warmth, it's the perfect, satisfying dish to welcome the changing of seasons.
Jump to a section:
What do you need to make mushroom risotto?
Mushroom risotto is an Italian dish that has a creamy texture and rich, earthy flavors. The key ingredients include:
Arborio Rice: Arborio rice is a short-grain, starchy rice that is essential for making risotto. Its high starch content helps create the creamy consistency of the dish.
Mushrooms: Mushrooms are the star ingredient. You can use a variety of mushrooms, such as cremini, shiitake, porcini, oyster, maitake, or a mix of different types.
Broth: Use chicken, beef, or vegetable broth to cook the rice. It provides flavor and moisture as the rice absorbs the liquid during cooking.
White Wine (Optional): Deglaze the pan with dry white wine, like Chardonnay or Sauvignon Blanc. It adds a layer of complexity and acidity to the dish.
Onion: A small onion helps to build a flavorful base for the risotto.
Garlic: Minced garlic adds depth and aroma to the dish.
Olive Oil and Butter: These fats are used for sautéing the vegetables and creating a rich, creamy texture in the risotto.
Parmesan Cheese: Use a good parmesan cheese for that salty, umami-packed flavor we all love.
Salt and Pepper: These seasonings are used to taste throughout the cooking process to ensure the risotto is properly seasoned.
Fresh Herbs (Optional): Use fresh herbs like parsley or thyme for garnish and to add a burst of freshness to the finished dish.
How to make mushroom risotto
While mushroom risotto is a relatively easy dish to make, it might sound complex if this is your first time giving it a try. Fear not, because here's a quick run down to show you the basics. The key is gradually adding the warm broth to the rice and stirring continuously until the rice is creamy and cooked.
Here's a general overview of how mushroom risotto is prepared:
Warm the broth in a separate saucepan.
Sauté the mushrooms and set aside.
Sauté the onion and garlic and add the rice to toast.
If using, add the wine to deglaze the pan and simmer until almost absorbed.
Gradually add the broth to the rice, one ladleful at a time, while constantly stirring.
Add the sautéed mushrooms when the rice is cooked to your desired level of doneness (usually al dente).
Add the grated Parmesan cheese and, if you want, an additional knob of butter.
Garnish with fresh herbs like parsley or thyme.
That's it! The process is simple but requires your constant attention. It's all worth it though, as the end result is a rich, comforting dish that celebrates the natural umami goodness of mushrooms. Plus, you get all those incredible mushroom health benefits that go along with it, making it a win-win.
Tips for making mushroom risotto
As mentioned earlier, this dish requires some attention to detail to achieve the perfect creamy texture and rich mushroom flavor. Here are some tips to help give you the best, most flavorful results:
Use the right rice: As touched upon, Arborio rice is the preferred choice for risotto. Other short-grain rice varieties like Carnaroli can also work well.
Choose a Variety of Mushrooms: Experiment with different types of mushrooms, such as cremini, shiitake, and porcini, to add depth of flavor and texture to your risotto. A mix of mushrooms can be particularly tasty. If you are a fan of foraging wild mushrooms, consider using chanterelles, morels, or even chicken of the woods in this recipe!
Prep Your Ingredients: Measure, chop, and ready all ingredients before starting as risotto requires constant attention.
Warm the Broth: Heat broth in a separate pot, keeping it warm to maintain a consistent temperature for the rice.
Sauté the Mushrooms: Sauté mushrooms in a medium-hot, pre-heated pan until they release moisture and start to brown to develop their flavor.
Toast the Rice: Toast the rice to enhance its nutty flavor and help it absorb pan flavors.
Add Broth Gradually: Add warm broth to the rice one ladle at a time. Stir constantly and allow the liquid to be absorbed before adding more for a creamy consistency.
Stir, Stir, Stir! Stir constantly to release the rice's starches for a creamy texture.
Taste and Adjust: Taste frequently, adjusting salt and pepper as needed. Rice should be al dente.
BONUS TIP: Want to add to your risotto's earthy, umami profile while also giving it an immune-supporting edge? Consider adding 2 teaspoons of Real Mushrooms 5 Defenders powder extract.
Storing and reheating mushroom risotto
Risotto is best served fresh and immediately. But if you have leftovers, here are some tips:
You can store mushroom risotto for up to four days in an airtight container in the refrigerator, but be aware that it becomes less creamy and more thick as the rice soaks up the broth over time.
When reheating, you may need to add a bit of extra broth or water to restore its creamy consistency. Stir well to incorporate the liquid.
Now on to the recipe!
Mushroom Risotto Recipe
Ingredients
1 1/2 cups Arborio rice
4 cups chicken or vegetable broth (hot)
1 cup dry white wine
1 pound fresh mushrooms (such as cremini or shiitake), sliced
1 small onion, finely chopped
2 cloves garlic, minced
2 tablespoons olive oil
2 tablespoons butter
1/2 cup grated Parmesan cheese
Salt and pepper to taste
Fresh parsley, chopped (for garnish)
Instructions
In a saucepan, bring the broth to a simmer. Reduce the heat to low and keep it warm throughout the cooking process.
In a large skillet or saucepan, heat the olive oil and 1 tablespoon of butter over medium heat. Add the sliced mushrooms and sauté them until they are brown and any liquid they release has evaporated. This should take about 5-7 minutes. Remove the mushrooms from the pan and set them aside.
In the same skillet, add the remaining 1 tablespoon of butter and sauté the chopped onion and garlic until they become translucent (about 2-3 minutes).
Add the Arborio rice to the skillet with the onions and garlic. Stir and cook for a few minutes until the rice becomes translucent around the edges.
Pour in the white wine and stir continuously until the rice has absorbed most of it.
Begin adding the hot broth, one ladleful at a time, to the rice mixture. Stir constantly and allow the liquid to be mostly absorbed before adding more broth. Continue this process until the rice is creamy and cooked al dente. This usually takes about 18-20 minutes.
When the rice is almost done, stir in the sautéed mushrooms and cook for a few more minutes to heat them through.
Remove the skillet from the heat and stir in the grated Parmesan cheese. Season the risotto with salt and pepper to taste.
Garnish the mushroom risotto with fresh chopped parsley. Serve immediately and enjoy!!
Customize & Celebrate!
Feel free to customize the mushroom risotto by adding herbs like thyme or rosemary, or even a splash of truffle oil for an extra layer of flavor if you're feeling fancy. The options are endless as to how you want to finish the dish and what you'd like to pair it with.
This dish is hearty and features the umami-packed flavors of mushrooms and parmesan, so it is a satisfying meat-replacement dish if you are trying to cut back on your meat consumption.
Overall, it's the perfect dish to share with some friends and celebrate! So invite some people over and enjoy in good health!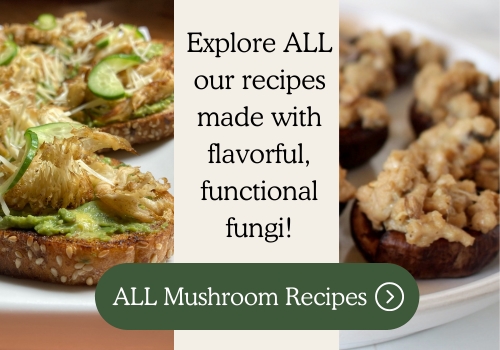 Lobster mushrooms are a fall favorite amongst foragers. These delicious fungi make a great addition to many dishes, like pasta, soups and stews, and even sandwiches. Below we present you with what we consider to be the ultimate lobster mushroom recipe to add to your culinary repertoire.
Incidentally, lobster mushrooms are not actually mushrooms – more on that below – but they are absolutely delicious and have health benefits worth noting!
We've also included two additional flavorful recipes that are sure to become favorites in your home kitchen as economical and meat-free alternatives to seafood dishes. So let's dive in and explore the world of lobster mushrooms.
In this article:
Three ways to acquire lobster mushrooms
How to prepare lobster mushrooms for cooking
The ultimate lobster mushroom recipe
Two bonus lobster mushroom recipes
Finding or Buying Lobster Mushrooms
There are three main ways to acquire lobster mushrooms.
The first option is to visit local organic produce markets. You would be able to find them during later summer and the fall when these delightful fungi are in season. However, they are usually only available fresh in Northern parts of the USA and Southern parts of Canada where they grow in the wild.
If fresh lobster mushrooms are not an option in your area, you can find many online sellers of dried mushrooms that may have them available. Take care to vet the quality of their company and products to avoid getting old, stale, or low-quality dried mushrooms.
Alternatively, if you're feeling adventurous, you can forage for lobster mushrooms yourself using these tips.
Where they grow: In the Northern parts of the USA and Southern parts of Canada, but most abundantly in the Pacific Northwest. They generally grow in coniferous forests.
When they grow: In summer and fall, particularly after rain or during times of constant humidity.
What they grow on: You will see them growing on the ground near firs, pines, and/or hemlock trees.
Lobster mushrooms have no toxic lookalikes, so they are generally easy to identify without risk.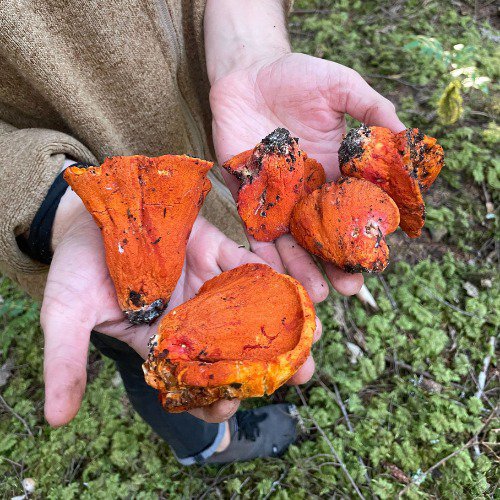 Fun Fact: It's Not Actually a Mushroom!
A lobster mushroom is not technically a mushroom at all! It is a growth that forms when a certain parasitic fungus consumes one of two types of common mushrooms: Short-stalked Russula (Russula brevipes) or Lactarius mushrooms.
As the fungus eats up the host mushroom, it generates a strangely delicious orange-red output that looks and tastes suspiciously like a cooked lobster tail. So, if you want to be technical about it, you'd be cooking up Hypomyces lactifluorum.
To the mushroom aficionado, this happy fungi accident may sound familiar: See how chaga forms.
Taste and Texture of Lobster Mushrooms
Lobster mushrooms have a unique flavor profile that sets them apart from other varieties. They offer a savory taste reminiscent of seafood. Their texture is firm yet tender, and they get slightly sweet as they cook. Similar to culinary uses of lion's mane mushrooms, they are a popular substitute for seafood in dishes.
A great lobster mushroom recipe will ideally make use of the similarities between this fungus and real lobster meat.
Health Benefits of Lobster Mushrooms
Aside from their delectable taste, lobster mushrooms also provide some health benefits. They are packed with essential nutrients such as vitamins B and D, potassium, and iron. Like other culinary mushrooms, these are low in calories, but dense in fiber, so they are ideal for filling you up and supporting your gut health.
Preparing Lobster Mushrooms
If you are using fresh lobster mushrooms, preparation prior to cooking is simple. Rinse them under cold water to remove any debris, then move on to the next step below.
If you are using dried lobster mushrooms, you'll need to rehydrate them before moving on to cooking. Place the dried mushrooms in a heat-safe bowl, then cover with boiling water. Let soak for 15-20 minutes, agitating them gently about halfway through to help loosen any debris. Carefully remove the mushroom pieces and rinse well under cold water. If the mushrooms were not dirty prior to soaking, reserve the soaking water for cooking.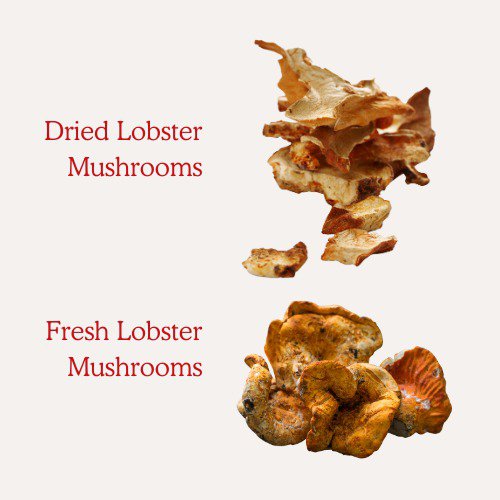 Before incorporating fresh lobster mushrooms into a recipe, it's crucial to prepare them properly. Start by cleaning the mushrooms thoroughly using a soft brush or damp cloth to remove any dirt or debris. Then slice them according to your desired thickness.
For each of the recipes below, we recommend sautéing the lobster mushrooms in a preheated pan with olive oil or butter until they turn golden brown. Make sure the pan is already hot prior to putting the mushrooms in. This is key to cooking mushrooms so they don't go soggy.
The CEO of Real Mushrooms, Skye Chilton, created the video below of his lobster mushroom foraging and how he cooked up these delicious delicacies:
Now that we've covered the basics of lobster mushrooms, let's dive into the recipes!
The Ultimate Lobster Mushroom Recipe
The following recipe can be made using fresh or dried lobster mushrooms. We have included preparation instructions for the mushrooms themselves just above this section.
Creamy Pasta With Lobster Mushroom & Vodka Sauce
This delightful creamy pasta dish featuring flavorful Hypomyces lactifluorum is a perfect choice for adventuring into a new and delicious culinary realm. It's especially fun to experiment with ingredients like these if you're looking for satisfying meat or seafood substitutes.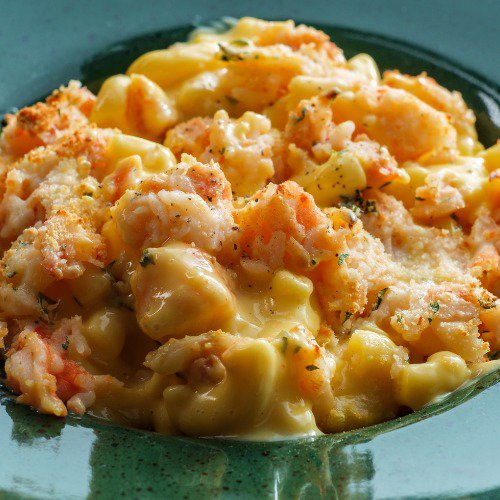 INGREDIENTS:
1 lb (450g) pasta (penne or rigatoni works well)
1 cup lobster mushrooms, sliced into 1-inch pieces
2 tbsp olive oil
1 small onion, finely chopped
3-4 garlic cloves, minced
1/2 tsp red pepper flakes (adjust to taste)
1 can (28 oz/800g) crushed tomatoes
1/2 cup vodka
1 cup heavy cream
Salt, to taste
Black pepper, to taste
1/4 cup grated Parmesan cheese, plus more for serving
Fresh basil or parsley for garnish (optional)
DIRECTIONS:
Cook the pasta in salted water for the amount of time indicated on the package. Drain and set aside.
In a large skillet, heat the olive oil over medium heat. Add the chopped onion and saute until slightly golden.
Add the minced garlic and pepper flakes and saute briefly and carefully so you don't char the garlic.
Incorporate the sliced lobster mushrooms to the skillet and cook for about 5 minutes or until they become golden brown.
Pour in the crushed tomatoes and stir. Allow the tomato mixture to simmer for about 10 minutes. Afterward, pour in the vodka, letting the sauce simmer for another 7-10 minutes. This will cook off the alcohol, leaving behind a unique depth of flavor.
Reduce the heat to low and stir in the heavy cream. Let it simmer for a few more minutes, allowing the sauce to thicken slightly. Add the grated Parmesan cheese and mix until it's melted and the sauce is smooth.
Reduce the heat to low and add the heavy cream. Stir well to combine all the ingredients.
Simmer for an additional 5 minutes, allowing all the flavors to meld together.
Add cooked pasta to the skillet and toss gently until it is well coated with sauce.
Season with salt and black pepper to taste
Serve hot, garnished with fresh parsley.
Two Bonus Lobster Mushroom Recipes
Bonus Recipe #1: Lobster Mushroom Bisque
This creamy bisque recipe is sure to become a cold-weather favorite. One of our team members adapted this recipe from the original, found on One Tomato, Two Tomato. Freshly foraged lobster mushrooms were used here, but you could easily swap with rehydrated dried ones if that's all you have on hand.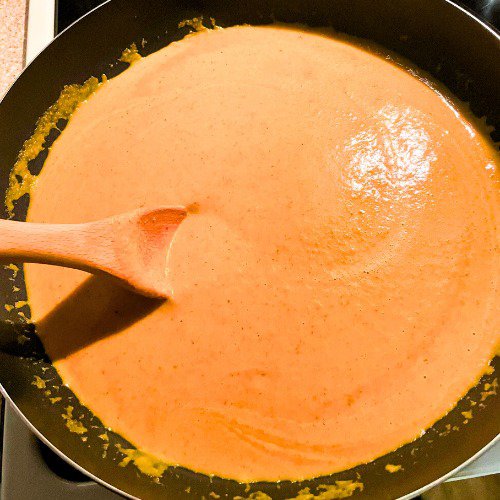 INGREDIENTS:
2-3 lbs lobster mushrooms, cleaned & thinly sliced
6 tbs butter
2 tbs olive oil
2 carrots, finely chopped
2 ribs celery, finely chopped
2 clove garlic, finely chopped
1 large yellow onion, finely chopped
2 tbs tomato paste
Kosher salt & pepper, to taste
4 sprigs parsley
Dried sage to taste
2 cups white wine
4 cups chicken stock
1 tsp tabasco sauce
1 cup heavy cream
1 tbs chopped parsley
DIRECTIONS:
In a large pot, heat butter and olive oil. On medium-high heat, add lobster mushrooms. Cook until all water is evaporated and mushrooms begin to brown.
Add carrots, celery, garlic, and onions and cook until vegetables are lightly brown, about 15 minutes.
Add tomato paste and combine. Season with salt & pepper.
Add about ¼ cup of stock to the pan to deglaze, scraping up browned bits.
Add chopped parsley, wine, stock, and water.
Bring to a simmer and cook for 1 hour until mushrooms are tender.
Puree the soup in a blender until smooth. For extra smoothness, strain through a sieve.
Return the puree to the pot and add cream. Simmer for 5 more minutes, but do not boil.
Check seasonings and serve. Sprinkle with chopped parsley.
Bonus Recipe #2: Lobster Mushroom Rolls
We found this drool-worthy recipe for meat-free lobster rolls and couldn't resist including it! If you're craving a satisfying sandwich, this is one recipe you will definitely want to try. The original recipe can be found on Forager Chef, or view his YouTube video below.
When it comes to the lobster mushroom, it is one of those strange treats that nature in all her weirdness has created and our tastebuds happily benefit from.
If you make any of these tasty dishes, be sure to share some photos and tag us on Instagram or Facebook!
If you're looking for a meat-free sandwich recipe that is packed with flavor and health benefits, then this Bahn Mi mushroom sandwich recipe is perfect for you! This vegetarian version of the classic Vietnamese banh mi sandwich features sautéed mushrooms and a unique fermented bean paste that adds an interesting twist to the traditional liver-y pâté.
Not only does this sandwich satisfy your taste buds, but it also offers numerous health benefits thanks to the three types of mushrooms used in the recipe: oyster mushrooms, shiitake mushrooms, and cremini mushrooms.
View our video for a quick recipe run-down and read on for the details:
Mushrooms: The Perfect Meat Substitute
Why Mushrooms Taste Meaty
Glutamate is a naturally occurring amino acid that plays a key role in the taste sensation known as umami. Umami is often described as a savory or meaty flavor that enhances the overall taste of food.
Mushrooms are rich in glutamate, which is why they have a naturally delicious and satisfying flavor. This makes them an excellent substitute for meat in vegetarian and plant-based recipes. When cooked, mushrooms release their natural glutamate, providing a similar umami taste to that of meat.
Of all the mushrooms, shiitake and enoki have the highest concentrations of glutamate. That's why this recipe adds in dried shiitake powder - to bring in an extra boost of umami flavor. The presence of glutamate adds depth and complexity to dishes but also helps create a more satisfying eating experience.
The dense texture of mushrooms paired with the glutamate factor gives them a meat-like quality. It's why mushrooms are an ideal alternative for those looking to reduce or eliminate meat consumption without sacrificing taste or texture.
Health-Boosting Features of this Mushroom Sandwich
By incorporating three types of mushrooms into your Bahn Mi sandwich, you not only enhance the flavor but also boost the nutritional value of your meal. Mushrooms have some amino acids, fiber types, and compounds that aren't easy to get from other sources yet are pivotal allies in maintaining cell health, immune health, and gut health.
Nutrition Benefits of Mushrooms:
Oyster Mushrooms: These mushrooms are not only tasty but also rich in essential nutrients like vitamin B and minerals like Copper. They are low in calories and fat while providing a good amount of fiber.
Shiitake Mushrooms: These are packed with antioxidants that help boost your immune system and are rich in B vitamins and copper. They also contain compounds lentinan and eritadenine that have been shown to help balance the body's inflammation response.
Cremini Mushrooms: Also known as baby portobello mushrooms, creminis are a great source of selenium, which is important for thyroid health. They also provide B vitamins and minerals like potassium and copper.
3 Unique Health Benefits of Mushrooms:
Longevity & Cell Health - While shiitake contains the highest concentration, all mushrooms are an abundant source of this Ergothioneine. This is a longevity-supporting amino acid that acts as a super-antioxidant. Ergothioneine cannot be synthesized by our bodies and mushrooms are by FAR the highest food source of it.
Gut Health - Mushrooms are abundant in 3 unique fiber types that are difficult to get from other sources: chitin, chitosan, and glucan. These fiber types support a healthy and diverse gut microbiome and can help fight off the growth of pathogens like candida.
Immune & Heart Health - All mushrooms are superb sources of beta-glucans, a polysaccharide (sugar compound) that can help regulate the immune system, balance blood sugar levels, and support heart health.
Now, get ready to tantalize your taste buds while nourishing your body with this delightful mushroom sandwich creation!
Mushroom Sandwich Recipe Instructions
Now that you have all the steps laid out for this delicious Bahn Mi mushroom sandwich recipe, it's time to gather your ingredients and start cooking! This plant-based twist on a traditional favorite is sure to impress your taste buds with its rich flavors and unique combination of ingredients. Give it a try and let us know how it turns out!
Serves: 4
Time: 45 minutes
Ingredients
Quick Pickled Veggies:
6 ounces daikon radish coarsely grated
6 ounces carrot, coarsely grated
2 tsp celtic salt
1 cup rice vinegar
1 Tbsp cane sugar
1 cup water, divided
Pâté:
1 Tbsp toasted sesame oil
1/2 ounce dried shiitake mushrooms (optional)
8 ounces cremini mushrooms, sliced
2 Tbsp fermented beans, bean paste, or beans in chile oil
4 Tbsp unsalted butter (vegans use vegan butter), divided
1 medium shallot, minced (can subsist 1/2 cup red onion, minced)
Sandwich:
1 Tbsp avocado oil
2 Tbsp Hoisin sauce
1 Tbsp Sriracha sauce (optional)
1/2 tsp celtic salt
1/2 tsp black pepper
1 lb large mushrooms such as oyster, cut into large pieces
Mayonnaise (vegans can use vegan mayonnaise)
1 baguette (about 22 inches long) or 4 crusty rolls
1 large cucumber, sliced
handful of cilantro, chopped
1 jalapeño, thinly sliced
Mushroom Sandwich Instructions
Step 1: Making the Quick Pickled Veggies
Bring 1/2 cup of water to a boil over high heat in a small saucepan.
Add the sugar and salt and stir until completely dissolved.
Remove the saucepan from the heat and add the remaining 1/2 cup water and the vinegar and stir.
Add the carrot and daikon to the water mixture (which is now brine) and let it sit for at least 20 minutes.
After 20 minutes, use it right away or store it in the refrigerator in an airtight container until ready to use.
Step 2: Making the Pâté
If using the dried shiitake mushrooms, process them for 30 seconds to 1 minute in a coffee or spice grinder until they form a powder. Discard any large chunks that might remain. You should get about 2 TB worth of powder.
Heat the toasted sesame oil in a large skillet over medium high heat.
Add the shallot and cremini mushrooms, stirring regularly until the mushrooms soften and turn brown. This should take about 10 minutes and their liquid should be evaporated.
Add the cremini, shallot mixture to a food processor and add the shiitake mushroom powder (if using), and fermented beans.
Process until you have a smooth paste.
Add the butter, 1 TB at a time, while the motor of the food processor is still running.
Use right away or keep in the refrigerator in an airtight container until needed. You should have about 1 and 1/4 cups worth of pâté.
Step 3: Making the Sandwich
Heat the avocado oil in the same large skillet and add the oyster mushrooms. Tip: To avoid getting spongy mushrooms, make sure to only add them to your pan when the oil is hot.
Season with the salt and pepper and cook until the mushrooms begin to brown and their liquid has evaporated. It should take about 8 minutes. Tip: To get a better sear on the mushrooms, you can press them with a heavy object like a small cast iron skillet.
Stir and brown the other side of the mushrooms for about another 5 minutes.
Once the mushrooms are down, brush them with Hoisin sauce. You can optionally add sriracha to the Hoisin sauce if you want a spicier sandwich!
Cut the baguette.
Spread the pâté and mayo, add the sautéed oyster mushrooms, cucumbers, quick pickles, cilantro, and jalapeño slices.
Cut the baguette, serve, and enjoy!!
Storing your ingredients
The quick pickles and the pâté can be made up to 4 days ahead and refrigerated, separately, in airtight containers.
Tailoring Your Bahn Mi Mushroom Sandwich
Mushrooms are a sustainable, healthful, and satisfying substitute for meat in this recipe. But say you don't have access to all the ingredients. Here are some ideas for substitutes:
Instead of fresh oyster mushrooms - Use large portobello mushrooms. You'll still get the density and size to be able to have large slices and a meaty texture.
Instead of dried shiitake - Use lion's mane mushroom extract powder (1 tbsp). It will have a lighter umami taste (reminiscent of seafood) but will provide a concentrated boost of unique compounds that enhance brain health and immune health.
Instead of fresh cremini - Did you know that cremini mushrooms are white button mushrooms that have been left to grow for longer? So, if you can't find cremini just use old faithful.
This recipe was a take on an original by Jim Webster.
If you make this recipe, please share your impressions and photos with us!
Instagram: @real_mushrooms
Facebook: @realmushrooms
A vegetarian twist on a classic favorite, this mushroom shawarma recipe includes two different sauces, giving your taste buds options and your belly joy.
Are you craving all the flavors of shawarma, but looking for a meatless option? We've got you covered! Enter mushroom shawarma, a delicious and satisfying vegetarian version of the classic dish that is easy to make at home and sure to please both the meat-eaters and vegetarians alike.
Get a quick summary of the mushroom shawarma recipe with this video:
Why Make This Mushroom Shawarma
Shawarma is a popular Middle Eastern dish consisting of marinated meat cooked on a spit and served in a wrap or pita bread with vegetables and a flavorful sauce. This is a delicious and satisfying meal, but there aren't typical plant-based alternatives. This is where mushrooms come in!
Culinary mushrooms like oysters, shiitake, and maitake are packed with health benefits. They are substantial and satisfying meat alternatives that deliver both nutrition and flavor.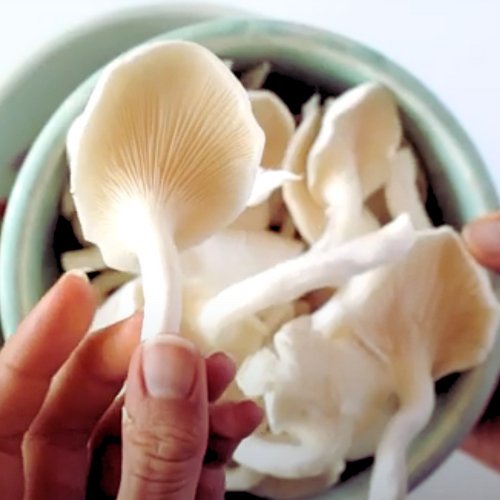 Not only did we create a recipe that replaces the meat with mushrooms, keeping all the delicious meaty flavor and texture, but we also gave you two different sauces. Whether you make one or both, you won't be disappointed!
To make mushroom shawarma, you will need a few key ingredients, including mushrooms, vegetables, spices, and pita bread.
Ingredients Breakdown
The mushrooms are the star of the dish, and you can use any variety you like, although oyster mushrooms work particularly well because of their meaty texture.
For the spices, you'll need a blend of cumin, coriander, paprika, and turmeric, which gives the mushrooms a warm and aromatic flavor.
The second stars of the dish are the sauces! We included not one, but two different sauces so you can take your pick. One sauce to satisfy your sweet tooth and one to satisfy your creamy, tangy tooth.
For the sauces, you will need greek yogurt, spices, garlic, lemon juice, apricot jam, apple cider vinegar, coconut aminos, honey, and dijon mustard. It may sound like a lot, but both sauces are incredibly easy to make. You just mix all the ingredients together in one bowl. Each sauce can be made in under five minutes!
The only hard part will be choosing which sauce to use, but here's a pro tip: the best combination is both sauces together!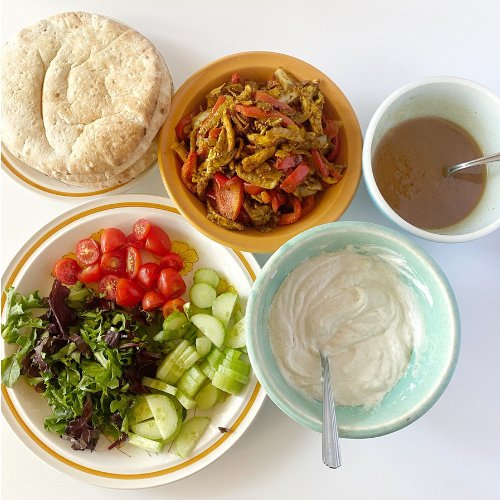 Mushroom Shawarma Recipe Directions
This mushroom shawarma is incredibly easy to make at home.
Start by slicing the mushrooms, onion, and pepper and mincing the garlic.
Next, toss them with the spice blend and some olive oil.
Then, roast the mushrooms, onion, pepper, and garlic in the oven until they are tender and the mushrooms are slightly browned.
While the vegetables are roasting, you can prepare the other ingredients for the shawarma, such as chopped vegetables, herbs, and the two different sauces.
When the veggies are almost done, you can optionally throw your pita bread in the oven to warm it up too.
When everything is ready, assemble the shawarma by placing the roasted mushrooms, vegetables, and sauce on warm pita bread.
Roll it up and enjoy!
Easy, healthy, and restaurant-worthy. Check, check, check.
Now onto the recipe!
Shawarma Ingredients:
1 lb oyster mushrooms, sliced
1 red onion, sliced
1 red bell pepper, sliced
2 cloves garlic, minced
2 tbsp. olive oil
1 tbsp. ground cumin
1 tbsp. ground coriander
1 tsp. smoked paprika
1/2 tsp. ground turmeric
Salt and black pepper, to taste
Pita bread
Toppings (optional): lettuce, tomatoes, cucumbers, sauce
Instructions:
Preheat the oven to 400°F.
In a large bowl, toss the sliced mushrooms, red onion, red bell pepper, and minced garlic with olive oil, cumin, coriander, paprika, turmeric, salt, and black pepper.
Spread the mushroom mixture evenly on a lined baking sheet and roast in the oven for 20-25 minutes, stirring once or twice. You want the vegetables to be tender and lightly browned.
While the vegetables are roasting, warm the pita bread in the oven for a few minutes if you'd like.
Assemble the shawarma by placing some of the roasted mushroom mixture, chopped vegetables/herbs, and sauce on your warm pita bread.
Serve hot and enjoy your tasty mushroom shawarma!
As promised, here are two different sauces to choose from:
Sauce #1 - Tangy & Spicy
If you're looking for a tangy, slightly spicy flavor to accompany your shawarma, this yogurt-based sauce is for you! It is cooling and refreshing and pairs well with the warm spices used in the dish.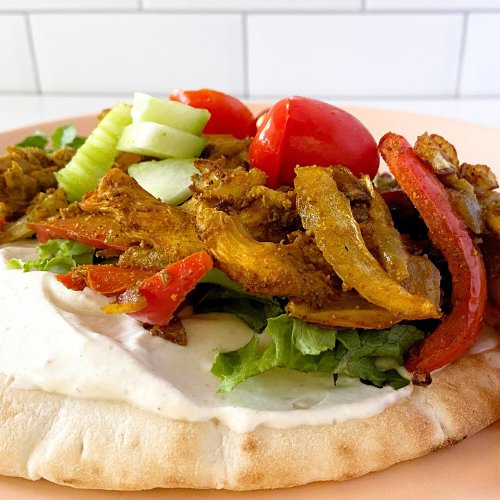 Ingredients:
1 cup plain Greek yogurt (vegans can use coconut yogurt)
2 cloves garlic, minced
2 tbsp. freshly squeezed lemon juice
1 tbsp. extra-virgin olive oil
1/2 tsp. ground cumin
Salt and black pepper to taste
optional: a pinch of cayenne to give it an extra kick
Instructions:
In a small mixing bowl, whisk together the Greek yogurt, minced garlic, lemon juice, olive oil, cumin, salt, and black pepper until everything is well combined.
Taste the sauce and adjust the seasonings to your preference.
Sauce #2 - Sweet & Sour
If you're looking for a sweet and tangy sauce, this one's for you! It combines the fruity flavor of apricot jam with savory spices and pairs well with the earthy flavor of mushrooms.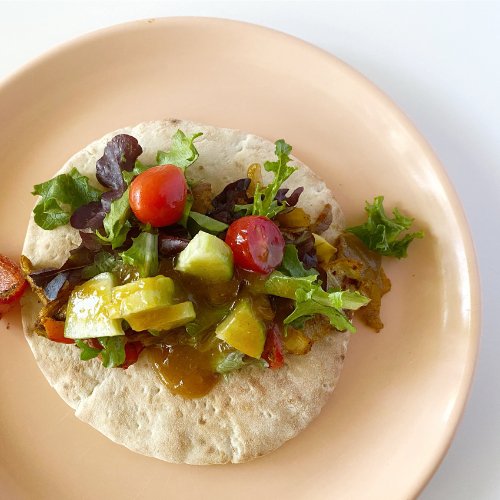 Ingredients:
1/2 cup apricot jam (you can also try a different jam!)
1/4 cup apple cider vinegar
2 tbsp. coconut aminos
1 tbsp. honey (vegans can use date paste)
1 tbsp. Dijon mustard
1/2 tsp. ground ginger
1/4 tsp. garlic powder
Salt and black pepper to taste
Instructions:
In a small mixing bowl, whisk together the apricot jam, apple cider vinegar, coconut aminos, honey, Dijon mustard, ground ginger, garlic powder, salt, and black pepper until everything is well combined.
Taste the sauce and adjust the seasonings to your preference.
With its flavorful spices, fresh vegetables, and nutritious flavorful fungi, this mushroom shawarma is a crowd-pleaser that makes for the perfect dish to enjoy with friends. So invite some people over and try it out at home!
Easily add the multiple benefits of mushrooms to your diet with extract powders made from the highest order of functional fungi like reishi and lion's mane.  
CLICK HERE to shop our mushroom supplement lineup!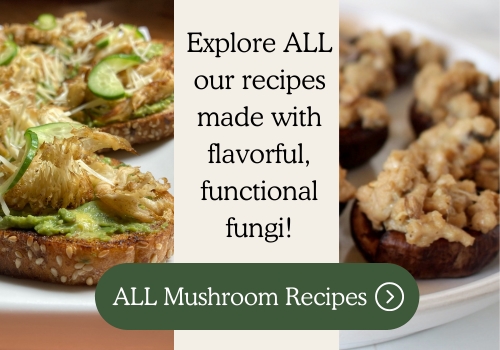 For anyone new to keto, the question, "Are mushrooms keto-friendly?" is unavoidable.
And the answer is a resounding yes! Mushrooms are perfect for keto primarily because they're low on carbohydrates.
That's not all.
Mushrooms also provide a host of vitamins and micronutrients that help resolve common challenges of the ketogenic diet.
As you may know, keto is a high-fat, low-carb diet that restricts most fruits and vegetables due to their high carb content. This can pose a challenge when it comes to meeting your daily fiber, vitamin, and mineral requirements.
Mushrooms' fiber and essential nutrient content can play a massive role in helping you stay the keto course.
Moreover, adding functional mushroom supplements to your list of keto foods introduces adaptogens that are beneficial to any dieter.
That's why today we want to delve deeper into:
3 Reasons Why Mushrooms Are Perfect for Keto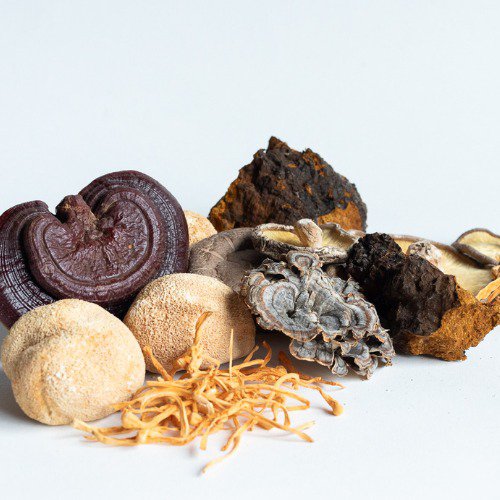 Mushrooms are an ace in the hole in achieving the keto trifecta—high fat, moderate protein, and low carb.
To stay true to the keto diet, you need your total daily calories — 2,000 for women and 2,500 for men — to come primarily from fats. We break down keto nutrient distribution in the table below (1).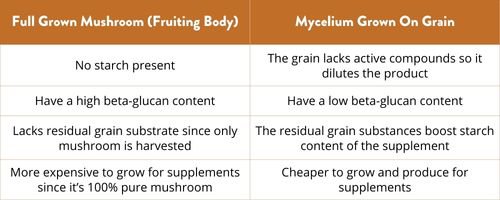 For context, one banana (∼100 grams) may give you anywhere between 23–27 g of carbs.
This begs the question: how low is the carb content of mushrooms compared to the limits of keto?
Low Carbohydrate Content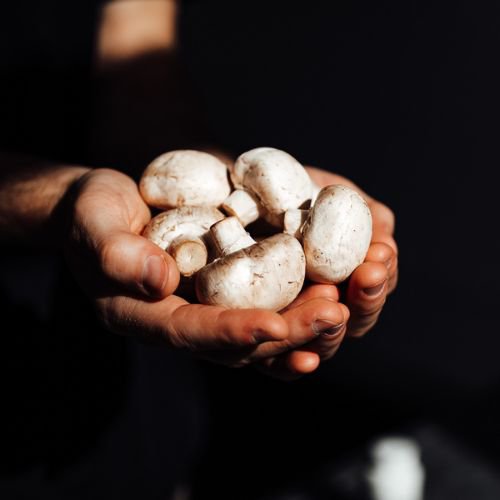 The carb content of mushrooms ranges between 4 g per 100 grams for white button mushrooms and 8.5 g per 100 grams for king oyster mushrooms.
This is well below the minimum carb threshold you're aiming for with keto.
For your body to stay in ketosis (burning fat instead of sugar), your daily intake of carbs should be approximately 35 g and no more than 50 g.
While you need to be more cautious with shiitake mushrooms, adding a serving of mushrooms (100 g, or about 4 oz) to one or more meals will give you amazing nutritional benefits without spiking your blood sugar or destabilizing ketosis.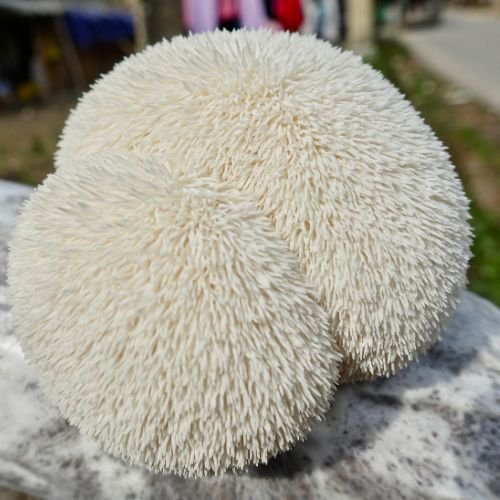 Source of Dietary Fiber and Beta-D-Glucan
Despite being low carb, mushrooms have a relatively high fiber content: 1.7–4.4 g of fiber per 100 grams of mushrooms. That's better than carrots or broccoli!
Fiber is typically found in fruits, veg, and grains, which are all restricted in keto. Therefore, you'll need all the fiber you can get to aid your digestion while following the keto diet.
Mushrooms contain two types of dietary fiber:
Insoluble fiber: Bulks up your stool and eases the passage of food through the intestines
Soluble fiber: Stabilize blood sugar levels by slowing down nutrient absorption in the gut
Here's where it gets interesting.
Mushrooms are an excellent source of a specific type of soluble fiber called beta-d-glucan.
Beta-d-glucan, an immunomodulator, binds to immune receptors, up-regulating or down-regulating immune responses according to your body's needs.
Benefits of beta-d-glucan include:
Decreased levels of bad cholesterol in the blood (LDL), therefore lowering your risk of heart disease (2)
Regulation of the body's immune response and inflammatory triggers, helping you avoid a prolonged state of inflammation (3)
Lower blood sugar levels due to increased insulin sensitivity in the body's tissues, which absorb and use glucose more effectively (4)
Functional mushrooms, such as reishi, turkey tail, and cordyceps, are good sources of beta-glucans, giving you about 25% of your recommended daily intake.
To tie it all together, mushrooms' fiber content may be the answer to challenges common in the keto diet. These include:
Constipation due to low fiber intake
Increased inflammatory markers because of the higher intake of saturated fats
Struggle to maintain ketosis (fat burning) since blood sugar levels may fluctuate based on food, physical activity, medication, hormones, or sleep
A Powerhouse of Vitamins, Minerals, and Antioxidants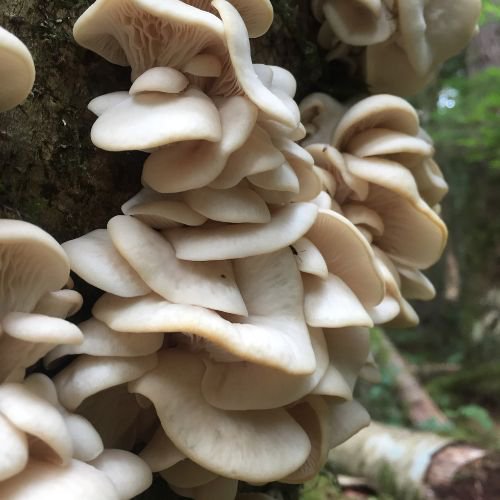 Five servings of fruit and vegetables per day give us the vitamins and minerals we need to function healthily.
Unfortunately, keto diet restrictions can severely limit your nutrient options. This is where mushrooms come in, helping you bridge the nutrient gap.
Essential nutrients in mushrooms include:
Potassium: Helps regulate your heartbeat, muscle, and nerve function, as well as fluid balance in the body (5)
Niacin: Aids in converting food into energy and repairing damaged DNA (6)
Pantothenic acid: Helps your metabolism to function properly and aids in the building and breakdown of fats in the body (7)
Selenium: Powerful antioxidant that protects your body from damage caused by excess free radicals and supports proper function of the thyroid gland and production of thyroid hormones (8)
Ergothioneine: Stable antioxidant that protects red and white blood cells from oxidative damage (9)
Glutathione: Antioxidant that's essential for the proper function of the immune system, building and repair of tissues, and protection of cells from oxidative damage (10)
The ketogenic diet can affect your metabolism, fat breakdown, hormonal balance, kidney function, and energy levels (11).
Boosting the above nutrients with mushrooms will help you remain healthy throughout your keto journey.
Now, let's look at a few delicious, keto-friendly mushroom recipes.
Savory Recipe: Keto Stuffed Mushrooms
Why we love this recipe: It's a simple, mostly hands-off recipe that's packed with flavor, healthy fats and protein, and the mushroom superfood lion's mane, which supports heart, brain, and gut health.
Serves: 6
Prep time: 10 minutes
Cook time: 35 minutes
Ingredients:
1 lb medium cremini mushrooms (baby bellas)
1 lb ground turkey
4 oz shredded mild cheddar cheese
1 tbsp avocado oil
3 freshly chopped garlic cloves
Salt and pepper to taste
For serving: 1 sliced avocado and freshly chopped parsley
Instructions:
Preheat the oven to 350° F.
Chop garlic cloves.
Remove mushroom stems, rinse mushroom caps, and pat them dry. Chop the mushroom stems and set aside for the stuffing.
Heat the avocado oil in a skillet on medium heat and sauté the chopped garlic for a few minutes.
Add chopped mushroom stems to the skillet and sauté.
Cook the ground turkey in the same skillet for about 7 minutes or until it has browned.
Add salt and pepper to taste and the Organic Lion's Mane Mushroom Powder.
Mix the cheese into the turkey stuffing and cover the skillet for 1–2 minutes. Uncover and stir until all the cheese is melted and combined with the turkey.
Fill the inside of each mushroom cap with the turkey mixture and place them on a lined baking tray.
Bake for 10–12 minutes or until the mushroom edges are slightly browned.
Serve with freshly sliced avocado and a sprinkle of fresh parsley.
Expert Tip: If you want a meatier flavor and texture or more substantial portions, switch out the cremini mushrooms for portobellos.
For a creamier stuffing, our Spinach Artichoke Stuffed Mushrooms are the way to go. Plus, they're keto-friendly too.
Sweet Recipe: Keto Cinnamon "Sugar" Donut Holes
Why we love this recipe: It'll satisfy your sweet tooth craving while being fully keto-friendly and delivering brain health benefits, thanks to the lion's mane mushroom.
Serves: 12 donut holes
Prep time: 15 minutes
Cook time: 15 minutes
Ingredients:
Keto Donut
1¼ cup almond flour
1 tbsp cinnamon
1 tsp baking powder
Pinch of salt
1 tsp vanilla
2 tbsp ghee or melted coconut oil
1 egg
3 tbsp of your fave sweetener e.g. monk fruit/xylitol
Cinnamon Sugar
3 tbsp of your fave sweetener
2 tbsp melted ghee or coconut oil
1 tbsp cinnamon
Instructions:
Preheat oven to 350° F.
In a glass bowl, combine lion's mane powder, salt, baking powder, cinnamon, almond flour, and sweetener. Mix until well combined.
Thoroughly mix in your wet ingredients—vanilla, egg, and coconut oil/ghee.
Refrigerate the dough for 10–15 minutes to make it more workable.
Roll the dough into 12 balls.
Bake on a parchment-lined baking tray for 15 minutes.
While they bake, make your cinnamon 'sugar' coating by mixing the sweetener and cinnamon.
After your keto donuts have cooled, dip each one in the melted coconut oil or ghee and roll in the cinnamon sugar mix.
"I love Lion's Mane in my morning coffee. It gives me energy, clarity, and focus and helps me be on point in my communication. It helps with recall and retention."
- Tammera
Cacao Coconut Mushroom Tonic
Why we love this recipe: It's a calming drink that can help stabilize your energy levels throughout the day.
Ingredients:
1 pinch of sea salt
1 heaped tbsp raw, organic cacao
1 tsp coconut butter
500 ml of water, off boil for 2–3 minutes
Your favorite keto sweetener
Instructions:
Blend all ingredients together until smooth. Top with black sesame seeds.
Do Keto the Healthy Way With Real Mushrooms
If you're ready to ramp up your keto journey with the nutritional benefits of mushrooms, try the 100% certified organic range of mushroom supplements from Real Mushrooms.
Resources:
Diet Review: Ketogenic Diet for Weight Loss. (2019, May 22). The Nutrition Source. https://www.hsph.harvard.edu/nutritionsource/healthy-weight/diet-reviews/ketogenic-diet/
Sima, P., Vannucci, L., & Vetvicka, V. (2018). β-glucans and cholesterol (Review). International journal of molecular medicine, 41(4), 1799–1808. https://doi.org/10.3892/ijmm.2018.3411
Hoffman, O. A., Olson, E. J., & Limper, A. H. (1993). Fungal beta-glucans modulate macrophage release of tumor necrosis factor-alpha in response to bacterial lipopolysaccharide. Immunology letters, 37(1), 19–25. https://doi.org/10.1016/0165-2478(93)90127-n
Chen, J., & Raymond, K. (2008). Beta-glucans in the treatment of diabetes and associated cardiovascular risks. Vascular health and risk management, 4(6), 1265–1272. https://doi.org/10.2147/vhrm.s3803
Potassium. (2021, November 19). The Nutrition Source. https://www.hsph.harvard.edu/nutritionsource/potassium/
Niacin – Vitamin B3. (2020, July 6). The Nutrition Source. https://www.hsph.harvard.edu/nutritionsource/niacin-vitamin-b3/
Pantothenic Acid – Vitamin B5. (2020, August 11). The Nutrition Source. https://www.hsph.harvard.edu/nutritionsource/pantothenic-acid-vitamin-b5/
Office of Dietary Supplements - Selenium. (n.d.). https://ods.od.nih.gov/factsheets/Selenium-HealthProfessional/
Fu, T. (2022, March 18). Ergothioneine as a Natural Antioxidant Against Oxidative Stress-Related Diseases. Frontiers. https://www.frontiersin.org/articles/10.3389/fphar.2022.850813/full
Minich, D. M., & Brown, B. I. (2019). A Review of Dietary (Phyto)Nutrients for Glutathione Support. Nutrients, 11(9), 2073. https://doi.org/10.3390/nu11092073
Batch, J. T., Lamsal, S. P., Adkins, M., Sultan, S., & Ramirez, M. N. (2020). Advantages and Disadvantages of the Ketogenic Diet: A Review Article. Cureus, 12(8), e9639. https://doi.org/10.7759/cureus.9639
This flatbread recipe combines wholesome ingredients with the health benefits of Cordyceps mushrooms, creating a decadent yet nutritious meal that is sure to be a crowd-pleaser.
Whether you're looking for a savory appetizer, a light meal, or a dish to impress your dinner guests, this Cordyceps mushroom and caramelized onion flatbread recipe is sure to tick all the right boxes. Bonus: it also ticks the multi-benefit health box too!
The combination of earthy mushrooms, sweet onions, and tangy goat cheese on crispy flatbread is a flavor explosion. And, when you throw in Cordyceps' ability to enhance energy, improve respiration, and support the immune system, you have one powerful and tasty meal.
What are the health benefits of Cordyceps mushrooms?
Cordyceps mushrooms have been used for centuries in Traditional Chinese Medicine to address a variety of ailments, to strengthen the lungs and kidneys, and to improve a person's vitality.
Today, Cordyceps mushrooms are gaining popularity in the Western world for their many health benefits (and their fictitious role in a video game/tv series).
Cordyceps mushrooms are rich in antioxidants, vitamins, and minerals, but they have also been shown to:
balance your inflammation response;
support your testosterone levels & libido;
maintain blood sugar balance & heart health; and,
Learn more about the abundant benefits of Cordyceps mushrooms here.
From Traditional Chinese Medicine all the way to your kitchen, you can now enjoy all those benefits when you whip up this delicious flatbread!
What do Cordyceps mushrooms taste like?
Cordyceps' taste can vary depending on how it is prepared and what it is prepared with. Some have described it as having an earthy and nutty flavor, with a hint of umami. It pairs excellently with the goat cheese, caramelized onions, and balsamic vinegar found in this recipe.
In general, fresh Cordyceps have a more mild, earthy flavor, similar to other mushrooms, and dried Cordyceps have a slightly stronger flavor.
When consumed in a powder extract form, the taste is very mild and easily masked by other ingredients, making it a great addition to soups, stews, and pre-workout smoothies!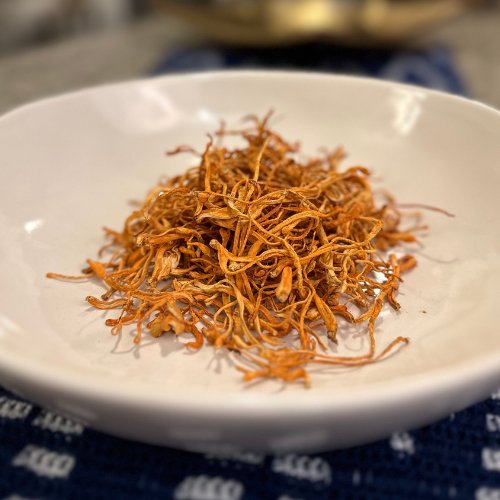 Where to buy dried Cordyceps mushrooms for cooking
For an in-depth shopping guide, take a look here. The gist is:
How to cook dried Cordyceps Mushrooms
Dried Cordyceps mushrooms are incredibly easy to cook. We suggest poaching them for this recipe. For a detailed run down, you can take a look at this article.
The basics of poaching dried Cordyceps:
Soak the Cordyceps for 5 minutes and then drain.
Bring a pot of water to a low boil and simmer for one minute then strain.
Throw them in an ice bath to stop the cooking.
And that's it! As we said, easy!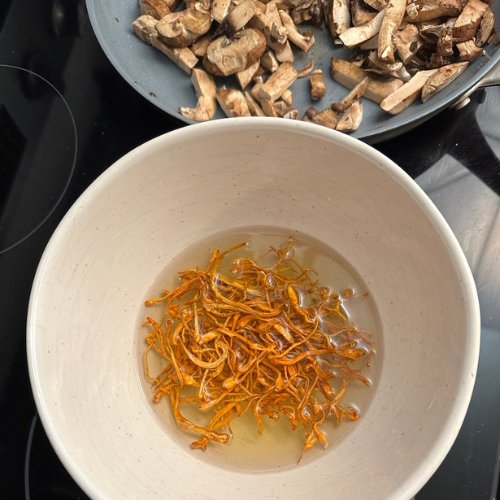 How to Make this Cordyceps Mushroom & Caramelized Onion Flatbread
Keeping with the theme of ease, this whole recipe requires just a few ingredients and can be done in a short amount of time. The most time-consuming part is caramelizing the onions - everything else can be done in under 20 minutes! However, we guarantee you the effort of doing a slow, proper caramelization of your onions will bring you outstanding flavor. It will make this dish restaurant-worthy.
Here are the basics:
Make the Cordyceps as described above.
Caramelize the onions.
Fry the shiitake mushrooms.
Coat the flatbread in olive oil and top with Cordyceps, onion, shiitake, and goat cheese.
Bake it in the oven for up to ten minutes
Remove and serve with balsamic vinegar.
The longest part of this recipe is cooking the onions because you want them to really caramelize. The wait is worth it though because your guests and your taste buds will be crediting you with culinary praise, thinking you slaved for hours over the recipe.
Ingredients
1 cup dried Cordyceps mushrooms
1 cup slices of fresh shiitake or button mushrooms
1 white or yellow onion, sliced thin
2 1/2 tbsp olive oil
1 tsp sugar
½ cup goat cheese, crumbled
1 tbsp balsamic vinegar
Pre-baked flatbread or puff pastry
Salt & pepper to taste
Directions
Poach the Cordyceps according to the directions here.
Caramelize the onions in olive oil with a little salt and sugar (you can use the excellent instructions in this blog post). They are ready when they are a deep golden brown.
Fry the shiitake mushrooms in olive oil, salt, and pepper to taste.
Coat the flatbread lightly in olive oil.
Top the flatbread with caramelized onions, shiitake mushrooms, Cordyceps mushrooms, and goat cheese.
Put the flatbread in the oven at 350 F degrees for up to ten minutes until the cheese is warm.
Remove from the oven and drizzle with balsamic vinegar before serving.
Enjoy!!
Important notes about the recipe:
Don't overcook the mushrooms.
DO cook the heck out of the onions on low heat for at least 40 minutes (that's the secret to true, sweet caramelized onions).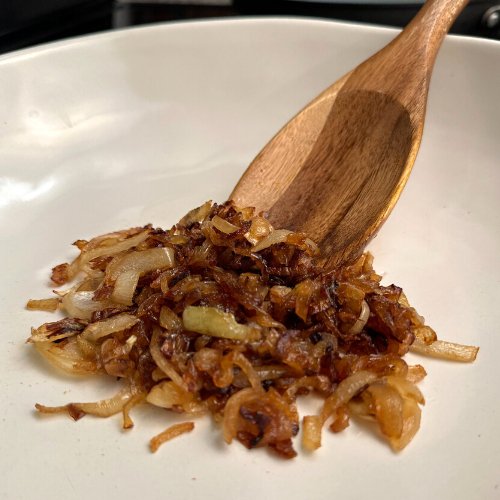 If you're looking for an easy and satisfying way to incorporate the benefits of Cordyceps mushrooms into your diet, this flatbread is for you! Whether you're looking for a boost in energy, endurance, or immunity, or simply trying to maintain a healthy lifestyle, this Cordyceps flatbread is a wonderful choice.
So invite some friends over, throw a dinner party, or just treat yourself to a true culinary delight and give this recipe a try!
Get the health benefits of Cordyceps without any fuss: discover Real Mushrooms' Cordyceps supplement:
If you're looking for a new way to use mushrooms in your cooking, look no further than Cordyceps. This medicinal mushroom is gaining popularity in the culinary world for its earthy flavor and wide range of health benefits. Eating Cordyceps mushrooms, a.k.a. caterpillar mushrooms, is one way to bring diversity and color into your everyday meals. The unique nutritional profile of this mushroom also makes it a winner for the health-conscious foodie.
Cooking Cordyceps is easy, and there are endless possibilities for recipes. We'll show you the simplest way to prepare Cordyceps mushrooms so you can enjoy their delicious flavor and health benefits any time you want.
Where to Buy Cordyceps Mushrooms
When shopping for cordyceps mushrooms, you might notice there are two main varieties: Cordyceps sinensis and Cordyceps militaris.
The first, Cordyceps sinensis a.k.a Himalayan gold, is a functional mushroom that grows in very few regions of the world. Additionally, Cordyceps sinensis only grows on the caterpillar of one very specific moth. Given such precise growing circumstances, it has become so rare and sought after that the price tag is out of reach for most people (around $20,000 per kilogram!). Its alternative name clearly rings true as Cordyceps sinensis is the most expensive mushroom in the world - gold indeed!
The good news is Cordyceps militaris is a wonderful and very affordable alternative. It can be commercially cultivated on brown rice or wood substrate. This makes the Cordyceps mushroom more readily available for the average consumer, and it provides the same kind of healthy compounds as the sinensis variety. In fact, Cordyceps militaris contains even higher concentrations of the key health-supporting compound, cordycepin (which will be discussed later in the article). Good news for our bodies and our wallets!
A few helpful hints for your shopping excursions:
Dried Cordyceps militaris are generally easier than finding fresh ones.
You can buy them online or Asian food markets will usually have them, too.
They will be easy to find in stores around a city's Chinatown because Chinese Traditional Medicine practitioners use them.
And if you see mushrooms labeled Cordyceps sinensis with a lower price tag, you know something fishy is going on (i.e. it's probably fake)!
Why It's Worth Eating Cordyceps Mushrooms
Now that you know what you're looking for and where to buy it, why would you even want to include Cordyceps in your diet in the first place? What health benefits do Cordyceps mushrooms have? And the all-important question, do they taste good?
If you like an earthy and nutty flavor, with a hint of umami, then the answer is yes, Cordyceps mushrooms do taste good! And if you've been looking for a new culinary ingredient with an abundance of health benefits, then eating Cordyceps is for you!
The Neutraceutical Value of Cordyceps
Pleasant taste and positive health support are two huge reasons to give this mushroom a try. But, if you're not quite convinced yet, let's dive further into the benefits of Cordyceps militaris from its nutraceutical standpoint.
First things first, what does "nutraceutical" mean? The word was first introduced by DeFelice who combined the two words "nutrition" and "pharmaceutical" and defined it as "food or a part of food which not only impart health benefits but also contributes in preventing or treating various diseases." To sum it up, nutraceuticals are components found in food that play an important role in maintaining your normal physiological function and well-being (1, 2). They're the good stuff you want, and cordyceps has plenty of them!
In fact, Cordyceps is full of nucleosides, polysaccharides, sterols, proteins, amino acids, polypeptides, and vitamins. And if you're scratching your head trying to figure out what that means for your body and health, this table breaks it down for you.
As you can see from the table, there are various bioactive components found in Cordyceps, and they all have great therapeutic effects. Out of all of them, though, cordycepin is considered to be the most vital.
Cordyceps have a wide range of therapeutic potential. Studies have shown that Cordyceps mushrooms can support your health in the following ways (3, 4, 7):
balance your inflammation response;
support your Testosterone levels & libido;
maintain blood sugar balance & heart health; and,
Talk about a small-sized mushroom with big talents!
The Nutritional Benefits of Eating Cordyceps
On the nutritional side, Cordyceps militaris contains vitamins B1, B2, B12, E, and K. And that's not all - it is abundant with proteins, fats, essential amino acids, volatile oils, carotenoids, phenolic compounds, flavonoids, and minerals (Fe, Ca, Mg, Ni, Sr, Na, Ti, Pi, Se, Mn, Zn, Al, Si, K, Cr, Ga, V and Zr). Finally, Cordyceps militaris has different types of healthy carbohydrates like monosaccharides, oligosaccharides, sterols, nucleosides, and polysaccharides like beta-glucans, (3, 9, 5, 8, 6).
Vitamins, check. Minerals, check. A nutritional powerhouse, check. Something you probably want to include in your diet, check check!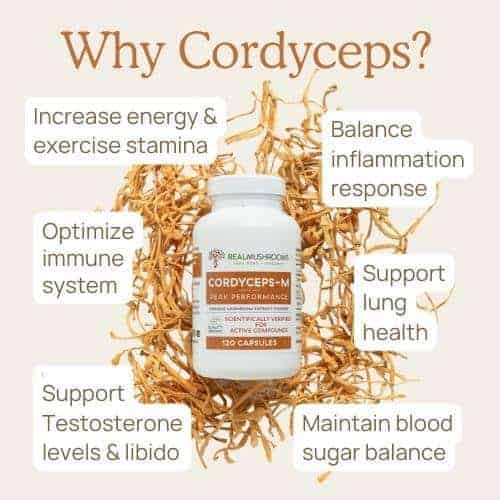 The Basics of Cooking Cordyceps
Now that you know how beneficial this mushroom is for you, you'll want to discover ways to use it. The great news is, Cordyceps is easily prepared and can be added to many recipes to boost both the taste and nutritional profile. To show you just how easy, here's a basic rundown of how to cook dried Cordyceps:
Ingredients:
1 ounce (30g) of dried Cordyceps mushrooms
Water for soaking and for poaching
Favorite seasonings: salt, pepper, sesame oil, etc
Instructions:
Place your dried Cordyceps in a bowl filled with enough water to cover them. Soak for 5 minutes.
Drain the Cordyceps and place them in a saucepan filled halfway with water. Bring the water to a very low boil and simmer for 1 minute while stirring. Be mindful not to overcook unless you want a soggy mess - they don't take long to soften!
After simmering, transfer the softened Cordyceps to a bowl filled with ice water. You can use a slotted spoon for this. Submerge the Cordyceps in the ice water for 5 minutes. This stops the cooking to keep the texture and color.
After the ice bath, drain and season to your liking.
Serve warm or cold! Add to pasta, stir frys, salads, pizza, soup, or any of your favorite dishes. You really can't go wrong!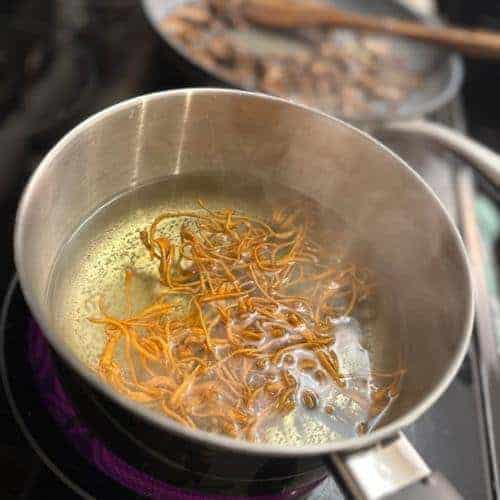 5 Creative Uses of Cordyceps in Recipes
Once you've got the basics of cooking Cordyceps down, you can move on to the fun part - finding your favorite food combinations with it. The delicious taste and versatility of Cordyceps mushrooms make them an easy addition to numerous meals.
If you need some help getting the creative juices going, consider adding cordyceps to these dishes:
Garlic and olive oil pasta with shallots and chives.
Chicken soup or egg-drop soup.
Stir fry of tofu, cabbage, peppers, chili, and sesame oil.
Caramelized onion and goat cheese flatbread.
Make your favorite version of the dishes and throw some Cordyceps in it. In all cases, try to cook the Cordyceps just until they soften. Otherwise, overcooking these mushrooms will turn them rubbery and will make eating Cordyceps a less pleasant experience.
Getting the Benefits Without Eating Cordyceps
Although cooking Cordyceps is incredibly simple, there's an even easier route; one where you can get all those health benefits on a daily basis - without turning on the stove at all. Enter Cordyceps supplements.
Tips For Buying Quality Cordyceps Supplements:
There are 3 types of cordyceps supplements that are commonly found on the market: Cordyceps CS-4, Cordyceps myceliated grain, and extract of Cordyceps mushrooms (militaris). All are very different, and the last one is what you want if you're looking to get the most benefit for your dollar.
It's important to find Cordyceps supplements that have actual mushrooms in them, not mycelium (the root structure of mushrooms). This is because you want to make sure you're receiving the higher levels of all those incredible health-supporting compounds that are found in the actual mushroom. Interesting fact, most North American-grown Cordyceps products are myceliated grain, and that grain ends up being a large portion of the final product. You don't want to be paying for grain!
Besides not containing any mycelium, you also want to make sure that the supplement has no added starch or grain of any kind. You want to make sure the powder contains high amounts of those bioactive compounds, and you're not just consuming fillers.
Make sure the supplement facts panel specifies beta-glucan content (one of the primary compounds that make Cordyceps healthful) and look for certified organic.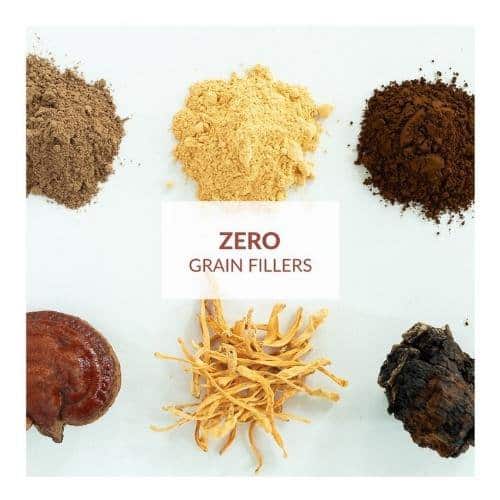 You can find Cordyceps supplements in capsule form or as a powder. You can add the powder to your favorite tea, coffee, or hot chocolate. Or sprinkle it on top of salads, eggs, soups, stir frys, your favorite dishes, etc. There's truly no limit to what you can do with Cordyceps extracts.
If you're looking for other creative ways to easily add Cordyceps extract powder to your snacks and drinks, check out this article.
Whether you decide to get creative in the kitchen and whip up some culinary masterpiece with Cordyceps mushrooms, toss some on your favorite dish you're already cooking, or you go the supplement route - one thing is sure: you can't go wrong with eating Cordyceps!
References:
1. Ahmad F., Ashraf S.A., Ahmad F.A., Ansari J.A., Siddiquee R.A. Nutraceutical Market and its Regulation. Am. J. Food Technol. 2011;6:342–347. doi: 10.3923/ajft.2011.342.347.
2. Ashraf S.A., Adnan M., Patel M., Siddiqui A.J., Sachidanandan M., Snoussi M., Hadi S. Fish-based Bioactives as Potent Nutraceuticals: Exploring the Therapeutic Perspective of Sustainable Food from the Sea. Mar. Drugs. 2020;18:265. doi: 10.3390/md18050265.
3. Elkhateeb W.A., Daba G.M., Thomas P.W., Wen T.C. Medicinal mushrooms as a new source of natural therapeutic bioactive compounds. Egypt. Pharm. J. 2019;18:88–101.
4. Bawadekji A., Al Ali K., Al Ali M. A Review of the Bioactive Compound and Medicinal Value of Cordyceps militaris. J. North Basic Appl. Sci. (JNBAS) 2016;1:69–76. doi: 10.12816/0021378.
5. Hur H. Chemical Ingredients of Cordyceps militaris. Mycobiology. 2008;36:233–235. doi: 10.4489/MYCO.2008.36.4.233.
6. Li S., Li P., Ji H. RP-HPLC determination of ergosterol in natural and cultured Cordyceps. Chin. J. Mod. Appl. Pharm. 2011;18:297–299.
7. Wang D., Zhang Y., Lu J., Wang Y., Wang J., Meng Q., Lee R.J., Teng L. Cordycepin, a Natural Antineoplastic Agent, Induces Apoptosis of Breast Cancer Cells via Caspase-dependent Pathways. Nat. Prod. Commun. 2016;11:63–68. doi: 10.1177/1934578X1601100119.
8. Yang F.Q., Feng K., Zhao J., Li S.P. Analysis of sterols and fatty acids in natural and cultured Cordyceps by one-step derivatization followed with gas chromatography-mass spectrometry. J. Pharm. Biomed. Anal. 2009;49:1172–1178. doi: 10.1016/j.jpba.2009.02.025. [PubMed] [CrossRef] [Google Scholar]
9. Zhu J.S., Halpern G.M., Jones K. The scientific rediscovery of a precious ancient Chinese herbal regimen: Cordyceps sinensis: Part II. J. Altern. Complement. Med. 1998;4:429–457. doi: 10.1089/acm.1998.4.429. [PubMed] [CrossRef] [Google Scholar]
There is no denying it – mushroom extracts are garnering huge interest among pet parents and veterinarians. They are multi-benefit additions to dog and cat diets and supplement protocols. But, why are experienced veterinarians and pet carers turning to the reishi mushroom for dogs in particular?
When it comes to functional mushrooms for pets, the most popular one has been the turkey tail mushroom (Trametes versicolor). This interest has occurred in part because there are two compelling veterinary clinical studies that researched the impact of an extract from pure turkey tail mycelium on dog health.
However, there is another mushroom that rivals turkey tail in the clinical study department, but on the "human" side. This highly-studied mushroom is Ganoderma lucidum, a.k.a. Reishi. Reishi (Lingzhi in Traditional Chinese Medicine) is a wonderful mushroom to consider for your dog, and possibly your cat. We will get to the "possibly your cat" explanation later on in this blog.
In This Article:
Reishi's Historic & Traditional Medicinal Use
Reishi, often referred to as the "mushroom of immortality," has been used in Traditional Chinese Medicine (TCM) to improve health and longevity for thousands of years. It is one of the most popular medicinal mushrooms in China, Japan, and Korea.
TCM practitioners have long prescribed reishi to influence the Heart, Lungs, Liver, and Kidney channels, balance Qi (the body's life force), calm the mind, and relieve cough and asthma.
This mushroom was and is revered in China, in particular, because of its multi-faceted and storied health-supporting properties. So much so that it is common to see reishi represented in ancient and modern art, literature, and architecture.
The Compounds That Make Reishi Beneficial
Reishi contains over 400 different bioactive compounds. These include triterpenoids, polysaccharides (including beta-glucans), nucleosides, sterols, steroids, fatty acids, proteins, peptides, and trace elements (1).
Many of these bioactive compounds are secondary metabolites. Secondary metabolites are natural products synthesized by bacteria, fungi, and plants. They are not essential for growth (in contrast to primary metabolites like chitin and beta-glucans), and many of these secondary metabolites have been used in the creation of drugs.
An example of this is Taxol, an antitumor agent derived from plant secondary metabolites (2,3). These secondary metabolites send complex messages to the cells that are primed to receive these signals. It is somewhat like the alphabet where the more letters that are available, the more sentences can be written.
When Bitter Is Better: Reishi's Unique Triterpene
In Reishi's case, a triterpene called ganoderic acid is the secondary metabolite receiving the most attention and research. Some of the benefits of this reishi triterpene include antitumor, antimicrobial, anti-malaria, antihepatotoxic, and blood pressure reduction activity (4). There are many more triterpenes in reishi in addition to ganoderic acid. These triterpenes work on their own to provide specific benefits and act synergistically with the beta-glucans in the mushroom.
These triterpenes are also what give Reishi its distinctive bitter taste. Reishi is definitely the most bitter of the popular medicinal mushrooms. This bitterness is something to be aware of when considering using this mushroom in our pet protocols. It is a rare dog or cat that doesn't shy away from a bitter taste. Bitter is often associated with something being poisonous, so animals instinctively shy away from bitter tastes (5). Later in this blog we will discuss some ways to "hide" the bitter taste so that reishi is more palatable for pets.
3 Benefits of Reishi Mushroom For Dogs
One of the more challenging aspects of working with mushrooms is the lack of actual clinical data or studies related to veterinary medicine. There are very few studies focusing on dogs and, as far as I know, none on cats. It is for this reason that we have to turn to human clinical studies, to in vitro (test tube or petri dish) and in vivo (lab animal, usually rat or mouse) studies. We can also consider the evidence from the abundance of anecdotal feedback from pet parents touting the benefits they are seeing when they add mushrooms to their pets' lives.
Here are some of the benefits that have compelled veterinarians and pet parents to begin using reishi mushrooms for dogs:
Helps calm & support the nervous system
Balances histamine levels & helps alleviate seasonal allergies
Supports the immune system & helps with anti-cancer protocols
Let's dive deeper into a few of these benefits...
Reishi For Calming the Nervous System
Reishi has a beneficial effect on the nervous system and may be helpful for anxious pets, or during those stressful situations like thunderstorms or fireworks.
TCM practitioners have long utilized reishi to help alleviate insomnia and anxiety and as a support for meditation. Mouse studies have shown reduced sleep latency and prolonged sleep duration with Reishi (6).
This is one reason Dr. Rob Silver added reishi to Real Mushrooms' "Relax" pet chews: for its potential to be an excellent calming agent for dogs and cats. It is also a wonderful synergistic mushroom to lion's mane, which is also in the "Relax" chews.
Overall, Reishi exhibits broad neuroprotective effects. Reishi should be considered in case of animal neurodegenerative diseases and brain injury, Canine Cognitive Dysfunction, degenerative myelopathy, spinal cord injury, stroke, or epilepsy (7).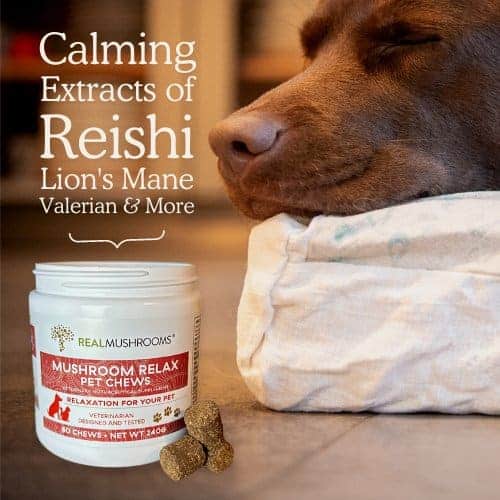 Reishi For Balancing Histamine Levels & Alleviating Allergies
An exciting and promising use for reishi in veterinary medicine is in relation to allergies, asthma, and possibly mast cell cancer.
Dogs and cats with seasonal allergies may benefit from the immune-modulating and antihistamine activity of Reishi. Ganoderma (Reishi) helps to stabilize the mast cells to inhibit their release of histamine. Histamines are released by mast cells in reaction to allergens or pathogenic invaders. An overactive response—such as we find with allergies—can cause itching, runny nose, eye irritation, and redness of mucous membranes. In our pet population, this can look like excessive scratching/chewing, sneezing, wheezing, or runny discharge from the eyes or nose.
A 2010 study involving mice showed that the extract of G. lucidum can inhibit the release of histamine from mast cells in vitro, suggesting that G. lucidum extract has anti-allergic activity and could be effective against mast cell-mediated itch (8).
Martin Powell, a Traditional Chinese Medicine practitioner, biochemist, author, and mushroom expert, weighs in on administering reishi mushrooms for dogs with allergies:
"Ganoderma lucidum (reishi) as immunonutrition, with its unique array of compounds working in concert, could play a major role in current treatment practices for histamine-mediated allergic response. Ganoderma lucidum (reishi) is an effective agent to restore the normal balance between the TH1 and TH2 immune states in patients with histamine-mediated immune responses. Such an approach treats the underlying cause for the TH2 condition." (9)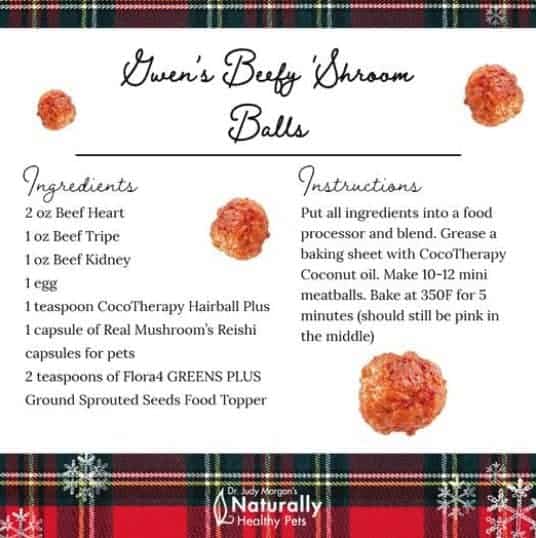 Reishi Mushroom & Anti-Cancer Protocols For Dogs
PubMed is an excellent free resource to explore clinical studies. When "Ganoderma and cancer" is entered into the PubMed search engine, 683 results are available. This is an indication of how much attention reishi is receiving when it comes to cancer research.
Reishi acts as a biological response modifier (BRM): it can modulate the immune response needed by the body. The mushroom's compounds can stimulate both the innate and adaptive immune systems. Reishi interacts in a positive way with natural killer (NK) cells, neutrophils, and macrophages, and stimulates cytokine expression and secretion.
A good example of this BRM activity is in relation to cancer. In general, Reishi triterpenes could directly suppress the growth and invasive behavior of cancer cells, whereas reishi polysaccharides, such as beta-glucans, could synergistically modulate immune anti-cancer activity. The result is the activation of Natural Killer T cells and the production of anti-neoplastic cytokines (6).
Reishi For Easing the Side-Effects of Cancer Treatments
Reishi may be a good mushroom to consider if you have opted to have chemotherapy or radiation treatment for your pet. Radiation and chemotherapy can kill stem cells for red and white blood cells in the bone marrow. This results in anemia and a deficit of the important white cells needed to maintain health and freedom from infections.
Reishi can support animals undergoing cancer treatment by helping to protect their stem cells from the toxicity of chemotherapy or radiation therapy. An interesting study induced immunosuppression in mice and then treated them with a water-soluble extract from reishi. The researchers found the reishi-treated mice had increased red blood cells (RBCs), white blood cells (WBCs), NK T cells, splenic NK cells, and a number of bone marrow cells (10).
Additionally, reishi has the potential to enhance the effects of chemotherapy by increasing the dose of a chemotherapeutic agent that accumulates within a cell. A study using Ganoderic acid, the triterpene mentioned earlier, found it enhanced the accumulation of the chemotherapeutic agent cisplatin in tumor cells (10).
DO remember that these are all either human, in vitro or in vivo studies. There are currently no clinical studies of reishi in veterinary medicine. Regardless, if I had a dog or cat that was dealing with cancer, I would definitely consider adding reishi extract to the protocol along with turkey tail mushroom extract. This can be done by using these single mushrooms alone or by utilizing our 5 Defenders(™) mushroom extract complex for pets that contains reishi, turkey tail, shiitake, maitake, and chaga.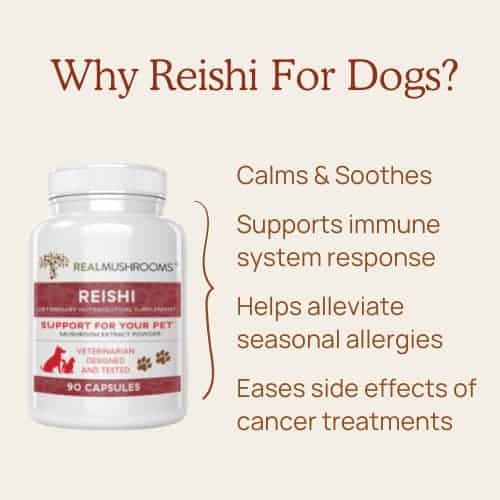 Dispensing & Dosing Reishi Mushroom For Dogs
Unlike some of the other therapeutic mushrooms, reishi is not a culinary mushroom. It needs to be given as a supplement because it is too tough and leathery to be eaten as food.
It's also important to remember that reishi is very bitter. The easiest way to administer the reishi is either in capsule form or as a pet chew. Dr. Rob Silver, Real Mushrooms Chief Veterinary Officer and product formulator, created 2 wonderful Real Mushrooms pet chews and both contain reishi! Our Relax chews for pets is calming and our Immune chews are for supporting the immune system.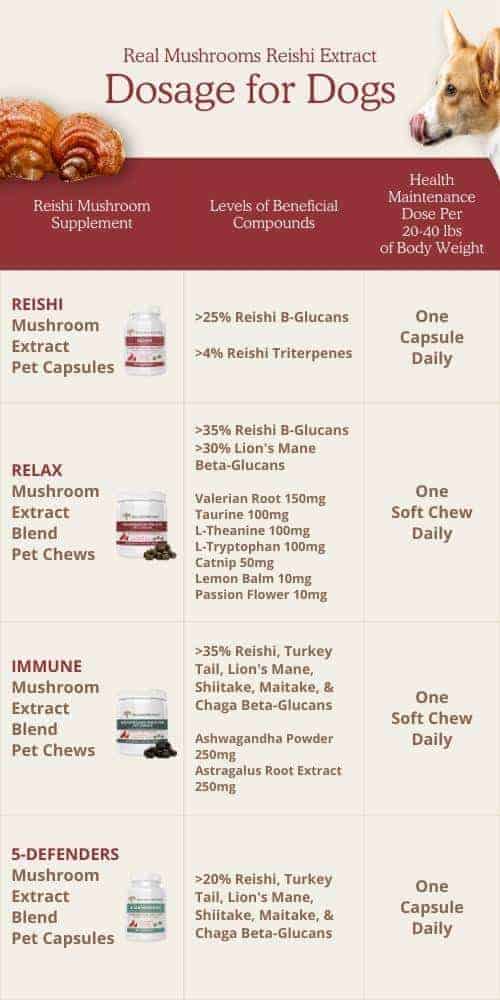 Can Cats Have Reishi?
There are some cats that will accept being given the reishi capsules, and quite a few enjoy the pet chews. However, do be aware that it could be difficult to get Reishi into a very finicky cat, because of its bitterness. Milder-tasting mushrooms like lions mane or cordyceps might be the better choice for the picky kitty.
Know Your Reishi Product!
Finally, do your homework when purchasing mushrooms in the supplement marketplace.
According to a 2017 study published in the journal Scientific Reports, 74% of Reishi products did not live up to the package claims.
Before purchasing mushroom supplements, or any supplement for that matter, it is highly recommended that you do some research. Know what to look for in a good quality mushroom supplement.
Here is some good information on what to look for in a reishi product: How to I.D. the Best Reishi Mushroom Supplement.
Do reach out to the Real Mushrooms Pet team if you have any questions about buying and using an extract of reishi mushroom for dogs: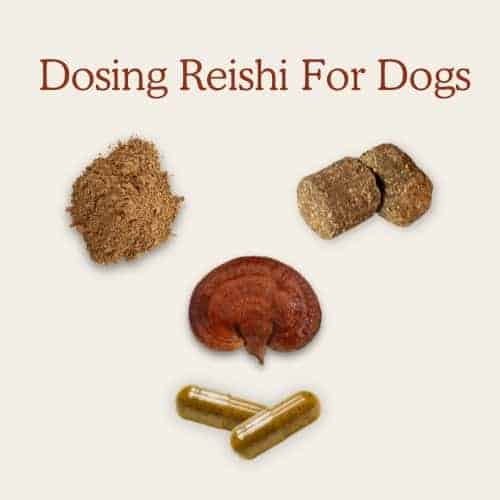 Related Articles On Functional Mushrooms For Pets
References
1) Zhou, L.-W. et al. 2015. 'Global diversity of the Ganoderma lucidum complex (Ganodermataceae, polyporales) inferred from morphology and multilocus phylogeny', Phytochemistry, 114, pp. 7–15. doi: 10.1016/j.phytochem.2014.09.023.
2) S. Sanchez, A.L. Demain. 2014. Secondary Metabolite - an overview.
3) https://www.sciencedirect.com/topics/agricultural-and-biological-sciences/secondary-metabolite
4) https://www.scirp.org/journal/paperinformation.aspx?paperid=99724
5) https://academic.oup.com/emph/article/9/1/431/6395358
6) Xia Feng, Yan Wang. April 30, 2019. Anti-inflammatory, anti-nociceptive and sedative-hypnotic activities of lucidone D extracted from Ganoderma lucidum. https://pubmed.ncbi.nlm.nih.gov/31078150/
7) Xiangyu Cui, Yonghe Zhang. 2019. Neuropharmacological Effect and Clinical Applications of Ganoderma (Lingzhi). https://pubmed.ncbi.nlm.nih.gov/31777017/
8) Inhibitory Effects of the Methanol Extract of Ganoderma lucidum on Mosquito Allergy–Induced Itch-Associated Responses in Mice111123 Tsugunobu Andoh , Qun Zhang , Takumi Yamamoto , Manabu Tayama , Masao Hattori , Ken Tanaka ,and Yasushi Kuraishi. DOI: 10.1254/jphs.10180fp
9) https://www.mycologyresearch.com/articles/view/28?utm_campaign=PNL%2020%20%28T8qGiB%29&utm_medium=email&utm_source=Practitioner%3A%20Newsletter%20Sequence&_kx=bL9S6QskVAqy0hm7niluqiuPq-JYxdvNxQCw9GnYr4k%3D.L3MBgQ
10) Sanem Bulam, N Şule Üstün, Aysun Peksen. April, 2019. Health Benefits of Ganoderma lucidum as a Medicinal Mushroom. https://www.researchgate.net/publication/335032099_Health_Benefits_of_Ganoderma_lucidum_as_a_Medicinal_Mushroom
11) Evaluation on quality consistency of Ganoderma lucidum dietary supplements collected in the United States https://www.nature.com/articles/s41598-017-06336-3 Ding-Tao Wu, Yong Deng, Ling-Xiao Chen, Jing Zhao, Anton Bzhelyansky & Shao-Ping
If you've been wanting to experiment with different mushrooms in your meals, then we present you with a simple but delicious and nutritious meat-free lion's mane mushroom stir fry recipe.
Chef Karuna Marcotte, was delighted to bring her foraged vegetables along to help our Real Mushrooms colleague, Joni Kamlet, cook up the lion's mane she found growing in her nearby forest.
If you don't happen across a lion's mane mushroom in the wild, you can find fresh ones at farmer's markets and some specialty grocery stores.
Since lion's mane is abundant in beneficial compounds for the brain, gut, and immune system, this protein-packed mushroom is ideal as a meat substitute on many levels.
Without further ado, we present you with this delicious lion's mane mushroom stir fry recipe:
Ingredients
· 1 lb. lion's mane mushrooms
· 2 medium-sized daikon radishes (diced)
· 3 shallots (diced)
· 4 cloves of garlic (sliced)
· 1 medium carrot (grated)
· Large bunch of kale (washed and chopped into bite-size pieces)
· Olive oil/butter
· Salt and pepper to taste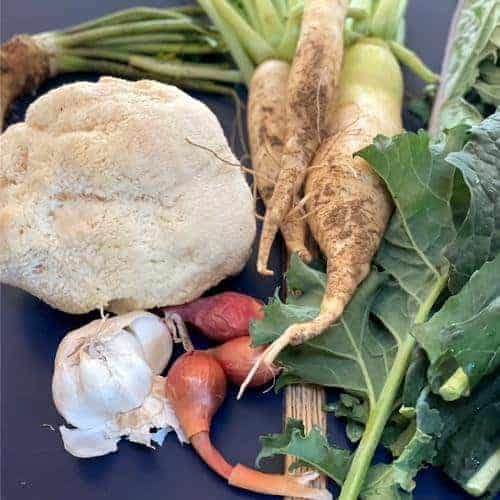 Directions For the Lion's Mane Mushroom Sauté
1. Brush any dirt away from the lion's mane mushroom. (Do not immerse in water as it will absorb the liquid and alter the body of the steaks.) Slice into 1" – 1.5" steaks.
2. Heat a cast iron pan and add equal parts of olive oil and butter (enough to coat the bottom of the pan.) Add the garlic slices and the lion's mane steaks, a single layer, depending on the size of the pan and the amount of mushroom you are cooking, you may need to fry two batches.
3. The heat should be medium to high, and the steaks will sizzle. Allow enough time on one side so the mushroom turns golden brown and a little crisp on the edges. Flip the steaks and sauté the other side. Remove from the heat and plate them.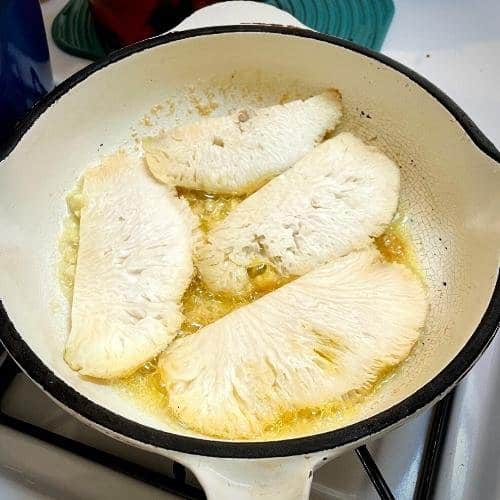 Directions For the Vegetable Stir Fry
1. Heat a cast iron pan. Add enough olive oil to coat the bottom of the pan. Sprinkle a pinch of salt into the oil. Sauté the diced shallots and daikon radishes until almost tender. Add the grated carrot and sauté for another few minutes. Finish by adding the chopped kale. Stir until kale is wilted. Add salt and pepper as needed.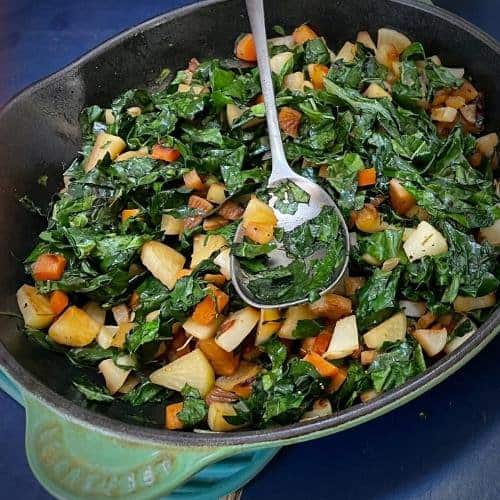 Add the sauteed mushroom to your vegetables and you've got the perfect nutritious lion's mane mushroom stir fry. Enjoy in good health!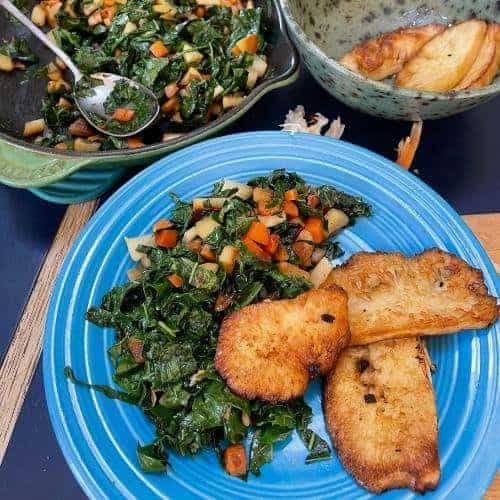 Need More Lion's Mane Inspiration?
Learn more delicious ways to use lion's mane in our article, Lion's Mane Recipes: 7 Creations Using This Unique Mushroom!
Don't have access to fresh lion's mane mushroom? Consider adding lion's mane powder extract to your recipes to infuse them with all the health benefits of this fabulous functional mushroom.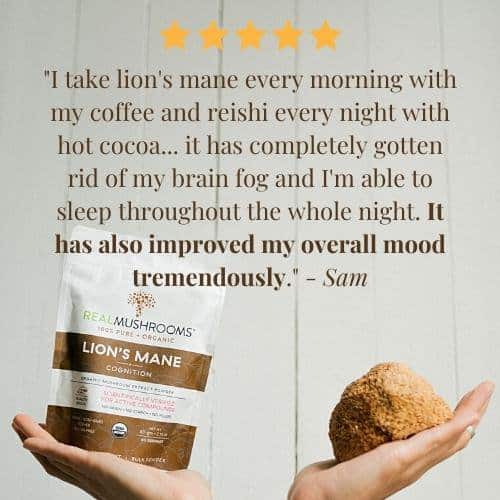 Drinking Ganoderma coffee is a great way to incorporate the benefits of functional mushrooms into your daily routine. Ganoderma lucidum is the scientific name of the "mushroom of immortality," reishi—known for its significant health benefits in alleviating fatigue, promoting restful sleep, and calming frayed nerves.
A quick search of Ganoderma coffee yields dubious recipes involving instant coffee-mushroom blends. We call foul.
Do you know what the secret to delicious mushroom coffee is? Start with high-quality, well-brewed coffee and pure organic mushroom extracts. Don't skimp on the ingredients!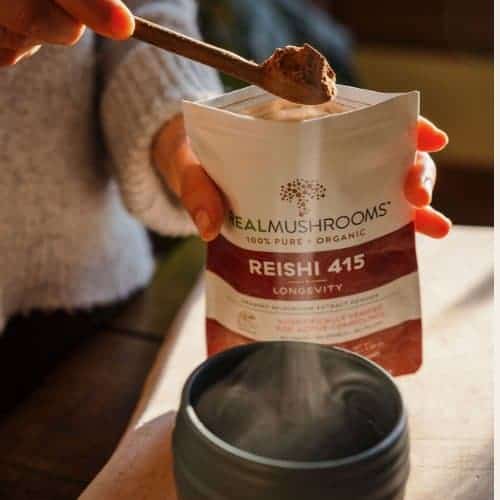 The simplest Ganoderma coffee recipe is to stir half a teaspoon of reishi mushroom extract powder into your everyday brew. Done.
One of our customers, Hillary, can vouch for it:
"Reishi is my favorite mushroom....now I finally have an efficacious way to take it, with beta-glucans intact and proven. I love to have 1/2 tsp in my a.m. coffee. I find that using a light or medium roast blends best with the reishi."
- Hillary
That said, we want to take an even tastier approach to making your mushroom coffee at home; adding more nutrients and building up the flavor profile.
But what if you don't like coffee or want to cut caffeine out of your diet, yet still reap the benefits of Ganoderma coffee? We'll explore that too.
In a nutshell, we'll break down:
How to brew delicious, richly flavored mushroom coffee
How to reap the benefits of mushroom coffee, minus the caffeine
What to look for when shopping for the best mushroom supplements
How to get the most flavor out of your coffee and mushroom supplements
1 - Mushroom Coffee: Perfect for Fall & Winter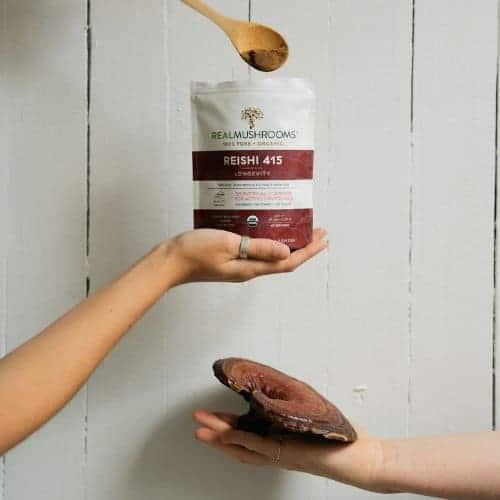 What's not to love about this warm twist on Ganoderma coffee? It features the warm fall flavors of ginger, cinnamon, and mint, which all pack a strong antioxidant punch.
More importantly, it contains reishi mushroom extracts, which simultaneously boost mood and sharpen focus.
Caffeine-Free Mushroom Coffee Ingredients
If you're trying to cut caffeine, or you need a warm drink to give you that mental pick-me-up, this cacao, coconut, and mushroom drink is perfect.
Steps to Make It
Boil water and leave off the heat for 2–3 minutes.
In a blender, combine the hot water with cacao powder, Organic Reishi Mushroom Powder, cinnamon powder, grated ginger, coconut butter, and salt.
Process on high for 10–15 seconds.
Stir in raw honey to taste.
Expert Tips:
High-quality reishi extract should taste earthy and bitter. The pinch of salt in this recipe brings out any sweet flavors and helps to counter the bitter notes.
This brew is also ideal before bedtime because reishi can help relax the mind and improve your sleep quality.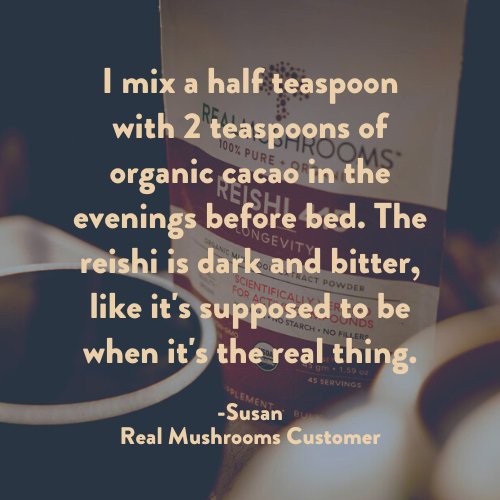 Here's what one customer experienced with reishi coffee:
"I usually take reishi in the morning as soon as I wake up. It definitely improves my mood and sense of wellbeing. I'm not a pleasant person to be around in the morning if I don't have my reishi." - Gregory
Another customer shared their own recipe for a caffeine-free coffee alternative using reishi:
"I have been taking reishi as part of my adaptogenic protocol for several months- blended into my dandelion/chicory/cinnamon coffee substitute. I happen to love the vibrant taste of this mushroom powder! It feels alive and at work in my body." - Michelle
2 - Refreshing Mushroom Cold Brew Coffee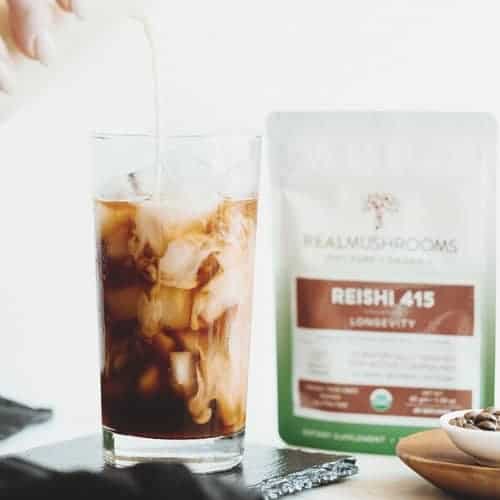 Cold brew coffee is perfect if you have a sensitive gut. It's less acidic and has a smoother taste than drip coffee or espresso. If you're tired of the over-diluted taste of iced coffee, get ready for some cold brew magic.
We'll start with a delicious cold brew base and ramp up the benefits with functional mushrooms to boost various body functions.
Cold Brew Coffee Ingredients
Steps to Make It
Pour room-temperature water into a jar and add your freshly ground coffee. Cover and shake well.
Leave the jar in the fridge for 12–24 hours to make your cold brew.
In a blender, combine the cold brew with the mushroom powders, nut butter, ginger, cinnamon, and milk.
Blend on high for 10 seconds or until the coffee reaches your preferred consistency.
Serve the frothy drink in a cup and adjust the sweetness to your liking. Top with coconut or cashew nut shreds.
Expert Tip: For a great-tasting cold brew coffee:
Start with good quality coffee beans since the coffee notes are more pronounced with this brewing method.
Grind your coffee fresh and coarse for maximum flavor.
Experiment with coffee blends that have fruity flavor notes.
Balance your coffee-to-water ratio well. The perfect ratio of coffee to water is 1:5 for ready-to-drink, though 1:8 works well for French press or weak coffee. Try not to go below 1:3, even for cold brew concentrates.
Leaving your coffee to brew overnight makes cold brewing so simple there's no need to buy commercial, ready-made cold brews.
Our customers couldn't agree more with the coffee-mushroom combo:
"I had a stroke 4 years ago, and have issues with depression. I take both chaga and lion's mane. They work great for my memory issues. I recommend taking it in the morning to get your day started." - Jovi
How to Identify the Best Reishi Mushroom Supplement
The effectiveness of your Ganoderma coffee will depend on the quality of the mushroom extracts you use.
One way to ensure that you're using the best quality ingredients is to check that your mushroom supplement manufacturer uses USDA-certified organic mushrooms, which will be free of pesticides and other chemical contaminants.
Did you know that over 70% of reishi mushroom supplements on the market contain little or no reishi mushrooms? Instead of the reishi fruiting body, these powders either source cheaper mushrooms or reishi mycelium grown on grain substrates.
Simply put, you get significantly more starch filler and significantly less immune-modulating beta-glucans in supplements made from myceliated grain.
Here's a table comparing the ratios of alpha and beta-glucans in extracts made from mushrooms vs. myceliated grain: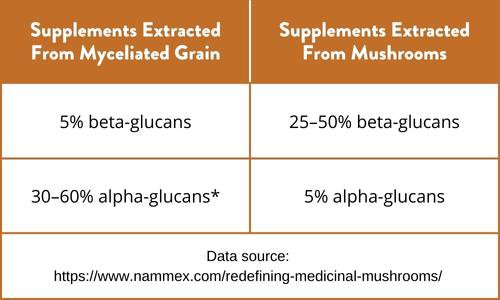 So what information should you look for?
Reishi mushroom supplements should:
Come from organically grown mushrooms
Be a result of the dual extraction method for maximum potency
List measured amounts of triterpene and beta-glucans
Clearly state the absence of starch and fillers
Taste bitter
If you can check off all the above, you know you're getting all the energy and immunity-boosting benefits from the triterpene, beta-glucans, and other compounds of reishi with none of the empty starch fillers or additives.
It was this lack of pure, organic mushroom products in the North American supplement market‌ that prompted the birth of Real Mushrooms.
We're proud to provide the best mushroom supplements on the market consistently and to celebrate our customer's health wins when they use our products.
"So often when I'm taking supplements I feel little difference ... With reishi and Real Mushroom products, I've felt a difference in my energy, hormonal balance, and gut health. Very impressed!" - Carol
A Ganoderma Coffee That Adapts To Your Needs
In sum, Ganoderma coffee can give you the calm and focus to start your day off right, whether or not you actually include the caffeine. The healthy mushrooms carry their own weight and then some.
The adaptogenic properties of reishi and other mushrooms alleviate fatigue and stress while boosting body systems, including immunity, muscles, and hormones.
Being able to add your own mushroom extracts to your favorite brew means:
a) you can customize your coffee to be the type and quality you like,
b) you know exactly what kind and quality of the mushroom supplement you're adding.
If you're ready to start the day right with a powerful mushroom boost, try Real Mushrooms Organic Reishi Mushroom Powder or our 5 Defenders Organic Mushroom Complex if you want a mix of reishi and other healthy mushrooms.
Learn More About Ganoderma & Its Benefits:
Learn More About the Benefits of Mushroom Coffee: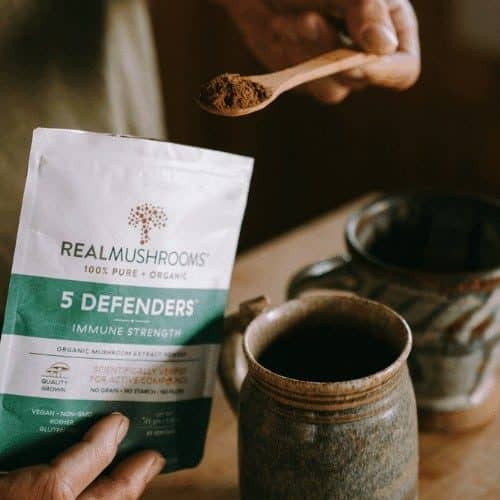 All the creamy, robust flavor of traditional gravy, but is vegetarian, gluten-free, and packed with a helpful immune boost thanks to the turkey tail mushroom extract. It's a dish you can feel good about serving!
Gobble gobble gobble! It's the turkey-eating time of year, but you're among the countless meat-free eaters. Hoping to join in all the turkey fun, yet wanting to maintain your vegetarian or vegan lifestyle? We've got you covered! You can have your turkey and eat it too. Turkey tail mushroom that is! Enter this vegetarian mushroom gravy recipe.
If you're searching for a dish that's sure to please carnivores and vegetarians alike, look no further. This mushroom gravy has all the flavor of traditional gravy, minus the turkey drippings, and plus the nutrient powerhouse that is turkey tail mushroom.
It's healthy, delicious, and a definite crowd-pleaser!
What makes this vegetarian mushroom gravy so tasty and healthy?
You just need a few simple ingredients to make this gravy recipe, some of which you probably already have in stock. The major players are:
Onion: Onion adds flavor, feeds your good gut bacteria, and benefits your immune system.
Garlic: Garlic adds flavor, while also supporting your immune system.
Mushrooms: Feel free to use any mushrooms here; we used a mix of baby bella mushrooms, button mushrooms, and shiitake mushrooms.
Real Mushrooms Turkey Tail Extract: This mushroom powder extract is 100% organic turkey tail mushrooms, with no added starch or grain of any kind. The turkey tail mushroom health benefits include boosting your immune system (which we could all use around this time of year), supporting gut health, and helping to balance blood sugar.
Coconut aminos: This adds an in-depth umami flavor; you can substitute it with Tamari if you like.
Balsamic vinegar: For more of that versatile, umami flavor and a little tang from the acid.
Vegetable broth: For flavor, nutrients, and liquid.
Fresh herbs: Herbs add so much flavor and are packed with nutrients, so it's a win, win.
Parsnips: These are used instead of flour or powdered starch which is usually used to help thicken the gravy.
As you can see, with all the herbs and flavors of traditional gravy, this vegetarian version is quite similar to the real deal. The mushrooms have a satisfying, meaty flavor that really takes this gravy to the next level.
Unlike traditional gravy, you won't find any hidden starches, not in the recipe and not in the Turkey Tail mushroom extract powder! This is a gravy that you can feel good about pouring over all your favorite foods.
How to thicken the vegetarian mushroom gravy
As mentioned, a bonus factor of this recipe is that it doesn't require any additional flours to thicken, as is found in most gravy recipes. While providing a nice punch of flavor and adding in some extra nutrients, the pureed parsnips do the thickening. It imparts that creamy mouth-feel that we all love and know of gravy and keeps the recipe gluten-free.
What to serve with the vegetarian mushroom gravy
This is the fun part - you can pour this gravy over so many foods! You can go the traditional route and use it with mashed potatoes, mashed cauliflower, or experiment a little. Try pairing it with portobello or lion's mane mushroom "steaks," lentil meatloaf, rice, or these paleo biscuits. You might surprise yourself and come up with a new favorite combination!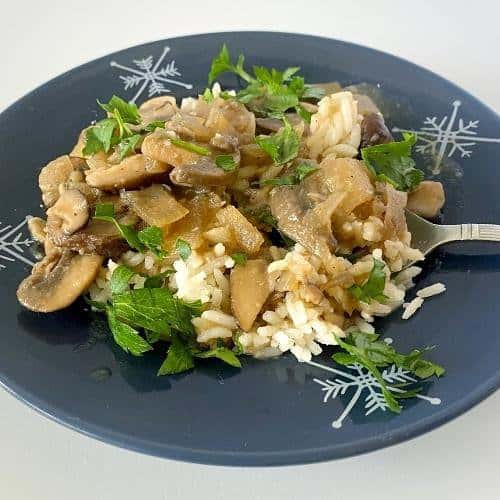 Tips for making this gravy
Although this recipe does require a bit of blending, it's quite simple! Here's the quick run-down:
Saute garlic and onion.
Caramelize mushrooms.
Add herbs, salt, pepper, turkey tail powder extract, coconut aminos, and balsamic vinegar.
Pour the vegetable broth into the pot, stir, and bring to a boil.
Add in parsnips and simmer.
Take parsnips out and puree them.
Add parsnip puree back to the pot and stir.
Stir and serve with fresh parsley!
Overall, this recipe is fairly easy, and it just requires a blender and a big pot with a lid. If you prefer your gravy completely blended - that works great too! Instead of just blending the parsnips, blend the whole mixture and serve. Both ways are equally delicious.
Can this vegetarian mushroom gravy be made ahead of time?
To help save some time on the actual day of celebration, you can make this mushroom gravy up to three days ahead of time. Just note that it will thicken up in the refrigerator, but don't worry because it will go back to the right consistency once you heat it up. When reheating, you might need to add a bit more vegetable broth, depending on your preferred consistency. Store in a sealed glass container for best results.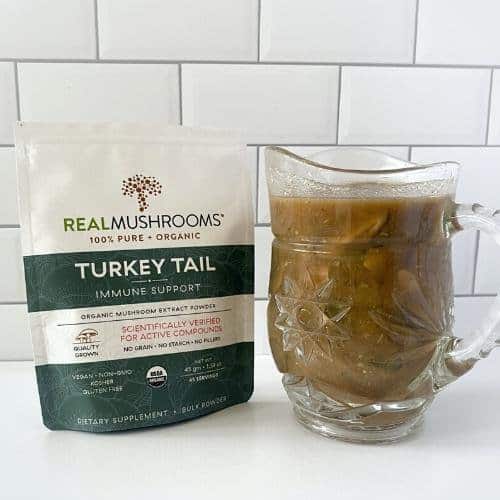 Vegetarian Mushroom Gravy Recipe in Detail
Serves: 8-10
Prep time: 20 minutes
Total Time: 1 hour
Ingredients:
1 Tbsp olive oil
1 large yellow or white onion, diced
3 large garlic cloves, minced
2 lbs sliced mushrooms
1 tsp Real Mushrooms Turkey Tail
2 Tbsp coconut aminos
1 Tbsp balsamic vinegar
3 cups vegetable broth (plus about ¼ cup for blending with the parsnips)
salt and pepper to taste (you can start with ¾ - 1 tsp salt and ¼ tsp pepper and go from there)
1 Tbsp chopped fresh thyme
1 Tbsp chopped sage
One extra large parsnip or 2 regular-size parsnips, peeled and cut into ¼" chunks
optional: serve with fresh parsley on top
Directions:
Heat oil in a large pot on the stove on medium heat. Add onion and garlic and cook for about 3-5 minutes or until tender.
Add the mushrooms and do not stir for the first few minutes - allowing them to sear and caramelize. Then stir.
Add thyme, sage, salt, pepper, Turkey Tail powder, coconut aminos, and balsamic vinegar and stir everything together, scraping the brown bits off the bottom of the ban.
Pour the vegetable broth into the pot, stir, and bring to a boil.
Add in the parsnip, lower the heat, place the lid on top of the pot, and simmer for about 25 minutes or until the parsnips are tender.
Remove parsnip with a slotted spoon and blend with a little bit of vegetable broth until you have a puree.
Pour the parsnip puree back into the mushroom pot. Stir until you have a creamy mixture and the gravy thickens (about 5 minutes).
Optional: add your parsley for serving and serve over mashed potatoes, cauliflower "steaks," or anything you like!
Enjoy the mushroom gravy in good health
This is truly such a merry time of year; a time for gratitude and coming together in community. That's one of the perks of this vegetarian mushroom gravy - it's sure to please everyone around the table, no matter their dietary preferences. And on top of that, the nutrients within help you to feel good and protect your wellness.
So invite friends, make a delicious feast, celebrate, feel your best, and enjoy this recipe in good health and happiness!
What if there was a way to ramp up the energizing effects of your morning cup of joe in a healthy and natural way? There are many benefits to drinking mushroom coffee, and this article will outline the 5 main ones.
If you're frequently tired, you know that relying on caffeine is a delicate dance between drinking just enough to get the juices flowing and not overdoing it to the point of hand tremors.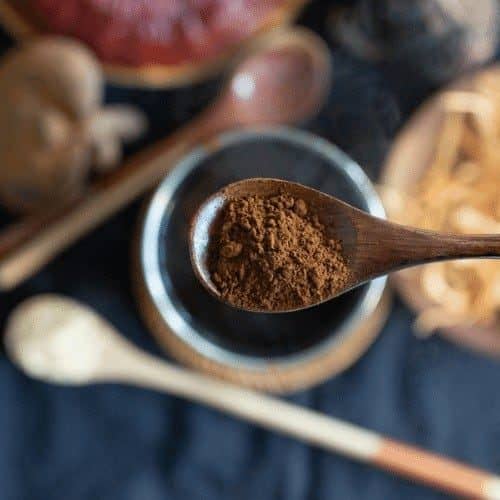 But do you know how you can boost your energy without chancing a mid-day caffeine crash? Add a scoop of mushroom extract to your morning coffee or tea.
Tiredness can manifest through both physical and mental signs. From sore, weak muscles and slowed reflexes to brain fog, moodiness, and difficulty concentrating—fatigue is many-sided.
We'll look at the different ways in which mushroom extracts in your coffee can:
Boost your energy production and focus
Support healthy immune and inflammation responses for a more balanced body
#5 - Mushrooms Support a Healthy Inflammation Response
Mushrooms are antioxidant powerhouses that help your body to maintain healthy inflammation responses, which could get derailed by chronic inflammation.
Persistent low-grade inflammation (1) keeps your body in a state of high alert, expending more energy than it has available—this creates a feeling of fatigue.
Inflammation is a natural part of how your immune system works to protect your body from harm. That said, chronic inflammation typically builds gradually, manifesting as feelings of tiredness, headaches, muscle aches, and joint pain. Therefore, you need to look at balancing out inflammation as a long-term game.
An Antidote to Inflammation & Fatigue
To counter the negative effects of unbalanced levels of inflammation in the body, current research (2) found that chaga mushroom extracts:
Have antioxidant properties that help your body fight off damaging free radicals
Aid the antioxidant enzymes in your body to break down potentially harmful oxygen molecules
Support your body in balancing out its inflammatory response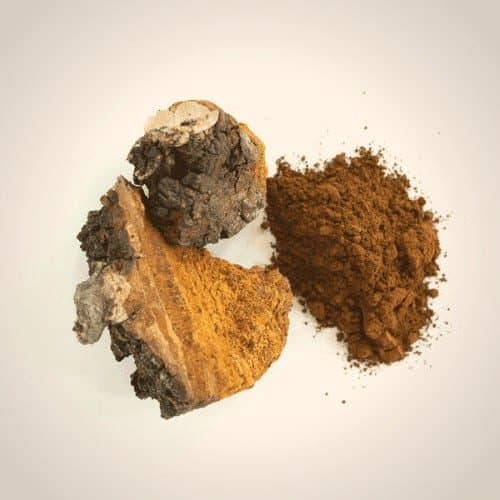 It makes sense to use chaga mushroom extract in your daily coffee or tea to help maintain healthy levels of inflammation in your body. This will support optimal energy levels and stave off fatigue.
However, it's important to think of your entire system and lifestyle as working in tandem.
That's why certain lifestyle changes may also ease fatigue-inducing inflammation. These lifestyle changes include:
Sleeping for 7–9 hours every night
Reducing stress through deep breathing
Incorporating aerobic and strength exercises weekly
Limiting sugar intake and processed foods in your diet
This was Drew's experience with chaga mushroom powder:
"It gave me energy. Prior to the use of Chaga… I could hardly wake up. Now I feel refreshed… I will be a lifetime customer." — Drew, ⭐⭐⭐⭐⭐ Verified Real Mushrooms Customer
Expert tip: Mushroom coffee benefits are built on accumulation. To fully experience the beneficial effects of our 100% pure organic mushroom powders, we recommend taking a ½-teaspoon a day for a prolonged period of time.
#4 - Mushrooms Promote a Healthy Metabolism for Physical Energy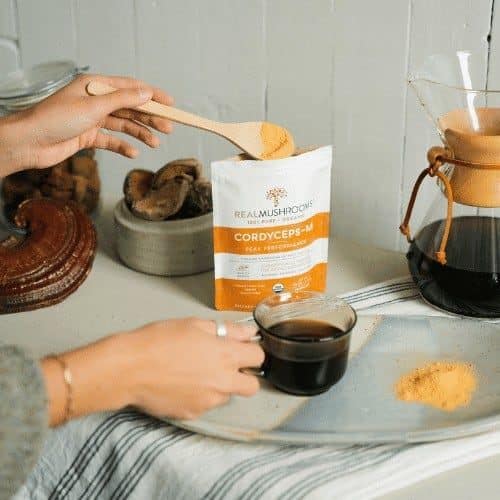 Sometimes, because of age, poor diet, or hormonal changes, our metabolism may function sub-optimally. This impacts our energy levels, including our ability to exercise regularly and effectively.
Functional mushrooms, specifically Cordyceps, can enhance our metabolism and have an invigorating effect.
So, considering exercise boosts mood, focus, heart health, and better sleep, how can we support healthy metabolism in order to be more active?
A Mushroom With Energetic Benefits
A study on the effect of Cordyceps on the metabolism (3) found that regularly supplementing with these mushrooms:
Increased the metabolic threshold, meaning an increase in blood oxygen level and ability to exercise more without experiencing fatigue
Enhanced the ventilatory threshold, meaning a more effective buffering from lactic acid accumulation, thus delaying and reducing muscle burn and fatigue
Regularly supplementing mushroom extracts can aid your body in providing balanced energy, allowing you to stay active well into old age.
Here's how two of our customers experienced their energy boost from Organic Cordyceps Mushroom Extract Powder:
"Helped me with my workouts. I noticed I didn't run out of breath as quickly and I felt like I had more endurance." — Daniel, ⭐⭐⭐⭐⭐ Verified Real Mushrooms Buyer
"It gives me energy in the morning before my workout." — ⭐⭐⭐⭐⭐ Beth D., Verified Real Mushrooms Buyer
Expert tip: Cordyceps sinensis (wild Cordyceps) is so rare and difficult to cultivate that you won't find it in any supplements available in the North American market. But what you will find in your Cordyceps mushroom supplement is commercially cultivated Cordyceps militaris, which is cultivated at scale in a sterile medium and doesn't harm any insects.
Make sure that your Cordyceps mushroom powder is extracted from the fruiting body and not the mycelium (vegetative body). One way to check this is to see the package details for measured amounts of beta-glucans.
The fruiting body yields higher beta-glucan content and has no starch filler, unlike most mycelium-derived products. If you want to get actual health benefits from your mushroom coffee, pay attention to your product label!
#3 - Mushrooms Can Reduce the Effects of Stress on the Body & Mind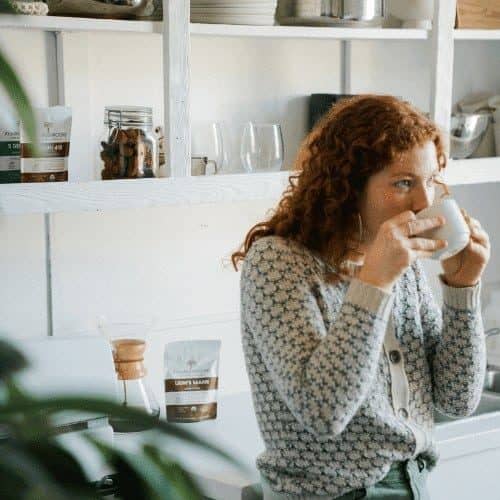 Speaking of beta-glucans, these compounds are the key structural component of mushroom cell walls. As active ingredients in mushrooms, they help the body and its systems manage chronic stress, which often causes fatigue.
Let's briefly break down how they do this.
Good bacteria in the colon ferment dietary fiber, including beta-glucans. The process releases nutrients that support a healthy immune response and improved psychological well-being.
This ability to support our bodies in self-regulating natural stress responses and aiding relaxation without compromising your health is what makes mushrooms adaptogens.
Mushrooms Help Your Body & Mind Adapt to Stress
In one study(4), beta-glucans extracted from oyster, shiitake, and reishi mushrooms were used as supplements over a 6-month period. The results showed that these mushrooms:
Improved mood states and a better overall well-being
Supported a stronger immune response improving respiratory tract health and allergy symptoms
Stress and therefore fatigue may also negatively impact heart health.
How do we counter this?
An animal study (5) showed that supplementing with shiitake and maitake mushrooms also helped to manage blood pressure and cholesterol levels—leading to better heart health.
A medicinal mushroom complex that includes shiitake and maitake, like Real Mushrooms's 5 Defenders supplement, is a great way to manage physical and mental stress. One of our customers shared their experience with this health-balancing effect:
"Since taking Five Defenders I've been less susceptible to catching colds and in general I feel stronger and more balanced." — Ingrid, Verified 5 Defenders Buyer.
Expert tip: If coffee (caffeine) makes you a jittery mess, you can still benefit from the mushroom powders by adding them to smoothies, yogurt, hot chocolate, elixirs, and even baked goods.
You can get the benefits of mushroom extracts by adding them to coffee, or by adding them to other drinks, snacks, or meals. Here's our free mushroom recipe book to help you get started on your mushroom supplementation journey today.
#2 - Mushrooms Improve Sleep Quality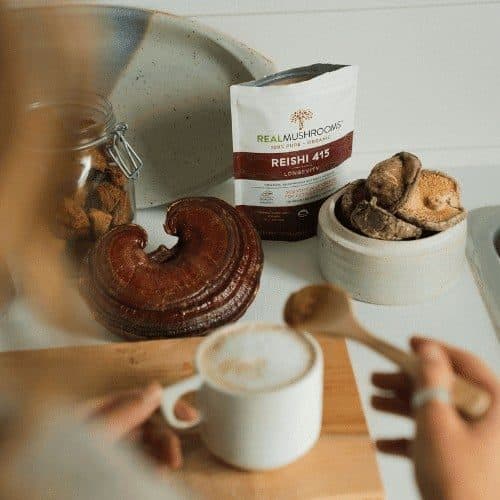 Traditional Chinese medicine used reishi mushrooms to ease restlessness and insomnia for hundreds of years, showing that even ethnomedicine recognized sleep as a key health marker.
All the obvious symptoms we typically link to tiredness, such as slower reflexes, reduced cognitive efficiency, and impaired memory, can point to poor sleep quality.
In fact, one study (6) showed that it takes longer than 7 days of full sleep to recover from the same number of days of restricted sleep.
Good sleep hygiene is essential because, without it, we lose the regenerative effects of sleep hormones like melatonin and growth hormone. We also get a high amount of stress hormones in the body, which wreak havoc on the body's resilience, immune response, and metabolism.
How Mushrooms Can Support Restful Sleep
So, how exactly do mushrooms aid in good sleep quality?
An animal study (7) found that reishi mushroom extracts increased total sleep time and non-rapid eye movement (NREM) sleep.
It's no surprise since during NREM sleep, your body:
Strengthens the immune system
Builds bone and muscle
Repairs and regenerates tissues
Our customer Steve definitely had this sleep-improving experience:
"I have been a light sleeper for a long time and relied on Melatonin and other sleep aids… I have been using Reishi extract exclusively for the past three months, and I am continuing to sleep noticeably better than before." — Steve, ⭐⭐⭐⭐⭐ Verified Real Mushrooms Buyer
Expert tip: We recommend taking your Organic Reishi Mushroom Powder in the evening in your hot chocolate or tea to regulate your natural biorhythm and get you into a rejuvenating, deep sleep.
Balance these effects with the benefits of mushroom coffee in the morning. Simply add Organic Cordyceps Mushroom Extract and Organic Lion's Mane Mushroom to your brew to reset your biorhythm, wake the body up with an energy boost, and prime the brain for optimal functioning.
#1 - Mushrooms Support Focus & Cognition With No "Crash"
Many of us depend on our morning coffee or tea to wake our minds up and increase mental acuity. If you count yourself among this group, then you may have noticed that caffeine has its downsides.
Downsides of Caffeine
Caffeine reduces the effects of adenosine, a brain chemical that makes you feel sleepy. Simultaneously, it increases the fight-or-flight hormone adrenaline to give you energy (10). This is why many people struggle with sleepless nights, anxiety, and jitters after consuming caffeine.
Caffeine can also make you feel fatigued and irritable and even give you a headache after its effects wear off. This is often referred to as "crashing." It typically occurs about five hours after consuming this stimulant (7,8,9).
A Functional Alternative to Caffeine for Alertness & Focus
One of the great benefits of lion's mane, like the other medicinal mushrooms, is that it is a very effective adaptogen for promoting a healthy inflammatory response and supporting a healthy immune system. But it also has another unique characteristic.
Lion's Mane has been receiving a lot of attention in relation to its effect on brain function and cognition. This is a relatively new use for this mushroom and is related to discoveries around its effect on Nerve growth factor (NGF) in the 1990s. More recent clinical studies have supported this discovery (11).
Human clinical studies have shown lion's mane mushrooms can improve scores on anxiety and depression scales (12). Human studies have also demonstrated that lion's mane can support better memory recall in aging people with mild memory issues (13,14).
Animal tests indicate compounds from lion's mane may support nerve impulse transmission as well as support short and long-term memory (15). Interestingly, the same compounds were found to counter oxidative stress on the brain (15).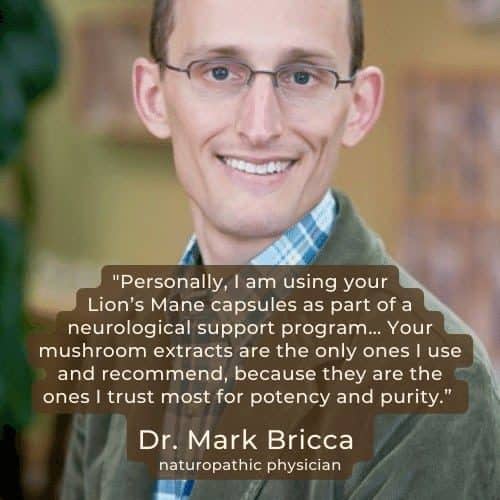 As many of our customers have noted, their cognition, memory, energy, and mood improved once they began supplementing with lion's mane extract.
"I use Lions Mane in my coffee every morning, it helps calm my nervous system and is helping my anxiety greatly. I don't want to be without this in my daily routine! Also, I feel more energetic and less fatigued throughout the day." - Annette, Real Mushrooms Verified Buyer
"From adding the lion's mane to my morning coffee I have really felt a benefit in my mental acuity." - Dylan, Real Mushrooms Verified Buyer
Expert tip: Lion's mane extract powder can be taken either as a replacement for caffeine or can be added to your caffeinated drink to help offset the potential for jitters and anxiety.
5 Mushroom Coffee Benefits at a Glance
We've covered a lot of benefits but these immune-modulating, antioxidant, stress-relieving, and sleep-improving benefits of mushrooms are just the tip of the iceberg.
Let's review, in the table below, how all these mushrooms work to boost energy: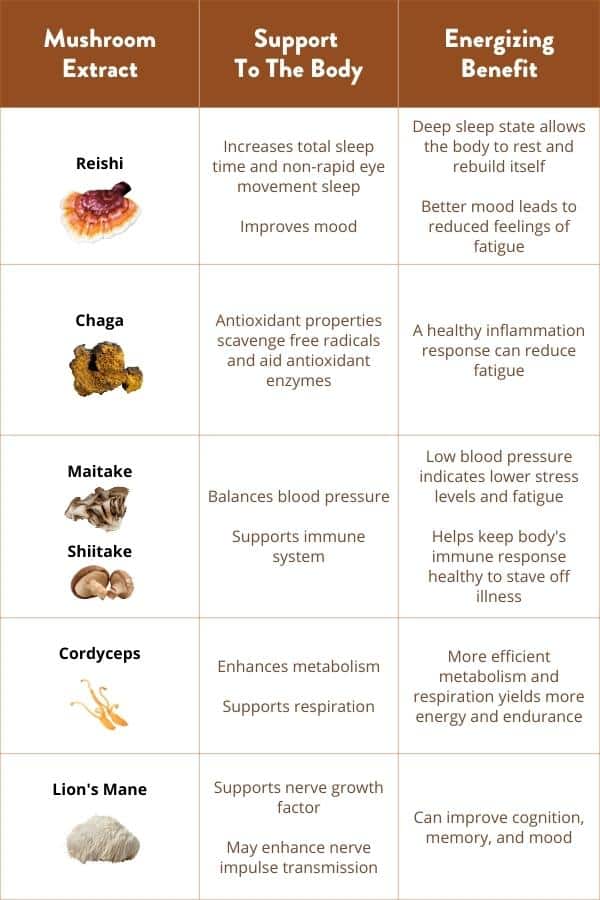 Remember, the effectiveness and potency of your mushroom supplements depend on their extraction from fruit bodies, grown organically; which is a core value of Real Mushrooms.
Tips for Mushroom-ing Your Coffee
You can use the mushroom extracts individually or try them in a super blend, such as our 5 Defenders Organic Mushroom Complex.
With this 100% pure, organic blend, you'll get a powerhouse of nutrients from chaga, shiitake, maitake, reishi, and turkey tail mushroom extracts. Together they deliver more than 20% of the recommended daily intake of beta-glucans.
If you're ready to boost your energy and reap the benefits of mushrooms, try our mushroom powders or mushroom capsules today.
Expert tip: Use our collection of mushroom coffee recipes to find unique ways to amp up your morning beverage game for whole health.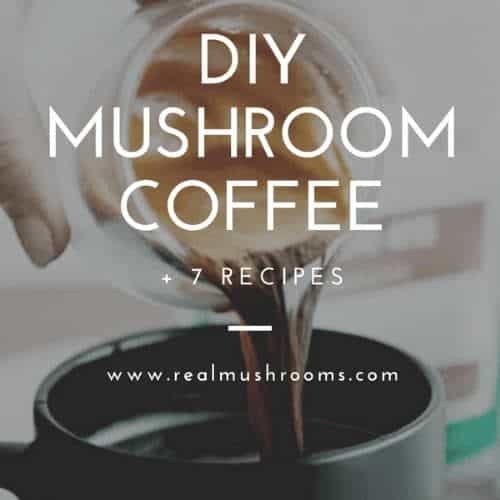 Learn More About the Benefits of Functional Mushrooms: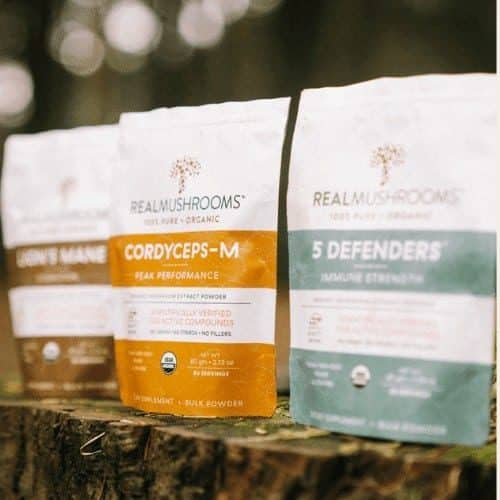 References
Lacourt, T. E., Vichaya, E. G., Chiu, G. S., Dantzer, R., & Heijnen, C. J. (2018). The High Costs of Low-Grade Inflammation: Persistent Fatigue as a Consequence of Reduced Cellular-Energy Availability and Non-adaptive Energy Expenditure. Frontiers in behavioral neuroscience, 12, 78. https://doi.org/10.3389/fnbeh.2018.00078
Szychowski, K. A., Skóra, B., Pomianek, T., & Gmiński, J. (2020). Inonotus obliquus - from folk medicine to clinical use. Journal of traditional and complementary medicine, 11(4), 293–302. https://doi.org/10.1016/j.jtcme.2020.08.003
Chen, S., Li, Z., Krochmal, R., Abrazado, M., Kim, W., & Cooper, C. B. (2010). Effect of Cs-4 (Cordyceps sinensis) on exercise performance in healthy older subjects: a double-blind, placebo-controlled trial. Journal of alternative and complementary medicine (New York, N.Y.), 16(5), 585–590. https://doi.org/10.1089/acm.2009.0226
Vlassopoulou, M., Yannakoulia, M., Pletsa, V., Zervakis, G., & Kyriacou, A. (2021, March 2). Effects of fungal beta-glucans on health – a systematic review of randomized controlled trials - food & function (RSC publishing) DOI:10.1039/D1FO00122A. The Royal Society of Chemistry's Journals, Books and Databases. Retrieved July 19, 2022, from https://pubs.rsc.org/en/content/articlehtml/2021/fo/d1fo00122a
Kabir, Yearul & YAMAGUCHI, Mami & KIMURA, Shuichi. (1987). Effect of Shiitake (Lentinus edodes) and Maitake (Grifola frondosa) mushrooms on blood pressure and plasma lipids of spontaneously hypertensive rats. Journal of nutritional science and vitaminology. 33. 341-6. 10.3177/jnsv.33.341.
Ochab, J. K. (2021, September 1). Observing changes in human functioning during induced sleep deficiency and recovery periods. PLOS ONE. Retrieved July 19, 2022, from https://journals.plos.org/plosone/article/authors?id=10.1371/journal.pone.0255771
Evans, J. et al. (2020, December 2). Caffeine. StatPearls [Internet]. https://www.ncbi.nlm.nih.gov/books/NBK519490/.
Sajadi-Ernazarova, K. R. et al. (2020, November 10). Caffeine Withdrawal. StatPearls [Internet]. https://www.ncbi.nlm.nih.gov/books/NBK430790/.
Temple, J. L., Bernard, C., Lipshultz, S. E., Czachor, J. D., Westphal, J. A., & Mestre, M. A. (2017, May 26). The Safety of Ingested Caffeine: A Comprehensive Review. Frontiers in psychiatry. https://www.ncbi.nlm.nih.gov/pmc/articles/PMC5445139/.
Ferre, S. (2007, December 18). An update on the mechanisms of the psychostimulant effects of caffeine. Journal of neurochemistry. https://pubmed.ncbi.nlm.nih.gov/18088379/.
Hirokazu Kawagishi. January 7, 2021. Chemical studies on bioactive compounds related to higher fungi. https://academic.oup.com/bbb/article/85/1/1/6066730?login=true
Mayumi Nagano, Kuniyoshi Shimizu, Ryuichiro Kondo, et al. August 31, 2010. Reduction of depression and anxiety by 4 weeks Hericium erinaceus intake. https://pubmed.ncbi.nlm.nih.gov/20834180/
Mori, K., Inatomi, S., Ouchi, K., Azumi, Y., & Tuchida, T. (2009). Improving effects of the mushroom Yamabushitake (Hericium erinaceus) on mild cognitive impairment: a double-blind placebo-controlled clinical trial. Phytotherapy research : PTR, 23(3), 367–372. https://doi.org/10.1002/ptr.2634
Saitsu, Y., Nishide, A., Kikushima, K., Shimizu, K., & Ohnuki, K. (2019). Improvement of cognitive functions by oral intake of Hericium erinaceus. Biomedical research (Tokyo, Japan), 40(4), 125–131. https://doi.org/10.2220/biomedres.40.125
Spelman, K., Sutherland, E., & Bagade, A. (2017). Neurological activity of lion's mane (Hericium erinaceus). J Restorative Med 6 (1): 19–26.