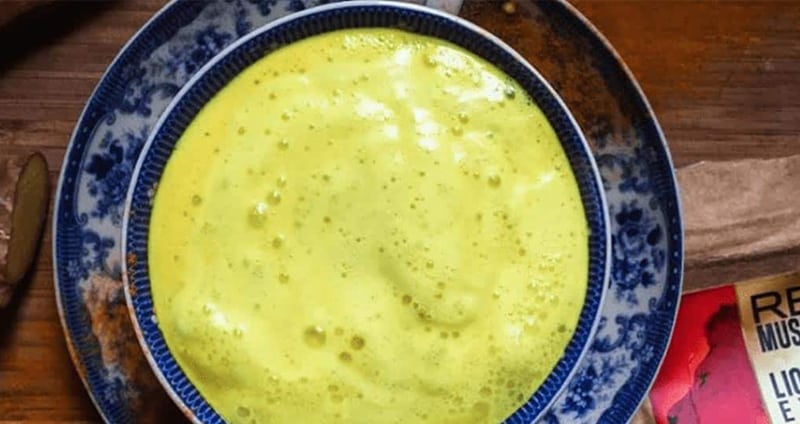 It seems golden mylk is all the buzz these days and for good reason! It's loaded with this well researched spice called "Turmeric." What makes this different from your typical golden mylk is a wonderful blend of turmeric, vanilla, cinnamon, black pepper, ginger, coconut oil and lion's mane mushroom. The perfect blend if you ask us! Let's get into the details of what makes this golden mylk sing!
Golden Mylk Tonic
Ingredients:
3 cups coconut milk (Homemade is best)

1 1/2 tsp  organic ground turmeric

1 Tbsp freshly grated ginger

1 cinnamon stick

1 Tbsp coconut oil

1 tsp vanilla

Pinch ground black pepper

optional: sweetener of choice (raw honey, coconut nectar or stevia)
Instructions:
To a small saucepan, add coconut milk, ground turmeric, grated ginger, cinnamon stick, coconut oil, black pepper, mushroom extracts

Whisk to combine and warm over medium heat. Heat until hot but not boiling whisking frequently.

Turn off heat and add sweetener to taste

Serves 2 immediately and get glowing.
Disclaimer: The information or products mentioned in this article are provided as information resources only, and are not to be used or relied on to diagnose, treat, cure, or prevent any disease. This information does not create any patient-doctor relationship, and should not be used as a substitute for professional diagnosis and treatment. The information is intended for health care professionals only. The statements made in this article have not been evaluated by the Food and Drug Administration. Any products mentioned are not intended to diagnose, treat, cure, or prevent any disease. The information in this article is intended for educational purposes. The information is not intended to replace medical advice offered by licensed medical physicians. Please consult your doctor or health practitioner for any medical advice.