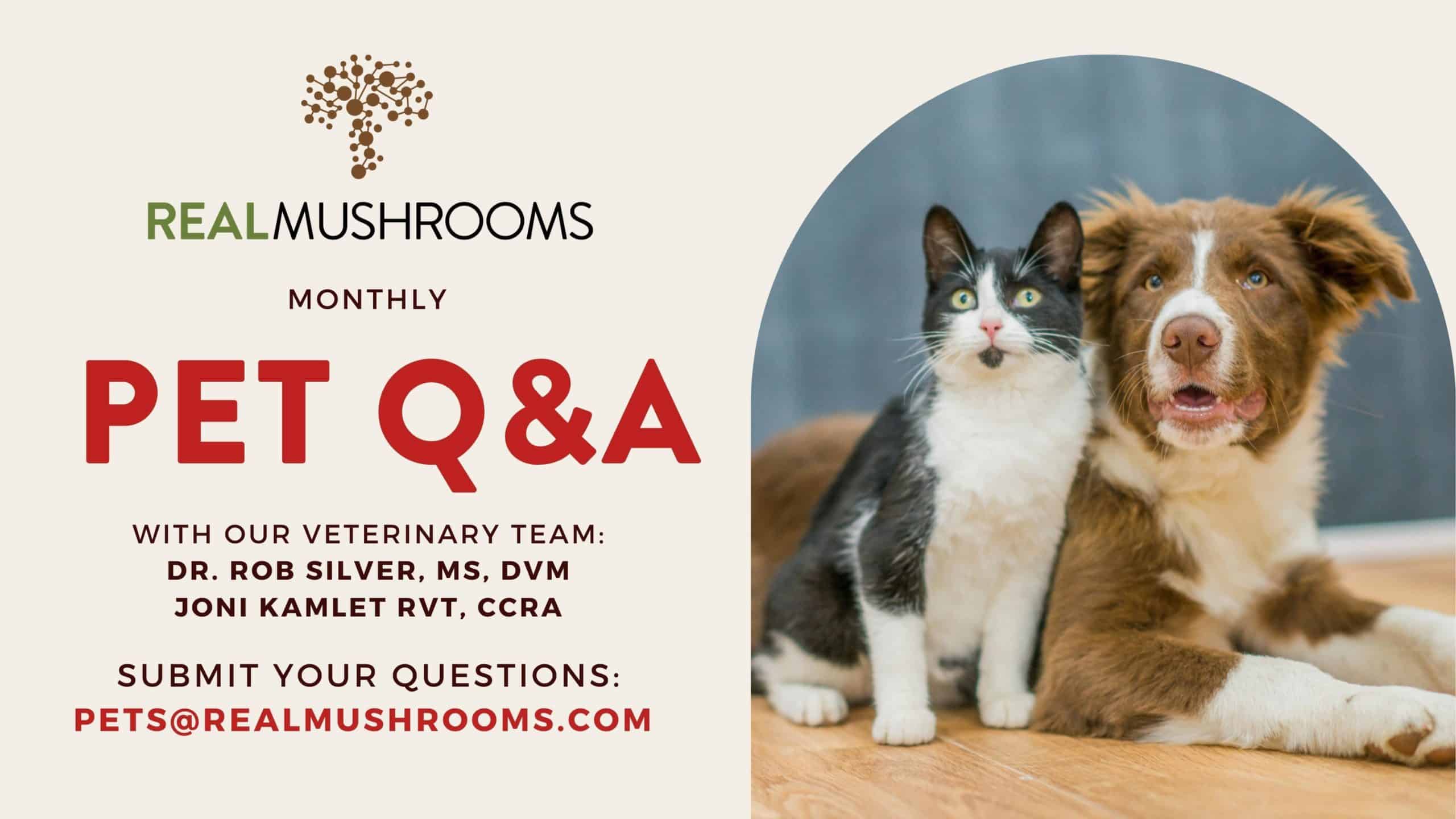 Join us for our monthly, live Pet Q&A answering your questions about pets and the best ways to care for them.
Get expert advice and holistic health tips for your furry loved ones from two veterans in the holistic pet care space:  veterinarian Dr. Rob Silver, DVM, and veterinary technician, Joni Kamlet.
Our Real Mushrooms Pet Team is at your disposal monthly during our live video call. Submit any pet questions you have ahead of time. Then, watch live as Dr. Rob and Joni provide answers to that month's pet questions.
Upcoming Pet Q&A Live Event
Where to watch live: Our Facebook page or YouTube channel.
The date of the next live Q&A session: Thursday, January 26th at 4pm PST / 7pm EST.
The topic for this month's Q&A: How Can Mushrooms Help my Pet with Yeast issues?
We will be discussing ways to improve your pet's gut health function and overall health.
Watch the live event: Click here on Thursday, January  26th.
Past Pet Q&A Topics & Recordings
Our Veterinary Team will set a theme for each month's live Q&A event. While we encourage you to submit questions around the topic, don't hesitate to also send us your general questions.
If you want questions answered by the Real Mushroom's Pet Team, please submit them here beforehand.
Here were the dates and topics of our last live events. Click on any topic to view the event recording.
January 2023: How Can Mushrooms Help my Pet with Yeast Issues?
December 2022: How Cordyceps and Chaga Can Benefit Your Pet!
November 2022: Functional Mushrooms & Your Pet's Gut Health
October 2022: Myths and Facts About Safe Human Food for Dogs and Cats
September 2022: Does the Placebo Effect Apply to Animals?
August 2022: Integrative Veterinary Medicine, Explained!
July 2022: Tips to help keep your pets cool!
June 2022: Fourth of July Prep for Your Pets!
May 2022: Pet anxiety, liver issues, food sensitivities & more!
April 2022: Pet cancer, Feline AIDS, mushrooms+CBD & more!
We hope to see you at our next Pet Q&A!
How to Get Your Pet Questions Answered
If you want questions answered by the Real Mushroom's Pet Team you have 2 options:
You can submit them here ahead of our live broadcast.
You can submit a question during the live broadcast on our YouTube live feed.
We do our best to get all the pet questions that are submitted, but sometimes we are unable to get to them all. If your question was not answered, please feel free to send us an email at [email protected] and we will happily assist you with your pet question!
P.S. – Are you in our Pet Facebook Group yet? Join here! 🐾