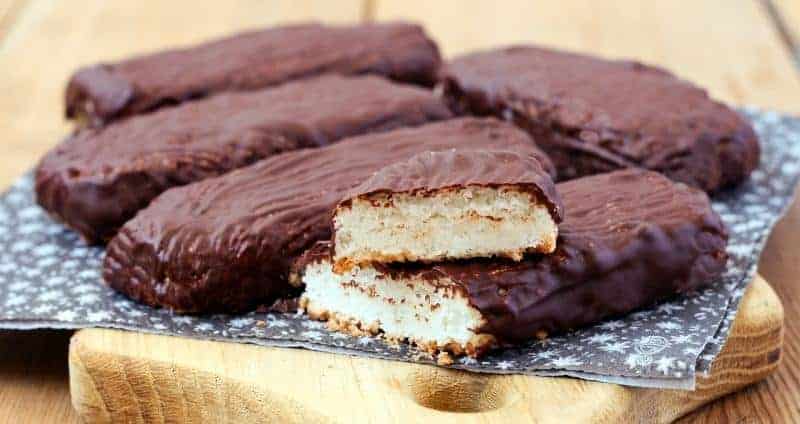 Daisy has outdone herself with these delightful and nourishing bounty bars with a potent immune-boosting mushroom known to support the mind, body, and soul. If you make these be sure to tag @daisy_scoopwholefoods and us @real_mushrooms!! We would love to see how your bounty bars turn out! Share your results with @real_mushrooms on Instagram!
Bounty Bars Recipe Ingredients
Directions
Gently heat ⅓ cup coconut milk in a pot, add ¼ cup coconut butter, ¼ cup maple syrup and a pinch of sea salt.

Once smooth and well combined, add 2 cups of unsweetened desiccated coconut and optional 2 tsp Real Mushrooms Reishi 415.

Scoop into the lined loaf tin, flatten and place in the freezer for 1-2 hours.

Next, melt down 200g of our mushroom chocolate bar.

Slice your solidified coconut mixture into 7-8 bars, then gently dip into melted chocolate and coat using 2 forks. Let excess drip off as much as possible.

Place on baking paper, drizzle leftover chocolate over the top of all bars, then place in the fridge to set. Enjoy! 🙂
Disclaimer: The information or products mentioned in this article are provided as information resources only, and are not to be used or relied on to diagnose, treat, cure, or prevent any disease. This information does not create any patient-doctor relationship, and should not be used as a substitute for professional diagnosis and treatment. The information is intended for health care professionals only. The statements made in this article have not been evaluated by the Food and Drug Administration. Any products mentioned are not intended to diagnose, treat, cure, or prevent any disease. The information in this article is intended for educational purposes. The information is not intended to replace medical advice offered by licensed medical physicians. Please consult your doctor or health practitioner for any medical advice.