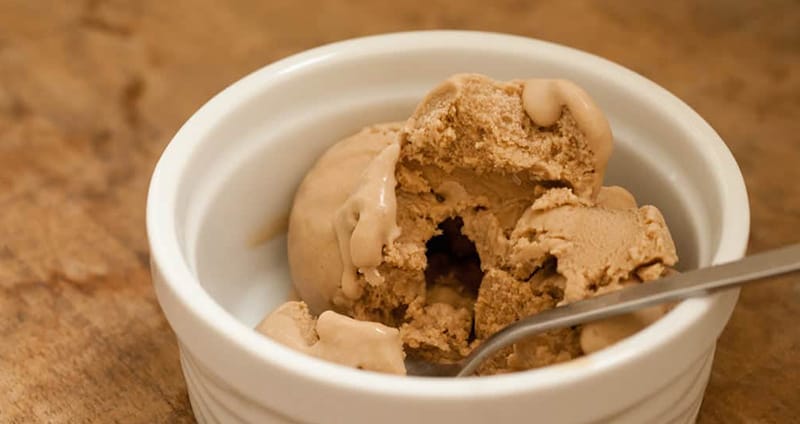 Superfood Coffee Ice Cream w/ Hardshell Chocolate Sauce
Sugarfree coffee ice cream packed w/anabolic recovery proteins, gut strengthening amino acids, immune boosting/adaptogenic Chinese herbs, and cognitive enhancing fats. Topped with my mct charged hard shell chocolate sauce to give it that perfect mocha flavor. A delicious morning to midday treat in this crazy heat wave. If you have it in the evening be sure to use decaf or else you could be up all night!!!
Prep: French press 4 tbs ground coffee then pour into ice cube mold. Freeze overnight.
Add a full tray of coffee ice cubes
1.5 scoops whey isolate (about 4-6 tbs)
1 tbsp collagen protein powder
1-1.5 tbs powdered lakanto sugar
5 grams L-glutamine
1/2 tsp Real Mushrooms Chaga
1 pastured egg yolk
1 tbsp MCT oil
Pinch of pink salt
Capful of vanilla extract
1/4-1/2 dropper Vanilla stevia
Optional- 1-2 tbs cacao nibs
Use the tamper to pound into creamy ice cream texture. Set back in a freezer.
Chocolate sauce:
4 tbsp cacao powder
2 tbsp powdered lakanto sugar
Pinch of pink salt
1 tbs MCT oil
1 tbsp melted cacao butter
4-6 drops vanilla stevia
How: Stir until smooth and add to piping bag.
Scoop out the ice cream and the drizzle on the chocolate sauce. Add any other toppings and ENJOY!! If you make this awesome creation from Crosby Tailor. Be sure to tag us both for a chance featured 🙂
Disclaimer: The information or products mentioned in this article are provided as information resources only, and are not to be used or relied on to diagnose, treat, cure, or prevent any disease. This information does not create any patient-doctor relationship, and should not be used as a substitute for professional diagnosis and treatment. The information is intended for health care professionals only. The statements made in this article have not been evaluated by the Food and Drug Administration. Any products mentioned are not intended to diagnose, treat, cure, or prevent any disease. The information in this article is intended for educational purposes. The information is not intended to replace medical advice offered by licensed medical physicians. Please consult your doctor or health practitioner for any medical advice.