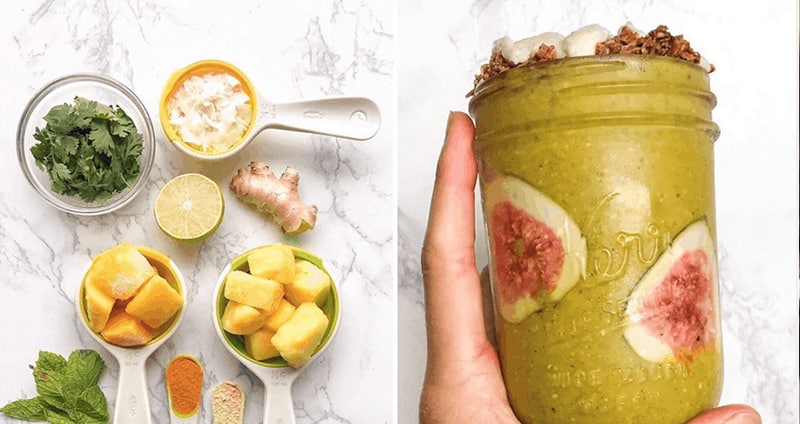 Tyler Jean of functional.foods crafted together this Tropical Greens Smoothie, which is packed with anti-inflammatory pineapple, turmeric, and ginger and is so refreshing during this summer heat.
This smoothie has the perfect balance of sweet, sour, and bitter flavor profiles and is loaded of antioxidants + polyphenols.
To make the TROPICAL GREENS SMOOTHIE, you will need:
• 1/2 cup+ frozen pineapple
• 1/3 cup+ frozen mango chunks
• 1/4 cup coconut flakes
• 1/4 cup chopped cilantro
• 1/2 thumb of ginger root
• 4-5 mint leaves
• The juice from half a lime
• 1 tsp ground organic turmeric
• 1/2 tsp real mushrooms lion's mane
• 1 scoop unflavored collagen
Directions: Combine all ingredients with 1/2 cup filtered water. Blend in a NutriBullet or small blender. Add more water to thin.
Add your favorite toppings and Enjoy!!
Disclaimer: The information or products mentioned in this article are provided as information resources only, and are not to be used or relied on to diagnose, treat, cure, or prevent any disease. This information does not create any patient-doctor relationship, and should not be used as a substitute for professional diagnosis and treatment. The information is intended for health care professionals only. The statements made in this article have not been evaluated by the Food and Drug Administration. Any products mentioned are not intended to diagnose, treat, cure, or prevent any disease. The information in this article is intended for educational purposes. The information is not intended to replace medical advice offered by licensed medical physicians. Please consult your doctor or health practitioner for any medical advice.