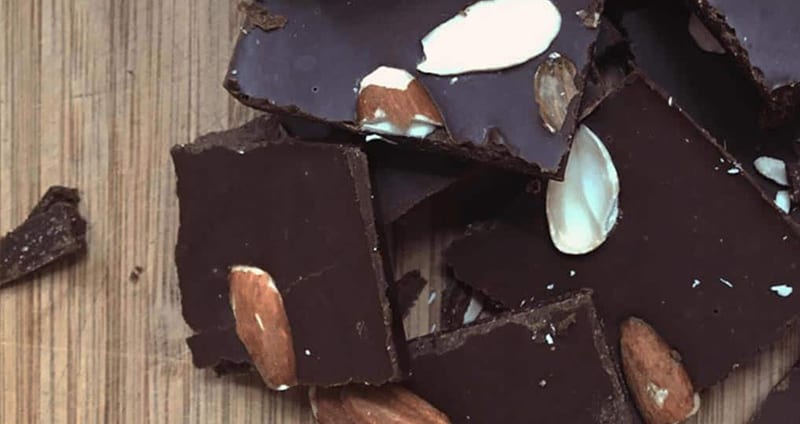 The versatility and creative capacity of making homemade chocolate bark is pretty much endless if you ask me. Nettie of Nourishing Roots has done it again with this creative way to incorporate medicinal mushrooms in this spiced up version of the classic chocolate bark. Not only is it utilizing functional medicinal mushrooms like reishi and chaga. The recipe is further intensified by adding chili powder here. The benefits of medicinal mushrooms + chili is a wonderful combo worthy to make time and time again. Let's get to the magic, shall we!!
Instructions:
Make a double boiler. Mix melted coconut oil, CBD, tahini and honey together until well incorporated.

Add cacao, chili powder and mushroom extracts and mix until the chocolate is smooth

Line a baking pan with parchment paper and pour the chocolate on top

Sprinkle with almonds, sea salt or whatever strikes your fancy

Move to the fridge or freezer and let it set

Cut with a knife and store in the refrigerator

Indulge and relish in the love of cacao either by yourself or with your honey!
Disclaimer: The information or products mentioned in this article are provided as information resources only, and are not to be used or relied on to diagnose, treat, cure, or prevent any disease. This information does not create any patient-doctor relationship, and should not be used as a substitute for professional diagnosis and treatment. The information is intended for health care professionals only. The statements made in this article have not been evaluated by the Food and Drug Administration. Any products mentioned are not intended to diagnose, treat, cure, or prevent any disease. The information in this article is intended for educational purposes. The information is not intended to replace medical advice offered by licensed medical physicians. Please consult your doctor or health practitioner for any medical advice.