Three words: Cinnamon. Sugar. Donuts. Cue craving! We've all smelled the heavenly aroma of this magical combination. But we don't usually associate those sights and smells with these three words: Healthy. Brain. Function. But, what if we told you all of those words can belong together, that you could have your donuts and your brain boost too? That's where this baked Keto donut recipe comes in. These cinnamon "sugar" donut holes roll into play with their low-carb real food ingredients, healthy fats, and the secret ingredient known as the "Mushroom For the Mind" — Lion's Mane.
What's so special about Lion's Mane?
Lion's Mane can be used to support memory, focus, and long-term brain health.
An increasing body of evidence shows that Lion's Mane may help mitigate cognitive decline and/or improve neurological ailments.1 Further, Lion's Mane has been shown to rebuild nerves and help regenerate the myelin sheaths important for healthy brain cell function.2 Overall, it supports having healthy neurons and brain cell communication, which leads to improvements in your mood, memory, focus, and energy. High quality, pure 100% Lion's Mane is a great ally to help you maintain balanced mental and emotional functions. So when you're using the real deal extracts, do (nut) think you can't have donuts for your brain health!
Ok, so you might not want to be relying solely on these donuts for living your best nutritional life, but when you throw in the healthy fats, cinnamon, and low carb real food ingredients, you truly do have a blood-sugar stabilizing healthy alternative to the fried classic. With that being said, let's get on to the recipe.
Bonus: it is a simple recipe that comes together effortlessly!
Keto Cinnamon "Sugar" Donut Holes Recipe:
Tools you'll need:
Glass mixing bowls
Baking tray lined with parchment paper
Mixing Spoon
Keto Donut Recipe Substitutions:
In the video, we used Birch Xylitol as the sweetener to make these "sugar-free and keto," but you can easily substitute with monk fruit. For a non-keto version, coconut sugar or cane sugar works great.
Note on Xylitol Use: Xylitol is toxic for dogs so please be careful when using it around your furry friends.
Servings: 12 donut holes
Prep Time: 15 minutes
Cook Time: 15 minutes
Keto Donut Ingredients:
1 and 1/4th cup blanched almond flour
3 TB favorite sweetener - monk fruit / birch xylitol / coconut sugar
1 tsp baking powder
A pinch of salt
1 TB cinnamon
1 egg
2 TB melted coconut oil or ghee
1 tsp vanilla
Cinnamon "Sugar" Coating Ingredients:
3 TB favorite sweetener - monk fruit / coconut sugar / Birch Xylitol
1 TB cinnamon
2 TB melted coconut oil or ghee
Instructions
Preheat oven to 350° F.
Combine all the dry donut ingredients in a glass bowl - almond flour, sweetener, baking powder, salt, cinnamon, and Lion's Mane. Mix until combined.
Add your wet donut ingredients - egg, coconut oil, and vanilla. Mix until combined.
Refrigerate the dough for about 10-15 minutes so that it's firm enough to easily work with and roll into balls.
After 10-15 minutes in the fridge, roll the dough into 12 balls.
Place the balls on a baking tray lined with parchment paper and bake for 15 minutes.
While they are baking, make your cinnamon "sugar" coating.
In a small bowl, mix the sweetener and the cinnamon.
In a separate small bowl, have your melted coconut oil.
After the keto donuts have cooled, dip each one into the melted coconut oil and then roll in the cinnamon and sweetener mix.
Enjoy your keto cinnamon "sugar" donuts in good health
When it comes to the health of your brain and your nerves, lifestyle choices make the biggest impact. Eat real foods. Engage in community activities. Enjoy stimulating your mind. But sometimes, it's nice to have a little help from our powerful fungi friends to help keep us running at our best.
We know that everyone has something (or multiple things) that they want to accomplish to better themselves and the world. When you're running at your best and feeling healthy, you're better able to fulfill the passion that lights you up on the inside. When you're thinking clearly, without the hindrance of brain fog and poor concentration, you're able to enjoy your work more. You're able to be more productive. And there's nothing that makes us happier than supplying fuel and knowledge to help keep you on top of your game so that you can do just that. That's why we are dedicated to providing you with pure products - pure 100% mushroom extracts with no added starch or fillers.
So stay passionate and enjoy this keto donut recipe with Lion's Mane to help keep you sharp! Enjoy a healthy brain to enjoy a happy life!
Easily give your other recipes a power boost
We at Real Mushrooms would love to see how you're whipping these up in your kitchen! If you don't want to use Lion's Mane, perhaps try out another medicinal mushroom. There are wonderful options, each with their own unique profiles and benefits. To learn more, you can read our which highlights the top 7 benefits of the main medicinal mushrooms. Bottom line, just have fun, get creative, and show off your work!
Join the mushroom recipe challenge! Get creative in the kitchen with different ways to get more mushrooms in your diet. Invent your own recipe and share via insta @realmushrooms. We will feature the winner's recipe on the blog & give you a coupon for any Real Mushroom product of your choice!
[cgv blog-cta]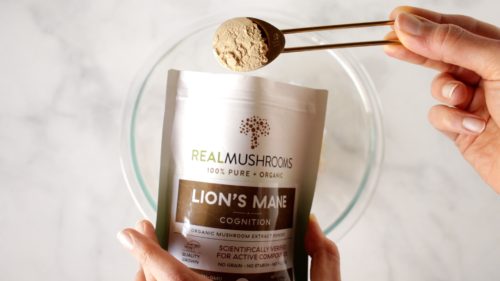 References