Sometimes you just need an easy button for life. 
An easy button for meals that taste delicious and makes you feel great. 
A button for exercise. 
A button for work. 
And an easy button for effortless ways to include real functional mushrooms in your diet on a regular basis. 
We hear you, and we are passionate about presenting you with solutions. 
Enter keto stuffed mushrooms - the meal-time easy button! Hit it, and in under 45 minutes (most of which is hands-off cooking time), you will be enjoying delicious keto stuffed mushrooms, stuffed with tasty real ingredients, and made from real mushrooms. 
Life can get busy and complicated, but eating healthy and sustainably shouldn't be. And while this may not be an easy button for exercise or work, when you eat real food recipes, boosted with powerhouse ingredients like reishi, you'll actually have the energy and mental clarity needed to successfully tackle those other life tasks too. Enjoy! 

Recipe notes for Keto Stuffed Mushrooms :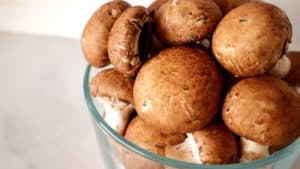 Kitchen tools you'll need:
A baking tray 

A kitchen knife 

A sauté pan with lid 
Ingredients:
1 lb small to medium cremini mushrooms, also called "baby bellas"

1 TB avocado oil 

1 lb ground turkey (or sub with "walnut meat" for vegans)

4 oz shredded mild cheddar cheese (sub cashew cheese for vegan/non-dairy)

3 fresh chopped garlic cloves 

sea salt and black pepper to taste (1/2 tsp salt and pepper) 

(power booster) Add 1 tsp

RM lion's mane powder

for longevity

1 avocado sliced for serving 

fresh chopped parsley for serving 

(optional) nutritional yeast for serving 
Easy recipe run down:
Recipe Substitutions: 
This recipe is very versatile. You can easily substitute the ground turkey for chicken or sausage. For vegans, you can use ground walnuts to make a "meat." You can also use different cheeses or use no cheese at all! Play around with the ingredients and spices to make it enjoyable for you - get creative! 

Don't have lion's mane in stock? Try a different mushroom! Cordyceps would be a beautiful replacement, with the beneficial power of increasing energy and improving lung endurance! 

If you're looking for more of an entree style recipe, you can easily substitute the baby mushrooms for four portobello caps.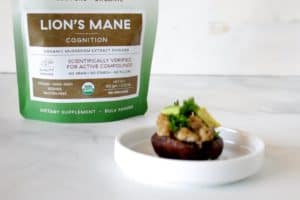 Helpful hints:
When you remove the cremini mushroom stems, thinly slice the bottom of the mushroom caps to create a flat base. This will help keep them from falling over when you stuff them. 

To prevent watery mushrooms during the baking process, sprinkle a little bit of salt on the mushrooms after you de-stem them. Then let them sit out while you make the rest of your filling. The salt helps draw out the moisture. Also, it helps to rinse the mushrooms before slicing. 

You can store the leftovers in an airtight container in the refrigerator for about 3 days.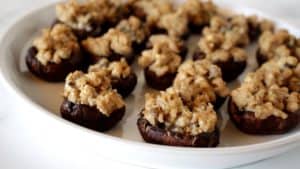 Servings: 6
Prep Time: 10 minutes 
Cook Time: 35 minutes 
Instructions
:
Preheat the oven to 350°F and line a baking tray with parchment paper. Set aside.

Chop up your garlic gloves and set aside. 

Rinse your mushroom caps, pat them dry, and remove the stems. Chop up the stems to use in the turkey mixture. Set aside. 

Heat 1 TB avocado oil on medium heat in a skillet. 

Add the chopped garlic and sauté for a few minutes.

Add the chopped up mushroom stems and sauté for a few minutes.

Add the ground turkey to the same skillet and cook until the turkey is no longer pink. This should take about 7 minutes.

Add salt and pepper to taste and the optional power boost lion's mane mushroom. Stir until everything is mixed. 

Add your cheese to the skillet and cover for 1-2 minutes. Remove the cover and stir until the cheese is completely melted and combined with the turkey. Remove from heat and set aside.

Fill each mushroom cap with some of the turkey mixture, and place them on your lined baking tray. 

Place the pan in the pre-heated oven and roast until the mushrooms are slightly browned around the edges. This should take around 10-12 minutes. Remove from the oven and serve with avocado slices, fresh chopped parsley, and a sprinkle of nutritional yeast if desired. Enjoy! 
*Depending on the size of your mushroom caps, you might have leftover turkey mixture that you can enjoy however you like!

Enjoy Keto Stuffed Mushrooms in good health
We know there's so much health information out there. There are so many different products promising miraculous results, often with misleading labels. And it can easily get overwhelming trying to choose in all of the confusion. That's why we're focused on transparency and creating real 100% organic mushroom products with no added fillers, starch, mycelium, or grain of any kind. In fact, we're verified for quality at accredited 3rd party labs.
Beyond the products we create, we like to make things simple and sustainable for you. - This recipe ticks both boxes. Not only is it simple and quick but it's also loaded with functional, real ingredients that will help sustain you throughout the day, it's also boosted with benefits: Real Mushrooms lion's mane which can with neurological function*. See all mushroom benefits
Easily give your other recipes a medicinal mushroom power boost
These keto stuffed mushrooms are boosted with Real Mushrooms lion's mane, but to easily boost your other recipes, shop the best products!
And join the mushroom recipe challenge! Get creative in the kitchen with different ways to get more mushrooms into your diet. Invent your own recipe and share via insta @real_mushrooms. We will feature the winner's recipe on the blog & give you a coupon to RM products or product giveaway! 
Important note on the quality of ingredients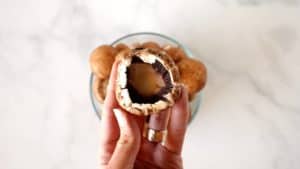 In this recipe, there's an option to enjoy even more mushroom love by adding lion's mane, a functional mushroom. Functional mushrooms are loaded with a plethora of amazing benefits. Aware of these benefits, many companies offer functional mushroom supplements. But here the emphasis on *real* ingredients should once again be highlighted because the many mushroom supplements tout all the benefits of mushroom  but DO NOT ACTUALLY CONTAIN ANY MUSHROOMS at all. Rather, they contain mycelium (the mushroom root system) and the rice or grain from which the mycelium is grown on. 
Mycelium, known as the vegetative body, is the precursor to the mushroom (fruiting body) that you see outside in your yard. It's important to know that mycelium and the mushroom are not the same, and they have very different properties.
Such confusion and package mislabeling often leads many people to put their money towards ineffective products. In fact, studies show that without the actual mushroom (fruiting body), much of the active compounds, that account for these health benefits, are severely reduced. Many times, what you're left with is nothing more than an inactive grain powder that your body can't use. The key takeaway to remember is that the highest concentration of beta-glucans and other therapeutic compounds are always found in the mushroom (fruiting body) - which Real Mushrooms ensures is a stable source for all of its products.
We are not only fully transparent in our supply chain and ensure the highest possible quality, but we are also very passionate about sharing and educating every chance we get. We aim to supply the very best in an easy-to-use way because we believe in your worth and value, your time and money.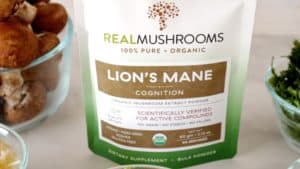 Disclaimer: The information or products mentioned in this article are provided as information resources only, and are not to be used or relied on to diagnose, treat, cure, or prevent any disease. This information does not create any patient-doctor relationship, and should not be used as a substitute for professional diagnosis and treatment. The information is intended for health care professionals only. The statements made in this article have not been evaluated by the Food and Drug Administration. Any products mentioned are not intended to diagnose, treat, cure, or prevent any disease. The information in this article is intended for educational purposes. The information is not intended to replace medical advice offered by licensed medical physicians. Please consult your doctor or health practitioner for any medical advice.