What happens when you combine the addictive flavors and textures of avocado toast with a delicious (and brain-boosting!) mushroom? You get Lion's Mane Mushroom Avocado Toast!
Lion's mane mushroom might not be the most common culinary mushroom, but it will take your cooking to a new level. In this recipe, it will help you takes your love affair with avocado toast a step further and invites a brain-boosting and delicious ingredient to the party - Lion's Mane Mushroom.
If you've been searching for a satisfying and healthy way to enjoy some delicious and brain-supporting lion's mane mushrooms, look no further. Imagine a lightly toasted, open-faced sandwich topped with mashed avocado, garlic, lemon, cucumber, parmesan cheese, and the star ingredient - Lion's Mane Mushroom.
What are the health benefits of Lion's Mane Mushroom?
This star ingredient is not only known for its delicious flavor, but the lion's mane mushroom has a myriad of health benefits, too. Research suggests that Lion's Mane may support your brain health and gut health, and provide you with anxiety, irritation, and frustration relief.
More specifically, this mushroom boosts your brain health by increasing the production of nerve growth factor, countering oxidative stress in the brain, supporting short and long-term memory, enhancing cognitive function, and regulating emotions.
Lion's Mane also promotes a healthy immune response by regulating bacteria in the gut and intestines.
What does Lion's Mane taste like?
Now that's a mouthful of benefits, and the great news is that you get all of them in a mouthful of delicious taste, thanks to the Lion's Mane savory, almost crab-like flavor. (As you can see in the video, it even resembles crab once torn up!) Think juicy, delicate, tender, and meaty! Think delicious!
Where can you get fresh Lion's Mane Mushroom?
Although the video showcases freshly-foraged Lion's Mane, your best bet is to find organic Lion's Mane at a local grocer, health-food market, or farmer's market. They are sometimes sold at Asian markets as well, just make sure they are organically grown because they are very absorbent, and you don't want them to have absorbed a bunch of pesticides, pollution, and chemicals. No amount of washing will rid the mushroom of those harmful toxins.
And if you really want to dive into the mushroom world, you can also grow them yourself with a mushroom growing kit.
How do you prepare Lion's Mane Mushroom?
Once you have your fresh Lion's Mane, you don't want to use a water bath or "wash" it with water because it will absorb too much liquid. Instead, try brushing off any dirt with a dry sponge or soft brush (this is another reason why you want to buy organic !). Once you've cleaned the Lion's Mane, tear the mushroom into bite-size pieces, discarding any overly brown bits. Once torn up, you're ready to cook them!
How do you cook Lion's Mane?
There are many delicious recipes out there, but for this Lion's Mane Mushroom Avocado Toast, you will stir fry them in butter or olive oil on medium heat, tossing frequently. Fry until golden brown, season, and try not to immediately devour them all before you put them on your avocado toast (easier said than done!)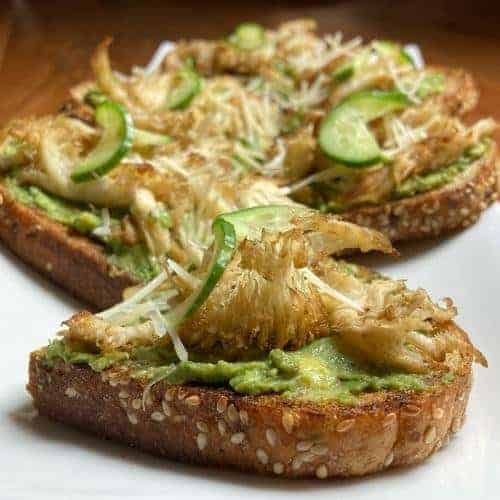 Ingredients:
1 lb lion's mane mushrooms
3-4 slices of your favorite bread
1 large avocado or 2 small ones
1 clove garlic
Juice from ½ lemon
1 tbsp olive oil or butter
1/3 cup shredded parmesan cheese
1 mini cucumber (for garnish)
Salt & pepper
Dash of cumin
Directions:
Tear mushrooms into bite-size pieces. Fry in 1 tbsp olive oil or butter in a pan on medium heat. Toss the mushrooms frequently and add more fat for a richer taste. Fry until golden brown. Season with salt, pepper, and cumin to taste. Remove from heat and set aside.
Mash avocado with salt, pepper, and juice of ½ a lemon. Set aside
Coat both sides of sliced bread lightly with olive oil and pan fry or toast in the oven until both sides are browned to desired darkness and crispness.
Slice the garlic clove in half and rub the sliced side on the top of each piece of bread.
Spread the avocado mash onto each bread slice (onto the garlic-rubbed side).
Distribute the fried lion's mane mushroom onto the mashed avocado on each piece of bread. Top with shredded parmesan and very thin slices of mini cucumber.
Learn more delicious ways to use lion's mane in our article, Lion's Mane Recipes: 7 Creations Using This Unique Mushroom!