All the creamy, robust flavor of traditional gravy, but is vegetarian, gluten-free, and packed with a helpful immune boost thanks to the turkey tail mushroom extract. It's a dish you can feel good about serving!
Gobble gobble gobble! It's the turkey-eating time of year, but you're among the countless meat-free eaters. Hoping to join in all the turkey fun, yet wanting to maintain your vegetarian or vegan lifestyle? We've got you covered! You can have your turkey and eat it too. Turkey tail mushroom that is! Enter this vegetarian mushroom gravy recipe.
If you're searching for a dish that's sure to please carnivores and vegetarians alike, look no further. This mushroom gravy has all the flavor of traditional gravy, minus the turkey drippings, and plus the nutrient powerhouse that is turkey tail mushroom.
It's healthy, delicious, and a definite crowd-pleaser!
What makes this vegetarian mushroom gravy so tasty and healthy?
You just need a few simple ingredients to make this gravy recipe, some of which you probably already have in stock. The major players are:
Onion: Onion adds flavor, feeds your good gut bacteria, and benefits your immune system.
Garlic: Garlic adds flavor, while also supporting your immune system.
Mushrooms: Feel free to use any mushrooms here; we used a mix of baby bella mushrooms, button mushrooms, and shiitake mushrooms.
Real Mushrooms Turkey Tail Extract: This mushroom powder extract is 100% organic turkey tail mushrooms, with no added starch or grain of any kind. The turkey tail mushroom health benefits include boosting your immune system (which we could all use around this time of year), supporting gut health, and helping to balance blood sugar.
Coconut aminos: This adds an in-depth umami flavor; you can substitute it with Tamari if you like.
Balsamic vinegar: For more of that versatile, umami flavor and a little tang from the acid.
Vegetable broth: For flavor, nutrients, and liquid.
Fresh herbs: Herbs add so much flavor and are packed with nutrients, so it's a win, win.
Parsnips: These are used instead of flour or powdered starch which is usually used to help thicken the gravy.
As you can see, with all the herbs and flavors of traditional gravy, this vegetarian version is quite similar to the real deal. The mushrooms have a satisfying, meaty flavor that really takes this gravy to the next level.
Unlike traditional gravy, you won't find any hidden starches, not in the recipe and not in the Turkey Tail mushroom extract powder! This is a gravy that you can feel good about pouring over all your favorite foods.
How to thicken the vegetarian mushroom gravy
As mentioned, a bonus factor of this recipe is that it doesn't require any additional flours to thicken, as is found in most gravy recipes. While providing a nice punch of flavor and adding in some extra nutrients, the pureed parsnips do the thickening. It imparts that creamy mouth-feel that we all love and know of gravy and keeps the recipe gluten-free.
What to serve with the vegetarian mushroom gravy
This is the fun part - you can pour this gravy over so many foods! You can go the traditional route and use it with mashed potatoes, mashed cauliflower, or experiment a little. Try pairing it with portobello or lion's mane mushroom "steaks," lentil meatloaf, rice, or these paleo biscuits. You might surprise yourself and come up with a new favorite combination!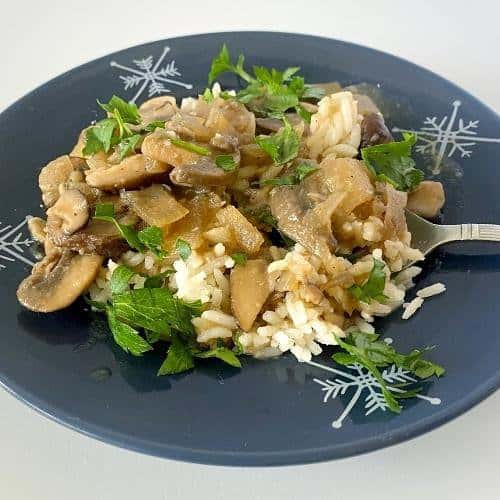 Tips for making this gravy
Although this recipe does require a bit of blending, it's quite simple! Here's the quick run-down:
Saute garlic and onion.
Caramelize mushrooms.
Add herbs, salt, pepper, turkey tail powder extract, coconut aminos, and balsamic vinegar.
Pour the vegetable broth into the pot, stir, and bring to a boil.
Add in parsnips and simmer.
Take parsnips out and puree them.
Add parsnip puree back to the pot and stir.
Stir and serve with fresh parsley!
Overall, this recipe is fairly easy, and it just requires a blender and a big pot with a lid. If you prefer your gravy completely blended - that works great too! Instead of just blending the parsnips, blend the whole mixture and serve. Both ways are equally delicious.
Can this vegetarian mushroom gravy be made ahead of time?
To help save some time on the actual day of celebration, you can make this mushroom gravy up to three days ahead of time. Just note that it will thicken up in the refrigerator, but don't worry because it will go back to the right consistency once you heat it up. When reheating, you might need to add a bit more vegetable broth, depending on your preferred consistency. Store in a sealed glass container for best results.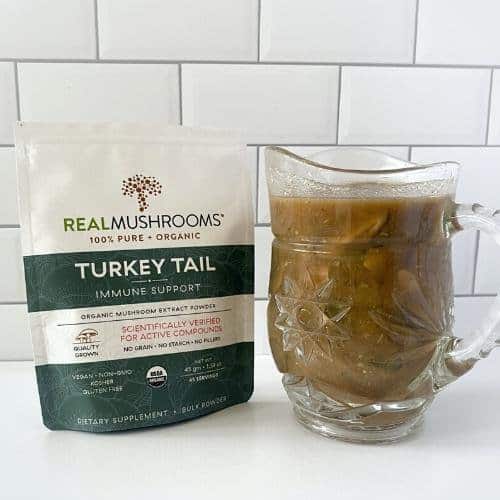 Vegetarian Mushroom Gravy Recipe in Detail
Serves: 8-10
Prep time: 20 minutes
Total Time: 1 hour
Ingredients:
1 Tbsp olive oil
1 large yellow or white onion, diced
3 large garlic cloves, minced
2 lbs sliced mushrooms
1 tsp Real Mushrooms Turkey Tail
2 Tbsp coconut aminos
1 Tbsp balsamic vinegar
3 cups vegetable broth (plus about ¼ cup for blending with the parsnips)
salt and pepper to taste (you can start with ¾ - 1 tsp salt and ¼ tsp pepper and go from there)
1 Tbsp chopped fresh thyme
1 Tbsp chopped sage
One extra large parsnip or 2 regular-size parsnips, peeled and cut into ¼" chunks
optional: serve with fresh parsley on top
Directions:
Heat oil in a large pot on the stove on medium heat. Add onion and garlic and cook for about 3-5 minutes or until tender.
Add the mushrooms and do not stir for the first few minutes - allowing them to sear and caramelize. Then stir.
Add thyme, sage, salt, pepper, Turkey Tail powder, coconut aminos, and balsamic vinegar and stir everything together, scraping the brown bits off the bottom of the ban.
Pour the vegetable broth into the pot, stir, and bring to a boil.
Add in the parsnip, lower the heat, place the lid on top of the pot, and simmer for about 25 minutes or until the parsnips are tender.
Remove parsnip with a slotted spoon and blend with a little bit of vegetable broth until you have a puree.
Pour the parsnip puree back into the mushroom pot. Stir until you have a creamy mixture and the gravy thickens (about 5 minutes).
Optional: add your parsley for serving and serve over mashed potatoes, cauliflower "steaks," or anything you like!
Enjoy the mushroom gravy in good health
This is truly such a merry time of year; a time for gratitude and coming together in community. That's one of the perks of this vegetarian mushroom gravy - it's sure to please everyone around the table, no matter their dietary preferences. And on top of that, the nutrients within help you to feel good and protect your wellness.
So invite friends, make a delicious feast, celebrate, feel your best, and enjoy this recipe in good health and happiness!