A healthy twist on a breakfast staple! These low-carb, buttery, paleo biscuits will have your taste buds dancing and your energy soaring thanks to the wholesome ingredients and the secret punch of cordyceps extract powder.
Break out the jam, the gravy, and your taste buds because this is one of those recipes where you can have your biscuit and eat it too. Not only are these biscuits paleo-friendly and autoimmune-friendly, but they're ramped up a notch or two with cordyceps mushroom extract! Unlike caffeine, this energizing mushroom is not a stimulant, so you'll get the energy benefits without the downsides. Plus, the cordyceps extract lends a gorgeous golden color to the recipe. That's a win-win in our books!
Ingredients for These Paleo Biscuits
Forget the highly processed, blood-sugar spiking bleached white flour and bring in the almond flour. This low-carb alternative, mixed with the healthy fat coming from the ghee, makes these paleo biscuits a great staple for those wanting an energizing, blood-sugar-stabilizing, healthy substitute for white bread.
The energizing ingredients don't stop there though: enter cordyceps. The health benefits of cordyceps range from improving exercise stamina, libido, supporting a healthy inflammatory response, testosterone levels, heart health, and maintaining blood sugar balance.
To learn more about this amazing ingredient and the two different varieties, read our article: Cordyceps Mushrooms: Supplement Types & Health Benefits.
Ingredients:
1 cup almond flour
1/2 cup tapioca flour
1 teaspoon baking powder
2 Tbsp Cordyceps-M mushroom powder
1/2 Tbsp sea salt
1/2 Tbsp garlic powder
1/2 cup cold ghee
1 Tbsp apple cider vinegar
2 eggs
1 Tbsp honey
Tips & Suggestions
We all love a tasty, healthy, easy recipe, and these paleo biscuits fit right into that category.
While making the biscuit dough it's important not to over-mix the batter. Over-mixing can lead to biscuits that are tough, gummy, or unpleasantly chewy.
To make these paleo biscuits into a complete meal, whip up some eggs or serve with ramen or butternut squash soup.
Truthfully, there are countless ways to enjoy these paleo biscuits: alongside a hearty meal, with a smear of butter, a dollop of jelly, drizzled with olive oil and herbs, or doused in gravy - the list goes on. They also make a great stand-alone snack while on the go and could even serve folks who follow a low-carb, high-fat diet.
Scroll on down for the directions to get these paleo biscuits whipped up ASAP! You won't be disappointed.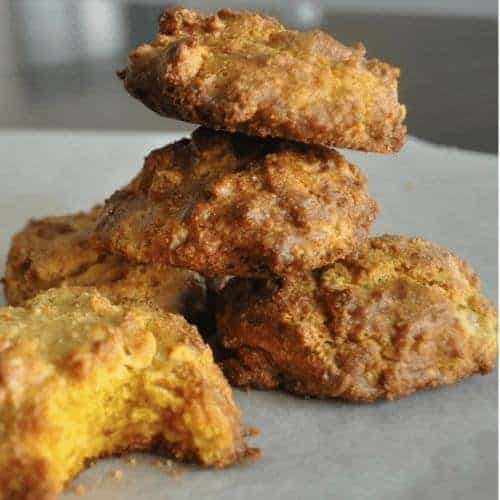 Detailed Directions:
Prep time: 10 minutes
Cook time: 20 minutes
Servings: 6 large biscuits
Preheat the oven to 350 degrees Fahrenheit.
In a bowl, combine all dry ingredients and whisk together until all lumps are gone.
Add your butter to the dry ingredients and cut or massage the butter into the flour until evenly distributed. It should look slightly lumpy.
In a separate bowl, whisk together all wet ingredients.
Add the wet ingredients to the dry ingredients and simply bring all of the ingredients together. Don't mix. We're trying to form a thick dough, not a batter.
Use a spoon to place the dough onto parchment paper and shape the biscuits however you like
Bake for 20 minutes or until biscuits turn golden brown. Makes about 6 medium-large biscuits.
Let cool for 10 minutes. Enjoy!
That's it - simple and easy! The hardest part is waiting for these paleo biscuits to cook and cool while smelling that delicious, buttery aroma.
Enjoy in Good Health: Take a pass on the energy-depleting, processed white bread and easily whip up these energy-giving paleo biscuits instead. You get all of the same delicious, buttery taste, but also reap the rewards of having the energy to do the things you love.
Don't pass on enjoying meals with loved ones, though. Nourishing meals, community, and doing activities that light you up are all foundational aspects of a healthy, joy-filled life. So run to the kitchen and grab the almond flour and Real Mushrooms Cordyceps to try these delicious, paleo biscuits. They're perfect for one, and even more fun to share!
For more delicious recipes that use our energy-enhancing cordyceps extract, go to our recipe roundup: 5 Ridiculously Delicious Cordyceps Mushroom Recipes.