Trouble staying focused and a bit of brain fog is something we all experience at some point. Thankfully, this downtrend in concentration, no matter the cause, need not be a permanent fixture in our lives.
There are organic supplements you can take to improve cognitive function and clear that mental haze naturally.
Today we review some of the best supplements for focus and concentration and highlight trusted brands in the space.
All the products we highlight ensure high efficacy because they use certified real mushroom extracts and other exceptional natural ingredients known to have numerous benefits for brain health.
Other things we considered while compiling this list are that:
The supplements use ingredients with clinically proven benefits
The supplements do not use fillers or additives
The supplements use high-quality ingredients
1 - Real Mushrooms - Organic Lion's Mane Extract Capsules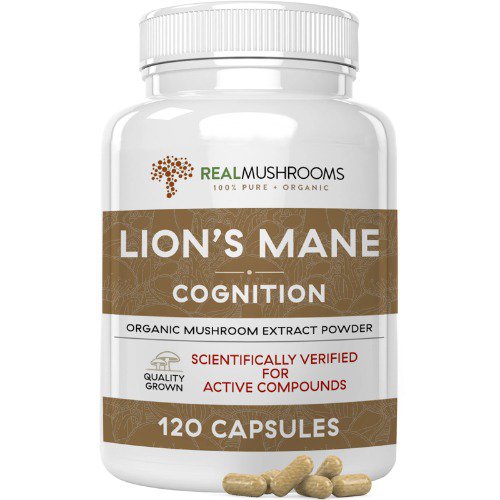 This is a potent supplement specially designed to deliver lion's mane mushroom's (Hericium erinaceus) natural goodness to support your brain health and cognitive function.
Lion's mane mushroom is full of essential compounds, such as beta-glucans, immuno-modulating antioxidants, and neuroprotective phytonutrients—all essential for maintaining your brain health.
This is backed up by research showing that supplementation with lion's mane mushroom and its extracts help promote Nerve Growth Factor (NGF) synthesis in nerve cells (1).
In adults with minor memory problems associated with aging, a study found that lion's mane extract significantly improved brain function compared to participants who did not take the mushroom or its extracts (2).
However, to reap lion's mane mushroom's health-supporting benefits, you need the best quality lion's mane extract. This is where Real Mushrooms' Organic Lion's Mane Extract Capsules comes in. With:
Hot-water-extracted mushrooms for superior quality
No added starch, mycelium, or grain
Certified organic mushrooms
Easy-to-consume capsules
It doesn't get much better. But don't take it from us.
"... From someone who doesn't really expect much in supplements, I have to confess these were a huge surprise … I will be a fan of quality mushroom products for life." - Romibee | ★★★★★
Buy Organic Lion's Mane Extract Capsules
Related: Find the Best Lion's Mane Supplement: The 4-Point Buying Guide
2 - 3rd Planet - MycoRev™ Neuro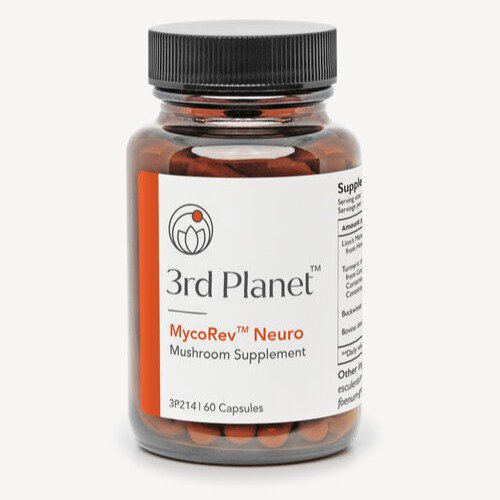 MycoRev™ Neuro consists of a complex combination of high-quality extracts to boost brain function, including lion's mane, turmeric rhizome, buckwheat leaf, and freeze-dried bovine brain.
Each ingredient was specially selected for its synergistic neurological health-supporting benefits. But for clarity, let's briefly examine the specific benefits these ingredients bring to the table.
Turmeric Rhizome: MycoRev™ Neuro uses a patented and clinically trialed turmeric extract—CurQfen®.
CurQfen® is enriched with soluble fenugreek seed fiber to improve its bioavailability. In turn, it's able to better supply free curcuminoids to your blood plasma and improve the blood-to-brain barrier permeability, improving cognitive functions (4).
Lion's Mane Mushrooms: As mentioned before, the lion's mane mushroom has been shown to have significant benefits to your brain health and nervous system (2).
This is supported by research and clinical trials, which have confirmed the mushroom's health-supporting qualities, especially in improving cognitive function, focus, and concentration (3).
Note: MycoRev™ Neuro is made from 100% real lion's mane mushroom (from the fruiting body) and herbs. No fillers. No binders. No additives.
3 - Real Mushrooms - Organic Cordyceps Extract Capsules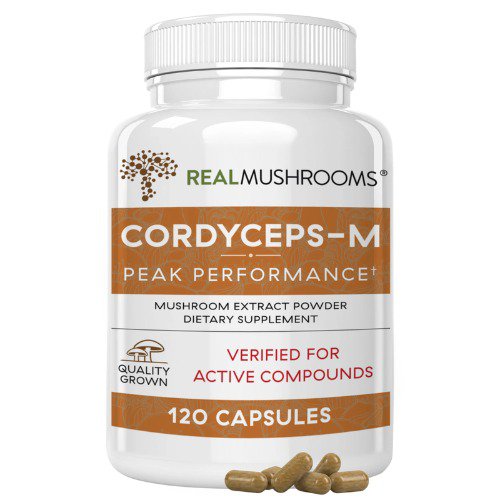 Cordyceps is yet another supplement from Real Mushrooms that's specially formulated to deliver the goodness of real organic cordyceps.
Cordyceps mushrooms contain several beneficial bioactive compounds that provide a range of health-supporting benefits, most notably improving focus and concentration.
Cordyceps mushrooms are also known for their ability to support the immune system and are considered biomolecular immunomodulators. They help the body adapt better to immune threats—a key factor in supporting respiratory health (5).
Like all other Real Mushrooms supplements, Organic Cordyceps Extract Capsules follow strict guidelines to ensure the best quality. These include:
Hot water extraction for the highest quality product
Exclusive use of certified organic cordyceps mushrooms
No added starch, mycelium, grain, or fillers of any kind
Verified quality accreditation at third-party labs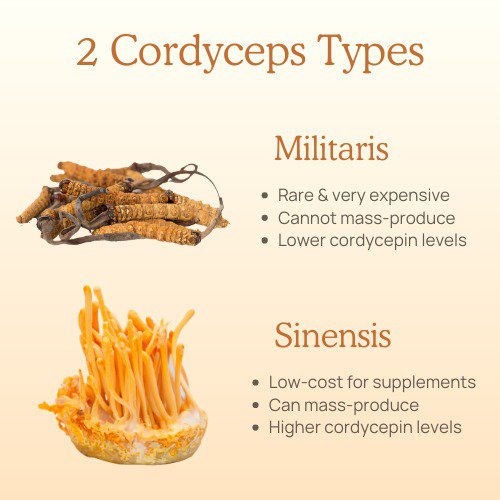 At Real Mushrooms, we use Cordyceps militaris in our supplement. While there are over 400 varieties of cordyceps mushrooms, the two most common for therapeutic use are:
Cordyceps sinensis (Ophiocordyceps sinensis)
Cordyceps militaris (Scarlet Caterpillarclub)
Cordyceps sinensis is a health-supporting functional mushroom whose use can be traced back to traditional Chinese medicine. It's the more commonly advertised Cordyceps mushroom in supplements.
However, it is rare, highly sought after, and very expensive. As such, some supplements that claim to contain Cordyceps sinensis also contain fillers and often use mycelium instead of the fruiting body to cut costs.
This significantly impacts efficacy and limits your ability to reap the benefits of Cordyceps mushrooms.
On the other hand, Cordyceps militaris provides all the goodness of sinensis (and more) but at a fraction of the cost. Additionally, Cordyceps militaris has been shown to contain up to 90 times more cordycepin than the sinensis variety (6).
Here's a quick table comparison of the Cordyceps sinensis and Cordyceps militarist.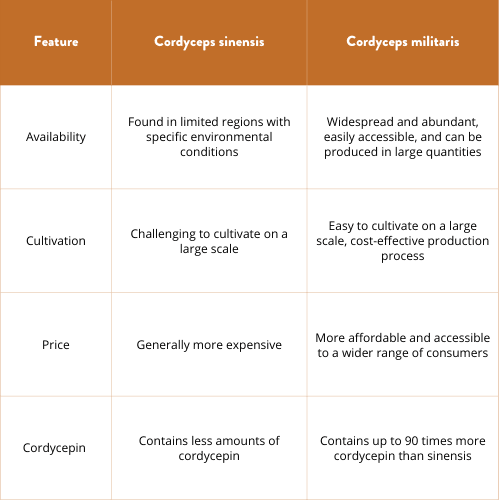 Expert Tip: The Cordyceps militaris produced in North America is mainly myceliated grain. Pure mushroom extract almost exclusively comes from Asia, with China accounting for over 90% of the global supply. This is why we source our mushrooms from Asia.
Related: Cordyceps Sinensis vs. Militaris: What's the Best Cordyceps Supplement?
4 - Natural Stacks Neurofuel™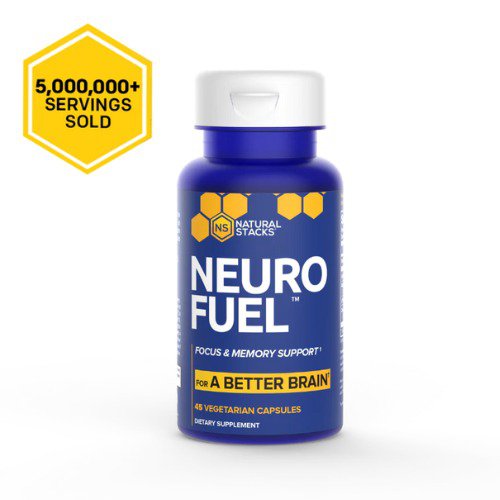 Neurofuel™ contains an advanced blend of 100% natural focus supplements designed to enhance focus and improve memory.
It works as fuel for your neurotransmitters by supporting better signaling between your brain cells. It also provides your body with the ingredients it needs to power Long Term Potentiation (LTP) processes.
When LTP is enhanced, you experience increased alertness, curiosity, and creativity.
As such, Neurofuel™ users often report:
Improved mood and social ease
Improved concentration and alertness
Increased motivation and mental endurance
Enhanced ability to study and learn new information
"Of the countless nootropics I've tried over the years, I always come back to Neurofuel™. I have my best, most productive work days when I start my day with this!" - Kimi | ★★★★★
The key ingredients in Neurofuel™ that give it its cognitive and brain health-supporting qualities include:
Artichoke Extract: This contains Luteolin, a natural PDE4 inhibitor—the enzyme that breaks down the cAMP molecules which act as messengers that relay signals in the brain. One study showed that low levels of PDE4 directly relate to an increase in concentration and cognition (7).
Acetyl-L-Carnitine: Sometimes also called ALCAR, this is the acetylated form of the amino acid L-Carnitine, and is effective against tiredness and brain fog thanks to its role in energy metabolism and mitochondrial protection.
Vitamin B6: Neurofuel™ contains the active form of vitamin B6 (Pyridoxal-5-Phosphate) for maximum bioavailability. Vitamin B6 is a critical enzymatic cofactor in metabolic and psychological brain function. Put simply, vitamin B6 is essential for maintaining optimum brain health and function (8).
Buy Natural Stacks' Neurofuel™
5 - RealClarity - Lion's Mane, Ashwagandha, Rhodiola and Bacopa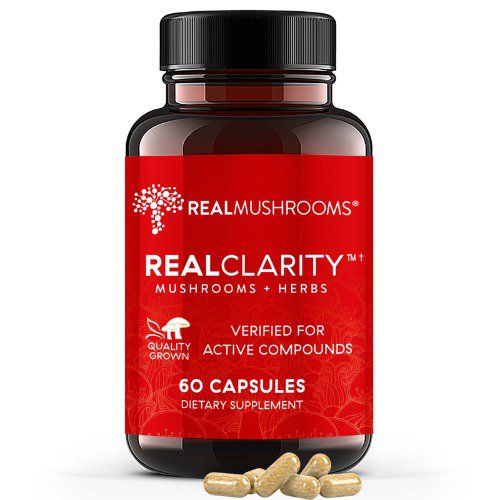 Real Clarity is a powerhouse supplement for improving focus, concentration, and overall brain function by leveraging the goodness of real organic mushrooms and herbs.
Real Clarity can achieve this through a blend of four health-supporting natural ingredients, all of which are essential in promoting your brain health. These are:
Lion's Mane Mushroom: As we've learned, lion's mane is a potent proponent for brain health with significant benefits to cognition, brain function, focus, concentration, and the nervous system (1).
Ashwagandha: This is an ancient herb rooted in Ayurveda—the alternative Indian medicine system based on natural healing. While the herb has been used for centuries in India, it's seeing a surge thanks to its many health-supporting benefits.
For instance, Ashwagandha is known to support brain health and cognitive function, and its benefits include (12):
Improved performance in cognitive tasks
Improved executive function
Improved focus and concentration
Improved reaction times
This is supported by findings from a study where participants who took Ashwagandha supplements noticed improvements in cognitive functions in all areas (13).
These benefits were particularly noticeable in skills relating to concentration and the capacity to focus.
Rhodiola: This perennial flowering herb grows natively in the arctic regions of Asia, Europe, and North America. Research has found Rhodiola to improve brain function and cognitive ability by helping the body adapt to physical and mental stress (9).
Rhodiola also shows mild stimulating effects, which help improve focus.
Indeed, one study showed that participants with chronic fatigue experienced an improvement in concentration after taking Rhodiola supplements (9).
Bacopa: Sometimes also referred to as hyssop, Bacopa is a perennial herb native to the Eastern and Southern wetlands of India. Bacopa was traditionally used in Ayurvedic medicine to improve memory, cognition, and focus.
This is supported by research proving that Bacopa contains potent brain-health-supporting benefits and can even protect against Alzheimer's disease (10).
Bacopa is also considered an adaptogen thanks to its ability to help alleviate stress and anxiety by lowering cortisol levels. This also has the benefit of helping improve your focus and concentration (11).
Related: Medicinal Mushrooms: 7 Kinds and Their Unique Health Benefits
Discover Real Mushrooms: Your Source of Certified Real Mushroom Supplements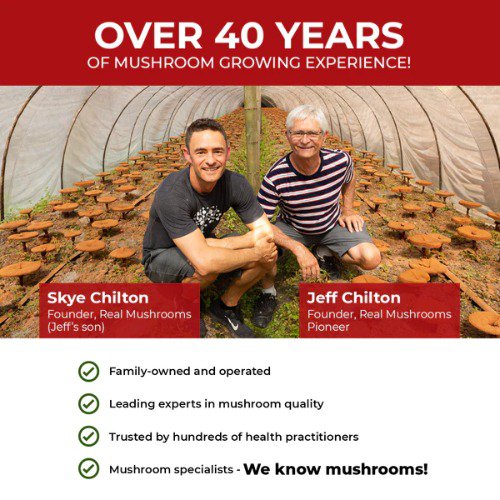 At Real Mushrooms, our goal is simple. We are driven by the desire to deliver the best functional mushroom extracts in their purest form. No filler. No additives.
To this end, we employ decades of expertise to tailor our extraction method for each mushroom we use to attain peak potency in our supplements.
Additionally, all Real Mushrooms' products are tested multiple times during production at accredited third-party facilities to ensure they are free from agricultural chemicals and other contaminants.
We also screen for heavy metals to guarantee that our products exceed the heavy metal standards set by the FDA and Health Canada.
This is how we guarantee all the therapeutic properties in our products and ensure you can enjoy high-quality supplements you're confident in.
Visit our online store today to explore our collection of organic supplements to enhance your life. You can also check out our blog for more information about our ingredients and their numerous health-supporting benefits.
References