Who needs the ice cream truck when you can easily whip up this healthy, satisfying, immune-boosting, and high-protein frozen yogurt bark recipe? Not only can it tick all the paleo, vegan, and sugar-free preferences, but it also gives your immune system a nice boost with a mushroom extract complex.
Looking for a pool-side treat? A crowd pleaser? Something delicious for a post-workout cool-down and protein boost? Look no further, because this frozen yogurt bark has got you covered.
This simple recipe has just five ingredients, is easy to make, and is filled with healthy ingredients that won't cause that undesirable blood sugar crash. With its high protein content, this yogurt bark will keep you nourished and filled. And with its power-packed punch of Real Mushrooms 5 Defenders, it will also keep your immune system thriving thanks to the unique blend of Reishi, Maitake, Shiitake, Chaga, and Turkey Tail mushrooms.
So the next time you're on the hunt for something delicious, sweet, and nourishing, head to the kitchen and whip up a batch!
What Are the Ingredients in This Yogurt Bark Recipe?
Let's talk about ingredients! One of the perks of this recipe is that you need only five ingredients. And most of them, you probably already have in your pantry. Here's the rundown:
Unsweetened yogurt: If you're looking for a vegan frozen yogurt bark, use your favorite non-dairy yogurt, such as coconut or almond yogurt.
Vanilla protein powder: In this recipe, we used Nuzest vanilla pea protein. Feel free to use your favorite. If omitting altogether or if using an unsweetened protein powder, make sure to add a little honey, maple syrup, monk fruit, or stevia to the recipe. Want a chocolate version? Use your favorite chocolate protein powder.
Almond butter: Prefer peanut butter - go for it! Nut allergy? Use your favorite seed butter. You get the gist—use what you have and what you like. You can also leave the nut butter out entirely and still have a delicious, creamy treat.
Real Mushrooms 5 Defenders: This is the secret key ingredient to the immune-boosting punch. It's a blend of five different mushrooms: Reishi, Maitake, Shiitake, Chaga, and Turkey Tail.
Chocolate: Use your favorite chocolate bar or about 1/2 cup of chocolate chips.
Optional toppings: This is the fun part! You can keep it plain and simple (and still super delicious!) or go crazy! Some ideas are nuts, seeds, dried fruit, fresh fruit, granola, bee pollen, cereal, or even a little salt!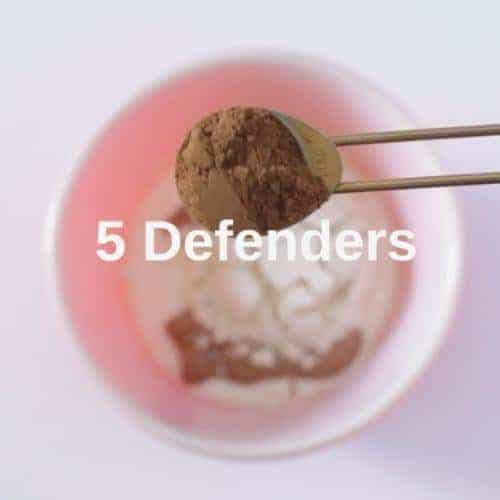 How Do You Make This Recipe?
Besides using minimal ingredients, another perk of this frozen yogurt bark recipe is how easy it is to make.
Mix all the ingredients except your toppings and chocolate.
Melt your chocolate and drizzle on top.
Toss on your toppings.
Freeze, break into pieces, and enjoy!
How Do You Store the Yogurt Bark?
The yogurt bark should be stored in a sealed container in the freezer for up to two weeks. Keep in mind that it does melt fairly quickly after taking it out of the freezer, so you'll want to eat it right away.
Now onto the recipe!
Yogurt Bark Recipe Instructions
Serves: 3-4
Prep Time: 12 minutes
Freeze time: 3+ hours
Ingredients:
1 cup unsweetened yogurt
1 scoop vanilla protein powder
3 Tbsp almond butter
½ Tbsp Real Mushrooms 5 Defenders
favorite chocolate bar
Toppings: favorite nuts, seeds, granola, fruit, cacao nibs, whatever you want!
Directions:
Line a baking tray with parchment paper.
In a large bowl, mix the unsweetened yogurt, protein powder, almond butter, and 5 Defenders.
Once combined, spread the mixture evenly onto a parchment paper-lined tray.
Melt your favorite chocolate bar and drizzle it over the yogurt spread.
Add any extra toppings you might like nuts, seeds, granola, fruit, etc.
Place the tray in the freezer to harden for around 3 hours or overnight.
Once frozen, remove the bark, break it into pieces, and enjoy!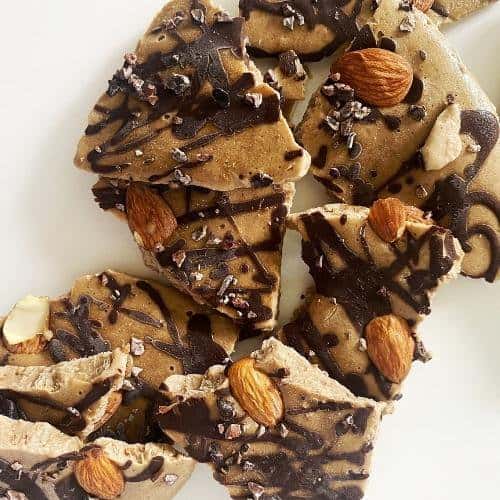 Enjoy This Chocolate Almond Butter Yogurt Bark in Good Health
This frozen yogurt bark makes for a fun treat, reminiscent of childhood finger foods and play. So enjoy all the healthy ingredients it contains, but also take some time to enjoy rediscovering that childlike sense of fun and delight that we tend to lose as we grow older. Think wonder, think creativity, think simplicity, think… less about the opinions of others.
Go outside, run, dance, be silly, and enjoy all the little things in life.
Just like there are proven benefits tucked away in the ingredients in this frozen yogurt bark recipe, there are proven benefits in letting your childlike side run free.
So relax, embrace your inner kid, and enjoy some chocolate almond yogurt bark!
Easily Give Your Other Recipes A Power Boost
If you don't want to use 5 Defenders, you can easily try out another mushroom powder extract. There are wonderful options, each with its own unique profile and benefits.
To learn more, you can read our article which highlights the top 7 benefits of the main medicinal mushrooms. These different mushroom extracts can easily be added to whatever you're cooking up in the kitchen.
Join the mushroom recipe challenge! Get creative in the kitchen with different ways to get more mushrooms in your diet. Invent your own recipe and share via insta @realmushrooms.