A hearty, healthy, and easy gluten-free ramen - packed with veggies and functional fungi to keep your immune system in tip-top shape, your taste buds happy, and your heart warmed. PLUS it's paleo and vegan too!
It's a hallmark food of every college dorm. It's pure comfort food at its convenient finest. And it just seems to always hit the soul-warming spot. That's right, it's none other than Ramen.
And while that 99-cent packaged version may bring back all the memories, a much healthier version takes very little additional effort.
On that note, we bring you this recipe for gluten-free ramen, bursting with nutritional mushrooms. Think all of the same delicious complex flavors, easy-to-make nature, but with much better ingredients; ingredients like vegetables, broth, and Lion's Mane mushroom extract.
Ingredients for easy gluten-free ramen:
The great thing about this recipe is the homemade flavoring you get out of minimal ingredients and minimal time. Sure, it's not quite as easy as opening up a tin foil packet that you find in the 99-cent version, but with just a little more effort, you exchange all that sodium and fake ingredients for real, good-for you ones.
That's the kind of exchange we like. This is why there's ZERO added starch, fillers, or fake ingredients in our 100% real organic mushroom extracts.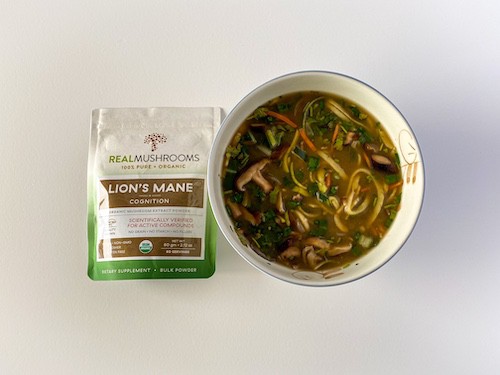 For this easy gluten-free ramen, we double up on the mushroom love by combining two of our favorites: fresh shiitake and Lion's Mane mushroom extract powder. Why do we love them so much? Lion's Mane is known as the mushroom for the mind, and for good reason. It helps to protect your brain, making this soup not only good for your soul, but your cognition too! Shiitake adds a hefty dose of delicious flavor to the recipe, while also lending support to the functions of your immune system, cardiovascular system, and liver.
The rest of the real ingredients in this easy gluten-free ramen combine to form that distinct flavor that we all love so much. The chickpea miso keeps this recipe vegan while still giving the broth that celebrated umami flavor. The veggies add that note of freshness, and the spiralized zucchini replaces the fried noodles, keeping this recipe light, hearty, and healthy.
Gluten-Free Ingredient Substitutions:
Besides being gluten-free, paleo, and vegan, another bonus about this homemade ramen is the ease with which you can customize it to your preferences. Below are some possible variations and substitutions.
Zucchini noodles: These keep this recipe light, healthy, and gluten-free. Keeping on that same note, you can also use sweet potato noodles. If you're looking for something a bit heartier, there are ramen noodles made of rice, buckwheat, and millet that would make a great option.
Bok Choy: You can easily replace this with spinach or cabbage.
Veggies: Here's where the options are really endless. For example, for some extra crunch, you can add some chopped celery. Have fun, get creative, and add your favorites! A fresh knob of ginger would meld beautifully into the mix.
How to make this homemade gluten-free ramen:
This recipe couldn't be simpler to throw together. Well, it could be if you buy packaged spiralized zucchini noodles at your local health food store. That would just leave:
Sautéing your garlic, shallots, and shiitake mushrooms.
Adding your zucchini noodles, broth, coconut aminos, and bringing to a boil.
Stirring your miso into some boiling broth and adding it into the mix.
Lowering the heat and simmering until noodles are tender.
Adding in your bok choy, carrots, Lion's Mane, salt, and pepper.
Serving in comfort and bliss!
Prep time: 10 minutes
Cook time: 20 minutes
Total time: 30 minutes
Servings: 2-3
Ingredients:
1 TB sesame or avocado oil
2 garlic cloves, minced
2 shallots, chopped
8 oz fresh sliced shiitake mushrooms
2-3 zucchini, spiralized
4 cups vegetable broth
2 TB coconut aminos
1 heaping TB chickpea miso
2 cups bok choy
1/4 cup shredded carrots
salt and pepper to taste
1 tsp Real Mushrooms Lion's Mane Extract Powder
chopped green onions & cilantro to serve
Directions:
Using a spiralizer, create your zucchini noodles. Set aside.
In a medium-large pot, heat oil on medium-high. Add your garlic, shallots, and shiitake mushrooms. Cook for 2-3 minutes.
Add your zucchini noodles and continue to stir on medium-high heat for 5 more minutes.
Add your broth and coconut aminos and bring to a boil.
Once the broth is boiling, place the miso paste into a small bowl and scoop about 1/3 cup of the broth into the bowl with the miso. Whisk together until combined and then add it all back to the pot.
Lower heat and simmer until zucchini noodles are tender.
Add in your bok choy, carrots, Lion's Mane, salt, and pepper, and stir until bok choy is wilted.
Serve hot with a sprinkle of chopped green onion and cilantro.
Enjoy in Good Health:
There's just something so comforting about enjoying a bowl of ramen. It somehow seems to feed the soul. And our easy gluten-free ramen feeds not only your soul, but your mind and body too thanks to the addition of Lion's Mane and fresh, good-for-you ingredients.
Besides food, there are lots of other ways to nourish the soul, mind, and body. Detoxing from technology, making time to do some things that bring you joy, trying a new hobby or learning something new - these are just a few possibilities.
What's your favorite way to feed your soul, mind, and body? We hope making and enjoying this comforting easy gluten-free ramen makes it on the list!
Easily give your other recipes a power boost:
There's so many different culinary combinations you can create with mushrooms! For this recipe, you don't have to use Lion's Mane — you can easily substitute with your own favorite mushroom extract. Each has their own unique profiles and benefits. To learn more, you can read our article which highlights the top 7 benefits of the main medicinal mushrooms. These different mushroom extracts can easily be added to whatever you're cooking up in the kitchen.
Join the mushroom recipe challenge! Get creative in the kitchen with different ways to get more mushrooms in your diet. Invent your own recipe and share via insta @realmushrooms. We will feature the winner's recipe on the blog & give you a coupon for any Real Mushroom product of your choice!