Cordyceps mushroom supplements are gaining popularity across all walks of life – leaving many searching for recipes that incorporate cordyceps mushroom capsules and powders into their favorite foods.
You may not have a lot of time to meal plan, or to prepare elaborate dishes – so we've put together five of our favorite cordyceps mushroom recipes for you. These flavor-packed foods and drinks will have you craving your new favorite treat, and reaping the health benefits of cordyceps mushroom supplements. And don't worry, we have all the info to make these goodies keto, vegan, and auto-immune friendly!
So, let's begin by gaining an insight into cordyceps mushrooms and why they have gained momentum as a superfood. Then we'll cover five delicious and simple recipes using our Real Mushrooms cordyceps mushroom supplements. And finally, we'll sprinkle in key information for you regarding how to obtain pure, organic, and potent mushroom supplements to use into your own recipes.
What Are Cordyceps Mushroom Supplements?
Before we jump into the kitchen – let's take a moment to understand our key ingredient.
Medicinal mushrooms have been used for thousands of years by healers in Asian cultures. As the news of nutrient-rich mushrooms has gone mainstream, more people than ever before are giving medicinal mushrooms a try.
This leads us to the cordyceps mushrooms themselves. The most well-known species of this fungus is Cordyceps sinensis which is linked to a number of health benefits, including improved:1
Energy
Immune system function
Appetite
Stamina
Endurance
Cordyceps sinensis mushrooms (the caterpillar fungus) are harvested in the wild alpine regions of the Tibetan plateau. But as the news of the mushrooms' health benefits spread, so did their usage. Over the last 4 decades, the demand has skyrocketed, and unfortunately, the wild supply couldn't keep up.
This led to a price increase, and now one kilogram of Cordyceps sinensis easily costs $20,000, making these mushrooms the most expensive mushroom on the planet. So it's no wonder many refer to cordyceps as "Himalayan gold".
If Cordyceps sinensis is so expensive, then that begs the questions — How can your cordyceps supplements possibly have Cordyceps sinensis as an ingredient and moreover, what's actually in your cordyceps mushroom supplement?
Is Cordyceps Sinensis Really in Your Supplement?
Because Cordyceps sinensis is extremely difficult to obtain and has such an outrageous price tag, be on the lookout for labels citing Cordyceps sinensis as an ingredient. Very rarely is this species of cordyceps sold in North America. But if you do see it on an ingredients list be wary as it is very unlikely for it to be the caterpillar fungus. It's likely composed of either pure mycelium in the form of Cordyceps Cs-4 or myceliated grain, which contains no actual mushrooms and very little of the beneficial bio-active compounds that are present in the mushrooms.
This means that because the nutrient-dense mushroom (fruiting body) has been substituted with myceliated grain, you're left with lower amounts of beta-glucans2,3 — valuable compounds present in the mushroom. Sadly, many companies are still selling their cordyceps mushroom supplements with either the Cordyceps sinensis photos or marketing information.
The key takeaway here is to always be careful about not only what mushrooms you're purchasing, but what you're putting into your body. Always research the products and companies you purchase from.
Selecting a True Cordyceps Mushroom Extract
Here at Real Mushrooms, we use only Cordyceps militaris mushrooms as this species of Cordyceps can be cultivated at an economic scale. More and more research is revealing that Cordyceps militaris has very comparable properties to wild Cordyceps sinensis. This is fantastic news because it allows you to obtain similar health benefits at a fraction of the price.
We create pure organic cordyceps mushroom extracts with high amounts of bioactive compounds. One of the key compounds in any type of Cordyceps mushroom is called cordycepin, and this has very potent anti-oxidant properties and supports a healthy inflammation response.3 Cordyceps militaris has up to 90 times more cordycepin compared to wild Cordyceps sinensis.
At Real Mushrooms, you can be sure that our products are made with the highest quality organic Cordyceps militaris mushrooms to ensure pure and potent mushroom products.
Adding Cordyceps to Recipes
The recipes below are just a few suggestions for unique, well-balanced drinks and snacks. In general, Cordyceps works well added to just about any drink or meal because it blends easily and the taste is virtually undetectable.
Many Real Mushroom customers love adding Cordyceps to a pre-workout smoothie, for instance, to help boost the production of ATP, which leads to increased muscle stamina. Others simply add this mushroom extract powder to their morning coffee or tea, to give themselves an extra energy boost for the day.
We encourage you to play with the versatility of this powerfully beneficial mushroom in your own recipes, and to submit your favorites to [email protected] as we're always looking to feature unique and delicious new inspirations!
5 of the Tastiest Cordyceps Mushroom Recipes
Now let's get to the fun part and dig into some delicious and fun cordyceps mushroom recipes directly from our own recipe box.
Living a healthy lifestyle doesn't have to be a drag, you can enjoy these goodies and treats all while knowing you're fueling your body with all the valuable health benefits cordyceps mushrooms have to offer. From spiced mushroom coffee to butter biscuits, there's something for everyone. So let's get started.
1. Snicker Doodle Ice Cream Shake
Snickerdoodles, ice cream, and mushrooms — yes, you read that right. Rising temperatures make this treat a go-to indulgence when it's time to cool off and relax. But you'll not only be helping your mental health with this self-care goodie – you'll also be helping your body reach peak performance.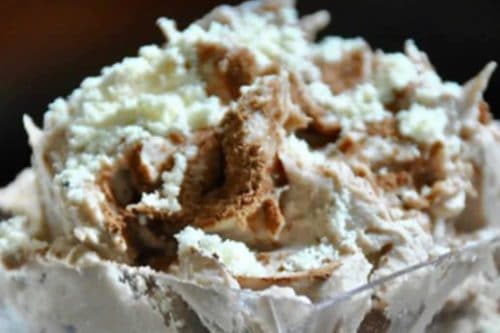 Ingredients:
1 Can BPA Free Organic Full Fat Coconut Milk
1 Pastured Egg + 1 Egg Yolk (If vegan, replace with one flax egg, or omit altogether)
2 tsp MCT Oil
1/2 chopped Frozen Banana (Omit if strictly Keto)
30g/1 scoop Grass-fed Cold Processed Cinnamon Bun or Vanilla Whey Protein (If vegan, replace with Hemp Protein, or omit altogether)
1/2 tsp Pink Himalayan Salt
1/2 tsp Organic Vanilla Extract
1/2 tsp Cinnamon
1/2 tsp of Real Mushrooms Lions Mane Extract
1/2 tsp of Real Mushrooms Cordyceps-M Extract
Organic Stevia to taste (Optional)
Directions:
Blend all ingredients in a blender.
Place this mixture in the freezer for 3 hours.
Reblend for a shake-like texture or eat as-is for a creamy consistency. You can take this a step further and use an ice cream machine to an ultra-smooth treat.
Find the original post here.
2. Spiced Mushroom Cold Brew Coffee
Who doesn't love a delightful cup of cold brew coffee to kickstart your day or get that much-needed mid-afternoon boost? If you're a coffee-lover, stay tuned, this cordyceps mushroom recipe is for you.
Ingredients:
1 cup cold brew coffee like deathwish or Kimera Koffee
½ cup coconut cream, almond milk or grass-fed dairy whole milk
1 tsp Ceylon cinnamon
¼ tsp ginger
⅛ tsp cayenne pepper
1 Tbsp almond or cashew butter
1 tsp of Real Mushrooms Lion's Mane
1 tsp of Real Mushrooms Chaga
1 tsp of Real Mushrooms Cordyceps-M
1 scoop of vegan or grass-fed whey protein powder
1 to 3 drops of vanilla stevia
A handful of cashews and coconut shreds
Directions:
Add all ingredients to a blender and blend until the desired consistency is reached. Enjoy!
Check out the original post here.
SHOP MUSHROOMS!
3. Sexy Mushroom Truffles
If chocolate is your thing, then allow us to introduce you to these bite-sized dessert treats that leave you with increased endurance and energy thanks to the cordyceps mushroom powder packed inside each morsel. You'll be left wondering how something so flavorful can be so good for you! But trust us, this is both delicious and nutritious.
Ingredients:
½ cup full-fat coconut milk BPA free
1 tablespoon plus 1 teaspoon maca powder (gelatinized)
1 tablespoon plus 1 teaspoon Real Mushrooms Cordyceps-M extract
¼ teaspoon cayenne pepper
12 ounces bittersweet or semisweet chocolate
1 tablespoon maple syrup (optional)
sea salt
¼ cup raw cacao powder or dark cocoa powder
¼ cup hemp hearts
Directions:
Heat the coconut milk over medium heat until it simmers. Remove from heat.
Stir in the maca, cayenne, cordyceps, and a bit of salt.
Once that's thoroughly absorbed, stir in the maple syrup and chocolate chips, and another pinch of salt.
Continue to stir until this ganache mixture is smooth, then refrigerate for 1 hour or until it's slightly firm.
Next, combine hemp hearts, cocoa powder, and a pinch of salt into a dish.
Use a small scoop to spoon one tablespoon of the chocolate ganache into truffles. Place the truffles into the cocoa powder mixture one by one. Shake or toss gently to cover the truffles in the mixture.
Eat as is or store in the refrigerator for up to four days.
Find the recipe here!
4. Spiced Mushroom Elixir
Since we're not all caffeine-lovers, here's a full-flavored cup of mushroom goodness without the increased stimulation. This recipe includes two of our other favorite mushroom supplements, Lion's Mane and Reishi.
Ingredients:
Mug of organic brown rice milk (heated) (preferably sprouted brown rice)
1 tsp raw organic cacao powder
¼ tsp organic cardamom powder
½ tsp of decent organic coconut oil
Pinch of Himalayan salt
Directions:
Heat the milk over medium-low until warmed through.
Blend the remaining ingredients together until smooth.
Mix the blended mixture with the warm milk and enjoy. You may also swap out another milk if you prefer. In addition, you may also substitute ginger, cinnamon, or maca for cardamon powder.
Here's the original post!
5. Paleo Superfood Butter Biscuits
This last recipe pairs beautifully with either of the tasty drinks we've listed above. These biscuits are paleo and autoimmune friendly in addition to being packed with potent, energizing cordyceps mushroom extracts.
Ingredients:
1 cup almond flour
1/2 cup tapioca flour
1 teaspoon baking flour
2 Tbsp cordyceps mushroom powder
1/2 Tbsp sea salt
1/2 Tbsp garlic powder
1/2 cup cold ghee
1 Tbsp apple cider vinegar
2 eggs
1 Tbsp honey
Directions:
Preheat oven to 350 degrees Fahrenheit.
Combine all dry ingredients in a bowl and whisk until you have a homogenous mixture.
Add the ghee to the dry ingredients until mixed. This may look a bit lumpy.
In another bowl, combine the wet ingredients. Once thoroughly combined, stir this mixture into the dry ingredients. This forms a thick dough once combined.
Lay parchment paper onto a cookie sheet and then begin placing balls of dough down using a spoon. You will end up with about 6 medium to large-sized biscuits.
Bake for 20 minutes or until the biscuits are golden brown.
Cool for 10-15 minutes then dig in!
Click here for our original post.
Which Supplement Is Right for Your Cordyceps Mushroom Recipe?
Choosing the right mushroom supplement brand is crucial to ensuring that what you've purchased is really what it says it is. At Real Mushrooms, we're committed to providing you with only the highest quality, premium mushroom supplements. All our products are organic, 100% mushroom products with absolutely no added fillers like grain.
Take a look around our shop to see for yourself. Whether you prefer cordyceps mushroom capsules or powders, you're sure to find the perfect mushroom supplement. And while you're at it, give one of these delicious cordyceps mushroom recipes a try today to experience for yourself the healing benefits of medicinal mushrooms.
[cgv blog-cta]
Resources