A rich, creamy, and fudgey summer treat, packed with immune-boosting medicinal mushroom extracts! This healthy fudgesicle recipe not only beats the heat on those hot, sun-filled days, but it also works to keep those sniffles and summer colds away so you can play while feeling your very best!
Whether it was swimming in the pool, kicking the ball around, climbing all the trees, or just soaking up every minute of play and laughter in the sun, most of our summer memories are punctuated with that distinct, tantalizing tune. That music could only mean one thing: ice cream truck time. Run!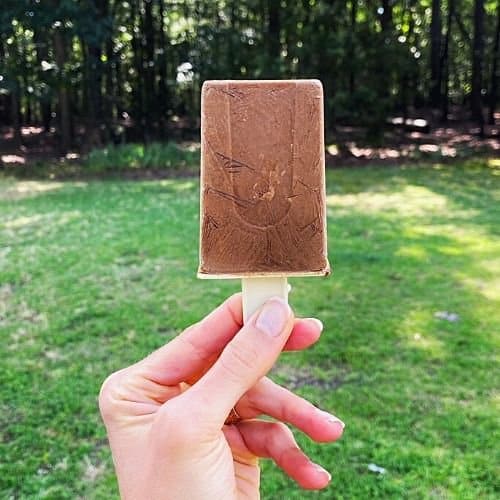 It's true, hot summer days and cold creamy treats are just the best kinds of duo. And we would like to add that mushrooms make the perfect third addition to the party too.
So we bring you all the rich, creamy, fudgey goodness, without all the unhealthy and unnecessary processed ingredients. We bring you childhood nostalgia on a stick and a delicious way to get some immune system-boosting Turkey Tail, Reishi, Maitake, Shiitake, and Chaga mushroom extracts into your diet. We bring you this healthy fudgesicle recipe!
So cue that ice cream music and run to the kitchen. It's time to make these easy and healthy treats!
What are the healthy fudgesicles made out of?
The good news is, these creamy, dreamy treats can be whipped up in mere minutes with just four main, plant-based ingredients. Forget the dairy and all the ingredients you can't pronounce, and pick up the:
Avocado to add all the creaminess you remember from childhood plus the benefits of its ample heart-healthy oleic fat and potassium. The other ingredients mask the subtle avocado flavor, so you won't even know it's there.
Real Mushrooms 5 Defenders Hot Chocolate to not only give these treats their classic chocolatey taste, but to also kick up the nutritional profile with a blend of 100% organic Turkey Tail, Reishi, Maitake, Shiitake, and Chaga mushroom extracts. You get all that immune-supporting power and delicious taste in one easy-to-use mix with absolutely no fillers, mycelium, or starches, so you get the full benefit of pure medicinal mushroom extract.
Vanilla for an additional flavor profile.
Nondairy milk to make all the ingredients blend easily. You can substitute with water too.
Salt, just a pinch, to round out all the flavors and bring the treat to the next delicious level.
Optional: extra sweetener to taste, if you prefer a treat on the sweeter side.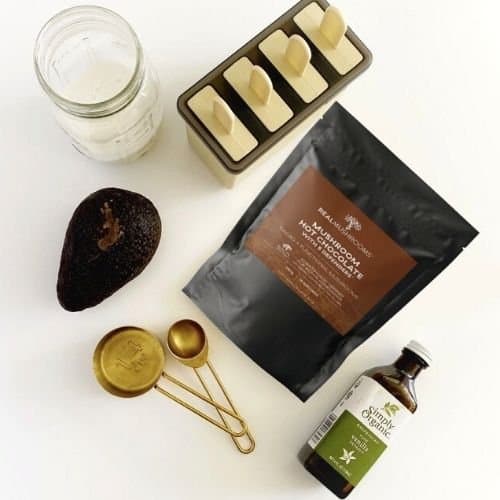 How do you make this healthy fudgesicle recipe?
You can easily make these treats in less time than it took you to grab the money, run to the ice cream truck, and wait in line. That's right, this healthy fudgesicle recipe requires a mere 5-10 minutes of your time in the kitchen. You simply just scoop out the avocado flesh into the blender and add the rest of the ingredients; then blend, pour, and freeze. That's it!
Recipe Notes:
When adjusting for sweetness, remember the ice cream pops will be slightly less sweet after being frozen.
Avocados can vary in taste and size, so you may need to add more Real Mushrooms 5 defenders hot chocolate mix or sweetener to meet your personal taste preference.
The chocolate batter will be quite thick, resembling chocolate pudding. It's delicious on its own and may not even make it to your freezer! But, if you have more self-control and you're going for the fudgesicle experience, you can add more water if you'd like a thinner batter to pour easily into the molds.
If you have trouble removing the pops from the molds after they're frozen, submerge the mold into hot water for about 15 seconds. The fudgesicles should then slide out effortlessly.
Now onto the recipe!
Healthy Fudgesicle Recipe Instructions
Prep Time: 10 minutes
Freeze Time: 6 hours
Serves: 4
Tools Needed:
Ingredients:
1 ripe avocado
1/4 heaped cup Real Mushrooms 5 Defenders Hot Chocolate
1 tsp vanilla
pinch of salt
½ cup or more of non-dairy milk or water (more for blending if needed) We used coconut milk.
optional: sweetener to taste (honey/coconut nectar/maple syrup/etc)
Directions:
Cut the avocado open and scoop the flesh out into a blender.
Add the rest of the ingredients.
Blend and adjust flavor to taste - remember the fudgesicle will be less sweet after being frozen.
Scoop the chocolate batter into your ice pop molds and freeze for at least 6 hours or until solid.
To help remove the fudgesicles from the mold, you can submerge the molds into hot water for about 15 seconds to help loosen.
Serve and enjoy!!
* Store any uneaten fudgesicles in an airtight container in the freezer.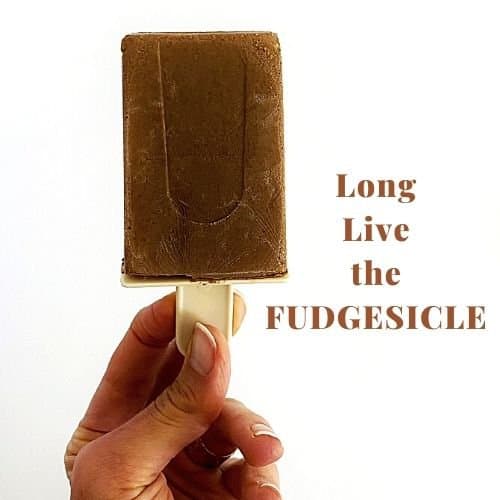 Enjoy these homemade healthy fudgesicles in good health
Don't let your taste buds be the only part of you that is reliving your childhood! Get outside, soak up the sun, and enjoy some fudgesicles. All that Vitamin D mixed with the power of the Real Mushrooms 5 Defenders Chocolate Mix will have your immune system smiling. And all the fun and laughter will have your spirits lifted and your face smiling too. That's what we call a win, win.
Easily give your other recipes a power boost
If you don't want to use 5 defenders hot chocolate mix, you can easily substitute with cacao powder; just make sure to add your favorite sweetener and perhaps try a single mushroom powder extract. There are wonderful options, each with its own unique profile and benefits. To learn more, you can read our article which highlights the top 7 benefits of the main medicinal mushrooms. These different mushroom extracts can easily be added to whatever you're cooking up in the kitchen.
Join the mushroom recipe challenge! Get creative in the kitchen with different ways to get more mushrooms in your diet. Invent your own recipe and share via insta @realmushrooms. We will feature the winner's recipe on the blog & give you a coupon for any Real Mushroom product of your choice!