This recipe for the ultimate healthy hot chocolate is vegan, paleo but still rich, thick, and naturally dairy-free. Our low-sugar recipe has the added immune support of 5 different mushroom extracts to keep those winter colds away.
With winter in our present, the hankering for something milky and chocolatey, warm and delicious kicks in - it's a craving that only hot chocolate can satisfy.
But, not just any hot chocolate.
What if we told you that in just under 10 minutes and with only 4 ingredients, you can enjoy a nourishing, decadent, and made-from-scratch hot chocolate that packs the punch of 5 different immune-boosting mushrooms.
That's right, we didn't mess up with the math. With only 4 ingredients, you can be sipping on hot chocolate that includes the natural immune defense protection of medicinal mushrooms Chaga, Maitake, Reishi, Shiitake, and Turkey Tail Mushrooms.
The secret ingredient to this healthy hot chocolate - Real Mushrooms 5 Defenders Chocolate Bar.
It's a 1oz bar of chocolate and mushrooms bliss - made from sustainable heirloom cacao, organic ingredients, and 2 grams of 5 Defenders organic mushrooms extract blend - all with no added starch or fillers.
And when you melt it down, you get Healthy Hot Chocolate Mushroom Bliss.
More about the Secret Ingredient to this Healthy Hot Chocolate:
The Real Mushrooms 5 Defenders Chocolate Bar
Your taste buds won't be the only part of you doing the hot chocolate happy dance. With every sip, your immune system will be joining the party too thanks to the natural defense protection of the Chaga, Maitake, Reishi, Shiitake, and Turkey Tail Mushrooms in the chocolate bar.
While each mushroom has its own unique health-boosting properties, they all are antioxidant-loaded and help support your immune system - making this hot chocolate the ultimate winter treat. To learn more about each mushroom, you can read this article on the 7 Medicinal Mushroom Benefits for Health.
Good for you….but does it taste good?
We like to think you can't go wrong with sipping on melted chocolate. It just happens to be melted chocolate that's naturally dairy-free, paleo, low-sugar and packed with immune-boosting mushrooms. In other words, yes it does taste good, yes it's healthy for you, and yes you should make it!
How to make this healthy hot chocolate (vegan & paleo)
The ingredients:
Your favorite non-dairy milk (almond milk or coconut milk are great options).
Cacao powder
Vanilla Extract
A pinch of salt is optional but really brings out the chocolatey richness.
If you like your hot chocolate sweeter, you can easily add your favorite sweetener. Coconut sugar and maple syrup are great options. You can also use monk fruit or stevia to keep the hot chocolate low-sugar.
One of the great aspects of making hot chocolate from scratch is that you can easily adjust to your personal taste preferences and add your own favorite mix-ins. For example, a touch of cinnamon would be a great addition! Or perhaps a bit of cayenne for a bit of spiciness.
As for the equipment, all you need is a saucepan, whisk, and double boiler. Don't have a fancy double boiler? Fear not! All you have to do is grab a medium saucepan, fill with about two inches of water, and bring to a boil. Then place a heat-proof bowl over the saucepan, add your chocolate, and melt. That's it!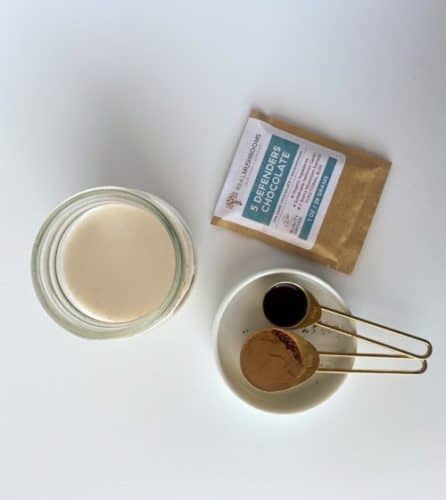 Healthy Mushroom Hot Chocolate Recipe
Cook time: 10 minutes
Servings: 1
Ingredients:
1 and 1/4 cup unsweetened non-dairy milk (such as coconut or almond)
1 oz Real Mushrooms 5 Defenders Chocolate (1 bar)
1 TB cacao powder
1 tsp vanilla extract
optional: sweetener to taste
optional: pinch salt
optional: vegan whipped cream, or vegan marshmallows
Instructions:
Pour the non-dairy milk, cacao, and vanilla into a medium saucepan over low heat. Heat until you reach a gentle simmer.
Whisk often so that the non-dairy milk doesn't burn.
While your milk is simmering, add your Real Mushrooms 5 Defenders Chocolate to a double boiler and heat until the chocolate is melted.
Add your melted chocolate to the simmering milk and stir until combined.
Taste and adjust to preferences. Add your favorite sweetener to the mix or a dash of sea salt!
Pour into a glass and top with whip cream.
Enjoy your healthy hot chocolate in good health
We take satisfying cravings seriously over here. And when that hot chocolate cue kicks in, we've got you covered with this decadent, delicious, and dairy-free version.
We also take nourishment and health seriously over here, too. So for that, we've always got you covered with our 100% organic, real mushroom extracts with no added starch or fillers.
For this healthy hot chocolate, we bring you the best of both worlds - the craving satisfaction and the healthy immune nourishment too.
On that note, grab your favorite mug, head to the kitchen, and sip in bliss.
(And no judgment if you snack on a block or two of 5 Defenders Chocolate while making your hot chocolate - we're pretty sure it's a necessary step in the creative fun of the kitchen.)
Easily give your other recipes a power boost
There are so many different culinary combinations you can create with mushrooms! If you don't have the 5 Defenders chocolate bar for this recipe, you can substitute semisweet chocolate chips and add some mushroom extracts of your own choice to the mix. Each has their own unique profiles and benefits, but immune system strengthening is a common benefit amongst all of them. To learn more, you can read our article which highlights the top 7 benefits of the main medicinal mushrooms. These different mushroom extracts can easily be added to whatever you're cooking up in the kitchen.
Join the mushroom recipe challenge! Get creative in the kitchen with different ways to get more mushrooms in your diet. Invent your own recipe and share via insta @realmushrooms. We will feature the winner's recipe on the blog & give you a coupon for any Real Mushroom product of your choice!