For those who like their healthy mushrooms chocolate-flavored, these next 3 recipes for mushroom hot chocolate will surely hit the spot.
Luckily, we've done most of the heavy lifting so that you can quickly and easily enjoy a brew of hot chocolate with the power of mushroom extracts. This delight will give your winter body the cozy but healthy boost it needs. Our Mushroom Hot Chocolate Mix with 5 Defenders is a blend of premium organic ingredients with 5 of the best immune-supporting mushroom powder extracts.
The ingredients in this pre-made blend are as follows:
If you're wondering what's so special about the mushroom extracts in this mix and how they can help support your body and mind's wellbeing, we recommend reading our article 7 Medicinal Mushrooms and Their Health Benefits.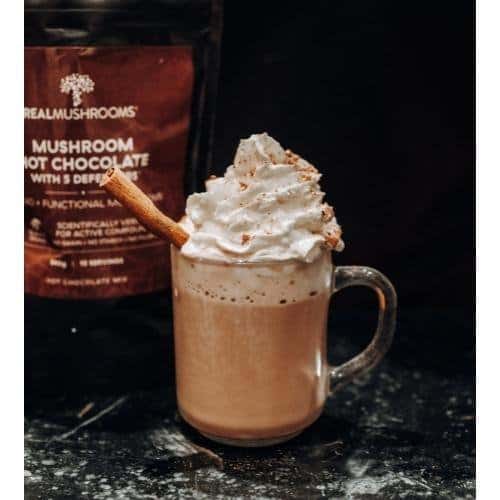 We GUARANTEE that this hot chocolate mix is superb when made simply with hot water or your favorite milk or milk substitute.
HOWEVER, we like to get creative with our mushroom drinks, so here is some additional inspiration for how you can level-up this already delicious but healthy treat.
Now onto the mushroom hot chocolate recipes!
1. PEPPERMINT CHOCOLATE EGGNOG LATTE
2. GINGER, CINNAMON HOT CHOCOLATE
3. BAILEYS HOT CHOCOLATE
Watch the video below for a quick capture of our Baileys Hot Chocolate recipe. Be sure to tag us in any shots you take of your own delicious brew-making!
Disclaimer: The information or products mentioned in this article are provided as information resources only, and are not to be used or relied on to diagnose, treat, cure, or prevent any disease. This information does not create any patient-doctor relationship, and should not be used as a substitute for professional diagnosis and treatment. The information is intended for health care professionals only. The statements made in this article have not been evaluated by the Food and Drug Administration. Any products mentioned are not intended to diagnose, treat, cure, or prevent any disease. The information in this article is intended for educational purposes. The information is not intended to replace medical advice offered by licensed medical physicians. Please consult your doctor or health practitioner for any medical advice.