Lobster mushrooms are a fall favorite amongst foragers. These delicious fungi make a great addition to many dishes, like pasta, soups and stews, and even sandwiches. Below we present you with what we consider to be the ultimate lobster mushroom recipe to add to your culinary repertoire.
Incidentally, lobster mushrooms are not actually mushrooms – more on that below – but they are absolutely delicious and have health benefits worth noting!
We've also included two additional flavorful recipes that are sure to become favorites in your home kitchen as economical and meat-free alternatives to seafood dishes. So let's dive in and explore the world of lobster mushrooms.
In this article:
Three ways to acquire lobster mushrooms
How to prepare lobster mushrooms for cooking
The ultimate lobster mushroom recipe
Two bonus lobster mushroom recipes
Finding or Buying Lobster Mushrooms
There are three main ways to acquire lobster mushrooms.
The first option is to visit local organic produce markets. You would be able to find them during later summer and the fall when these delightful fungi are in season. However, they are usually only available fresh in Northern parts of the USA and Southern parts of Canada where they grow in the wild.
If fresh lobster mushrooms are not an option in your area, you can find many online sellers of dried mushrooms that may have them available. Take care to vet the quality of their company and products to avoid getting old, stale, or low-quality dried mushrooms.
Alternatively, if you're feeling adventurous, you can forage for lobster mushrooms yourself using these tips.
Where they grow: In the Northern parts of the USA and Southern parts of Canada, but most abundantly in the Pacific Northwest. They generally grow in coniferous forests.
When they grow: In summer and fall, particularly after rain or during times of constant humidity.
What they grow on: You will see them growing on the ground near firs, pines, and/or hemlock trees.
Lobster mushrooms have no toxic lookalikes, so they are generally easy to identify without risk.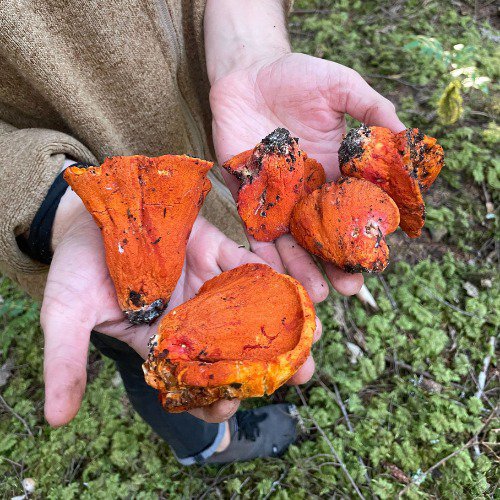 Fun Fact: It's Not Actually a Mushroom!
A lobster mushroom is not technically a mushroom at all! It is a growth that forms when a certain parasitic fungus consumes one of two types of common mushrooms: Short-stalked Russula (Russula brevipes) or Lactarius mushrooms.
As the fungus eats up the host mushroom, it generates a strangely delicious orange-red output that looks and tastes suspiciously like a cooked lobster tail. So, if you want to be technical about it, you'd be cooking up Hypomyces lactifluorum.
To the mushroom aficionado, this happy fungi accident may sound familiar: See how chaga forms.
Taste and Texture of Lobster Mushrooms
Lobster mushrooms have a unique flavor profile that sets them apart from other varieties. They offer a savory taste reminiscent of seafood. Their texture is firm yet tender, and they get slightly sweet as they cook. Similar to culinary uses of lion's mane mushrooms, they are a popular substitute for seafood in dishes.
A great lobster mushroom recipe will ideally make use of the similarities between this fungus and real lobster meat.
Health Benefits of Lobster Mushrooms
Aside from their delectable taste, lobster mushrooms also provide some health benefits. They are packed with essential nutrients such as vitamins B and D, potassium, and iron. Like other culinary mushrooms, these are low in calories, but dense in fiber, so they are ideal for filling you up and supporting your gut health.
Preparing Lobster Mushrooms
If you are using fresh lobster mushrooms, preparation prior to cooking is simple. Rinse them under cold water to remove any debris, then move on to the next step below.
If you are using dried lobster mushrooms, you'll need to rehydrate them before moving on to cooking. Place the dried mushrooms in a heat-safe bowl, then cover with boiling water. Let soak for 15-20 minutes, agitating them gently about halfway through to help loosen any debris. Carefully remove the mushroom pieces and rinse well under cold water. If the mushrooms were not dirty prior to soaking, reserve the soaking water for cooking.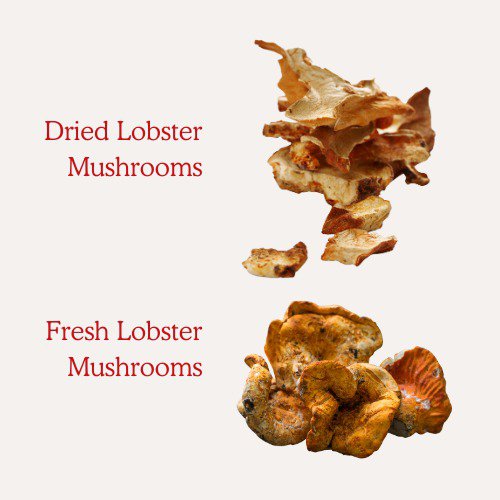 Before incorporating fresh lobster mushrooms into a recipe, it's crucial to prepare them properly. Start by cleaning the mushrooms thoroughly using a soft brush or damp cloth to remove any dirt or debris. Then slice them according to your desired thickness.
For each of the recipes below, we recommend sautéing the lobster mushrooms in a preheated pan with olive oil or butter until they turn golden brown. Make sure the pan is already hot prior to putting the mushrooms in. This is key to cooking mushrooms so they don't go soggy.
The CEO of Real Mushrooms, Skye Chilton, created the video below of his lobster mushroom foraging and how he cooked up these delicious delicacies:
Now that we've covered the basics of lobster mushrooms, let's dive into the recipes!
The Ultimate Lobster Mushroom Recipe
The following recipe can be made using fresh or dried lobster mushrooms. We have included preparation instructions for the mushrooms themselves just above this section.
Creamy Pasta With Lobster Mushroom & Vodka Sauce
This delightful creamy pasta dish featuring flavorful Hypomyces lactifluorum is a perfect choice for adventuring into a new and delicious culinary realm. It's especially fun to experiment with ingredients like these if you're looking for satisfying meat or seafood substitutes.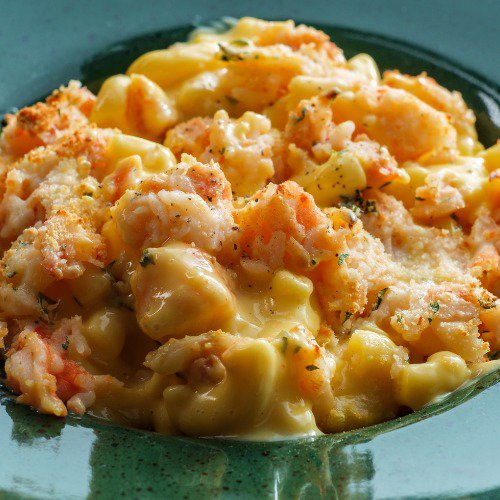 INGREDIENTS:
1 lb (450g) pasta (penne or rigatoni works well)
1 cup lobster mushrooms, sliced into 1-inch pieces
2 tbsp olive oil
1 small onion, finely chopped
3-4 garlic cloves, minced
1/2 tsp red pepper flakes (adjust to taste)
1 can (28 oz/800g) crushed tomatoes
1/2 cup vodka
1 cup heavy cream
Salt, to taste
Black pepper, to taste
1/4 cup grated Parmesan cheese, plus more for serving
Fresh basil or parsley for garnish (optional)
DIRECTIONS:
Cook the pasta in salted water for the amount of time indicated on the package. Drain and set aside.
In a large skillet, heat the olive oil over medium heat. Add the chopped onion and saute until slightly golden.
Add the minced garlic and pepper flakes and saute briefly and carefully so you don't char the garlic.
Incorporate the sliced lobster mushrooms to the skillet and cook for about 5 minutes or until they become golden brown.
Pour in the crushed tomatoes and stir. Allow the tomato mixture to simmer for about 10 minutes. Afterward, pour in the vodka, letting the sauce simmer for another 7-10 minutes. This will cook off the alcohol, leaving behind a unique depth of flavor.
Reduce the heat to low and stir in the heavy cream. Let it simmer for a few more minutes, allowing the sauce to thicken slightly. Add the grated Parmesan cheese and mix until it's melted and the sauce is smooth.
Reduce the heat to low and add the heavy cream. Stir well to combine all the ingredients.
Simmer for an additional 5 minutes, allowing all the flavors to meld together.
Add cooked pasta to the skillet and toss gently until it is well coated with sauce.
Season with salt and black pepper to taste
Serve hot, garnished with fresh parsley.
Two Bonus Lobster Mushroom Recipes
Bonus Recipe #1: Lobster Mushroom Bisque
This creamy bisque recipe is sure to become a cold-weather favorite. One of our team members adapted this recipe from the original, found on One Tomato, Two Tomato. Freshly foraged lobster mushrooms were used here, but you could easily swap with rehydrated dried ones if that's all you have on hand.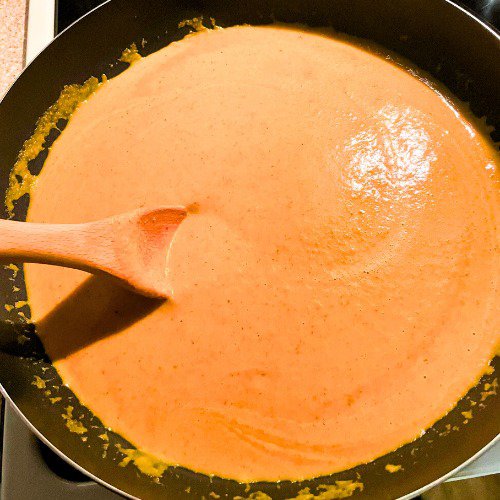 INGREDIENTS:
2-3 lbs lobster mushrooms, cleaned & thinly sliced
6 tbs butter
2 tbs olive oil
2 carrots, finely chopped
2 ribs celery, finely chopped
2 clove garlic, finely chopped
1 large yellow onion, finely chopped
2 tbs tomato paste
Kosher salt & pepper, to taste
4 sprigs parsley
Dried sage to taste
2 cups white wine
4 cups chicken stock
1 tsp tabasco sauce
1 cup heavy cream
1 tbs chopped parsley
DIRECTIONS:
In a large pot, heat butter and olive oil. On medium-high heat, add lobster mushrooms. Cook until all water is evaporated and mushrooms begin to brown.
Add carrots, celery, garlic, and onions and cook until vegetables are lightly brown, about 15 minutes.
Add tomato paste and combine. Season with salt & pepper.
Add about ¼ cup of stock to the pan to deglaze, scraping up browned bits.
Add chopped parsley, wine, stock, and water.
Bring to a simmer and cook for 1 hour until mushrooms are tender.
Puree the soup in a blender until smooth. For extra smoothness, strain through a sieve.
Return the puree to the pot and add cream. Simmer for 5 more minutes, but do not boil.
Check seasonings and serve. Sprinkle with chopped parsley.
Bonus Recipe #2: Lobster Mushroom Rolls
We found this drool-worthy recipe for meat-free lobster rolls and couldn't resist including it! If you're craving a satisfying sandwich, this is one recipe you will definitely want to try. The original recipe can be found on Forager Chef, or view his YouTube video below.
When it comes to the lobster mushroom, it is one of those strange treats that nature in all her weirdness has created and our tastebuds happily benefit from.
If you make any of these tasty dishes, be sure to share some photos and tag us on Instagram or Facebook!