How can Mushrooms Benefit Skin?
Mushrooms are having a moment. From recipes and supplements to fashion and packaging, it seems like almost everything can be made from mushrooms now. And this includes the world of cosmetics. More skin and face products are adding mushrooms to their list of ingredients, and for good reason. The mushroom benefits for skin and face care can do wonders for your complexion and the overall condition of your body's largest organ.
Mushrooms, also known as the fruiting body, are the reproductive structure of a fungus and have long been touted for their myriad of health benefits (1,2). Some of their health benefits include helping regulate the functions of the immune system, mitigating oxidative stress in the body, supporting brain health & cognition, and increasing energy and stamina. Scientific studies are now confirming the traditional wisdom of ancient cultures: mushrooms can be a powerful resource for whole-body maintenance (3,4,5,6).
More recently, the scientific community has been investigating mushrooms for their ability to support and maintain our skin health as well. You may have noticed that even mainstream skincare lines are hopping on the mushroom bandwagon. Many of which are now releasing fungi-infused formulas.
What's Special About Fungi?
Mushroom extracts are now paving their way into cosmetics in part because of the diversity of skin-supporting compounds they contain. This includes ceramides, lentinan, schizophyllan, carotenoids, resveratrol, and others (7,8). Functional mushrooms are well known as antioxidant powerhouses that support a healthy inflammation response. These properties, among others which we will explore in this article, are frequently used to address cosmetic concerns, such as fine lines, wrinkles, uneven tone, and texture (9).
Mushrooms have an abundance of effective skin-supporting properties. In this article, we'll explore the bio compounds in different mushrooms and how you can use them to address your skin concerns. Finally, we'll leave you with three mushroom-based skincare recipes you can use to create your own customized formulas.
In this article:
A) Mushroom Biocompounds for Natural Skincare
B) Types of Mushrooms for Skincare
Mushroom Bio Compounds for Natural Skincare:
Bio compounds are found in all living things and are essential for our bodies to function properly. Without bio compounds, you wouldn't be able to digest food, breathe, grow, or produce new cells. This, of course, includes skin cells. The mushroom benefits for skin health are all thanks to their natural active compounds.
The right bio compounds can help you achieve radiant skin and address persistent concerns such as dullness, dryness, redness, and premature aging. Let's take a look at a few bio compounds found in mushrooms that benefit your skin.
Antioxidants
We've all heard that antioxidants are important for maintaining cellular health and promoting longevity. But an added perk of antioxidants is their ability to revitalize your skin. This is due to their capacity to fight free radicals that cause oxidative stress and damage healthy cells (10).
Antioxidants fight free radicals by affecting the intracellular signaling pathways that cause skin damage. This can help protect against sun damage, address skin irritation, and help diminish the appearance of wrinkles (10).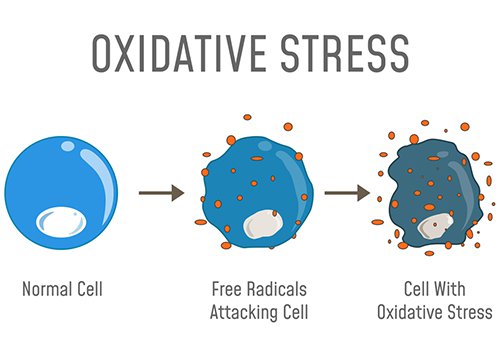 Beta-Glucans
Beta-glucans are found in the cell walls of yeasts, bacteria, grain, fungi, and seaweed. They strengthen the immune system by encouraging macrophage production. Macrophages are scavenger cells that seek and destroy bad bacteria. Beta-glucans have many animal studies suggesting that they may help speed up the healing process of wounds via cytokines and other key immune cells (29).
Beta-glucans are also high in antioxidants. Which, as we learned in the previous section, can help prevent oxidative stress that causes premature aging and wrinkles. (12)
L-Ergothioneine
L-Ergothioneine is a potent amino acid that is found naturally in your body, and it is also found in shiitake and oyster mushrooms in abundance. It has powerful antioxidant properties which can help reduce oxidative stress and extend the lifespan of healthy skin cells. This means it can address signs of early aging such as fine lines and wrinkles. Studies on human skin cells have shown that L-ergothioneine may also help repair DNA and sun-damaged skin cells (13). L-ergothioneine can be used in your beauty regime for helping to revitalize lackluster skin and keep your complexion resilient to environmental damage and aging.
Fatty Acids
You may have heard that omega-3 fatty acids can help you achieve shiny hair. There are some studies that back up this claim. Fatty acids may also improve the skin barrier function by sealing in moisture and blocking out irritants (14,15). This can help moisturize and soothe dry, red, and itchy skin and relieve skin reactions such as those found in psoriasis (16). Fatty acids may also protect your skin from UV damage (14,15).
Fatty acids also help promote a healthy inflammation response (14,15). This can help reduce the redness and swelling from such skin concerns as acne breakouts. Some studies suggest that fatty acids may also abate abnormal cell growth, particularly in the skin (14).
An easy way to consume the necessary polyunsaturated fatty acids for supporting overall skin and body health is to ingest edible mushrooms such as oyster or shiitake (33).
Melanin
Our skin, hair, and eye pigments are determined by our melanin. But melanin is also responsible for protecting our skin and keeping it healthy. Melanin, such as that found in abundance in the functional fungus Chaga, can help protect our skin from sun damage (17). It does this by absorbing UV rays before they can damage skin cells. It also has antioxidant and free-radical scavenging properties (32). The protective properties of melanin can help prevent oxidative stress that leads to early aging and skin damage (17).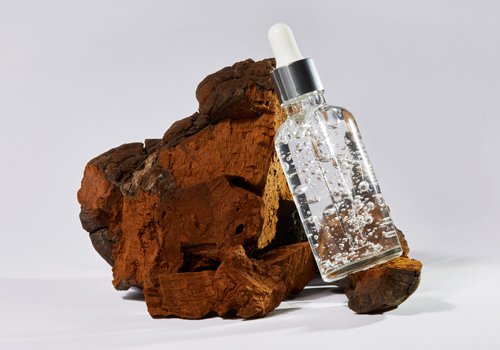 Types of Mushrooms for Skincare Benefits:
The next time you're looking to improve the complexion of your skin, look to fungi. Mushroom benefits for skin can be found in a variety of species of mushrooms. All contain essential antioxidants that, as we learned earlier, can help reduce oxidative stress and skin damage.
You can't go wrong with incorporating mushrooms into your skin regime, either by taking them as a supplement or by adding them to your skincare products as a powder extract. But depending on your skin goals, some types of mushrooms may be better for you than others. Listed below are different types of mushrooms and how they benefit your skin.
Shiitake and Oyster Mushroom Benefits for Skin Resilience
Reducing oxidative stress is key to preserving the vitality of your skin and preventing early aging. Our environment and lifestyles contribute to increased free radicals in the body, and it's more difficult than ever to avoid oxidative stress that can damage skin cells.
Fortunately, shiitake and oyster mushroom benefits for skin include protecting cells against oxidative stress. Both mushrooms are packed with L-ergothioneine, a powerful antioxidant that can help forestall the development of wrinkles and other signs of premature aging, such as skin dullness (26,27). They also contain high amounts of oleic acid, a polyunsaturated fatty acid that can help calm and balance skin (33).
Shiitake and oyster mushrooms may also help defend your skin against harmful bacteria. This can help your skin reduce redness and recover from injuries faster. They may also brighten your complexion by balancing your skin tone (27).
Real Mushrooms offers both shiitake and oyster mushrooms in their convenient Ergo+ supplement. Taking L-ergothioneine internally and adding it to your skincare products will help defend your skin against oxidative stress and early signs of aging with ease.
Reishi Mushroom Benefits for Skin Rejuvenation
The Reishi mushroom is one of the most powerful functional mushrooms to incorporate into a skin-supporting regime — it is known as the mushroom of longevity for good reason.
When taken as a supplement, reishi helps restore balance and regulates the body's response to stress. It is high in antioxidants, which is crucial for protecting skin from the aging effects of oxidative stress, thus contributing to a healthy complexion (18,19, 20).
Our skin will show our body's first signs of stress whether it's dehydrated, inflamed, dull, or sallow. Using a high-quality, organic, grain-free mushroom powder like Real Mushroom's reishi extract as a supplement and as a topical skin treatment can help protect and renew skin more efficiently (18).
Chaga Benefits for Skin Repair & Sun Protection
There are plenty of foods that contain vitamins that encourage melanin production, but the Chaga mushroom's benefits for skin are unique in that it actually contains melanin. As we mentioned earlier, melanin protects against UV radiation and oxidative stress. This helps support the body's natural defense mechanisms against the kind of sun damage that is one of the primary causes of premature skin aging (21).
Beta-glucans in Chaga mushrooms help promote a healthy inflammation response. Chaga can be used to help with dry, irritated, cracked, or redened skin. For example, in one study, patients experienced improvement or complete remission of their psoriasis symptoms after taking Chaga supplements for two to three months (11,12, 22).
A recent study also confirmed Chaga as the medicinal mushroom with one of the highest concentrations of antioxidants (27). These antioxidants will help shield skin cells from oxidative damage and that can help the complexion ward off premature signs of aging such as dullness, wrinkling, and loss of skin elasticity (31).
Tremella Mushroom Benefits for Skin Moisturizing
Properly hydrated skin will not only appear fresher and more vibrant but will be in the best state to perform its task as the body's protective barrier. Tremella mushroom benefits for skin are helpful for keeping your body's largest organ nourished and hydrated.
Tremella has unique water-retaining properties that are hard to beat. Dr. Tanuj Nakra, the co-founder of AVYA Skincare, explains that tremella's "gelatinous molecules are smaller than that of hyaluronic acid, so they penetrate the skin much better — leading to more noticeable, real-world results"(30). In Japan and China, it has become a popular replacement for sodium hyaluronic acid in moisturizers because of its excellent skin moisturizing capacity (23).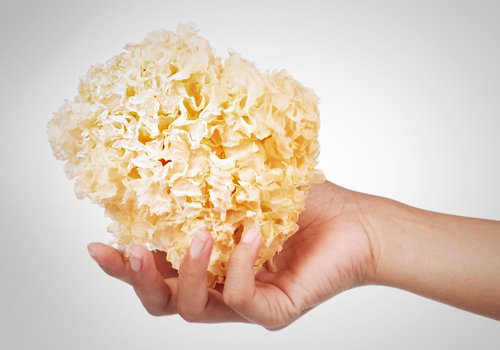 Tremella may also improve the integrity of your skin by preserving collagen. Human skin-cell studies have shown that tremella can extend the lifespan of skin fibroblasts (24,25). Fibroblasts are cells that play an important role in wound healing and synthesizing collagen. By supporting fibroblasts, tremella can preserve skin elasticity and prevent sagging. This combined with tremella's capacity to promote a healthy inflammation response can also help your skin's resilience to damage (24,25).
Mushroom Skincare Recipes
To get to the bottom of how to take advantage of functional mushroom benefits for skin, we turned to two veterans of the "green" cosmetics industry: Amanda Gangoso and Jacqueline Parker. Amanda is a professional makeup artist and the business development manager for Elate Cosmetics. Jacqueline is the founder and owner of the beauty services group, Beauty Reawakened. Both women have been investigating and experiencing the remarkable versatility of medicinal mushrooms for almost a decade.
Amanda was introduced to the wonderful health-supporting properties of mushrooms while attending The Institute of Holistic Nutrition in 2010 and has had training with expert mycologists. Jacqueline has also been using mushrooms medicinally for years, and in 2020 she enrolled in the Pacific Rim College Community Herbalism Program to learn more from experts.
Both women deeply understand and recognize the benefits of taking functional fungi as a supplement internally and are enthusiastic about the potential mushroom benefits for skin when using them topically.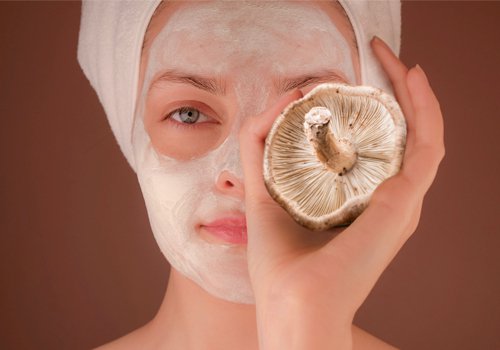 Why Use Homemade Mushroom Skincare
Amanda and Jacqueline share their recipes for mushroom-based skincare below and the Real Mushrooms team has also added their own recipes to the mix.
It is important to remember that mushrooms that are found in commercially available skincare formulations are processed and synthesized differently than a mushroom supplement such as the DIY recipes below. However, commercially available skincare formulations that tout mushrooms as an ingredient tend to contain so little of it that any benefits the fungi might provide are heavily diluted.
The advantage of at-home skincare recipes is that you can be certain to get the greatest mushroom benefits for skin health from your mushroom powders and supplements, as you will control the amount and source of your ingredients. Be sure to use an organic, mushroom (fruiting body) extract like those in the Real Mushrooms line to get the most medicinal value. If you use medicinal mushrooms in capsules, you can simply break them open - you don't necessarily need the loose powder.
Amanda and Jacqueline have experimented with Reishi topically in the form of a leave-on mask or exfoliating cleanser. Topical use is something they suggest adding to a daily mushroom extract intake to get the most benefit. Tremella, Reishi, and Chaga extracts are commonly used both internally and topically for skin-supporting benefits.
Consistency is key when it comes to results. Amanda and Jacqueline recommend sticking to a routine for any lifestyle change for at least 3-6 weeks to see and feel results.
Topical Mushroom Skin Care Recipes
Cleansing Manuka Honey and Reishi Mask
Use this gentle, skin-soothing cleanser recipe as a natural alternative to store-bought. Amanda and Jacqueline formulated this recipe to be easy and accessible to make, to be very gentle, and to pack the most mushroom benefits for skin by using a pure, organic reishi extract.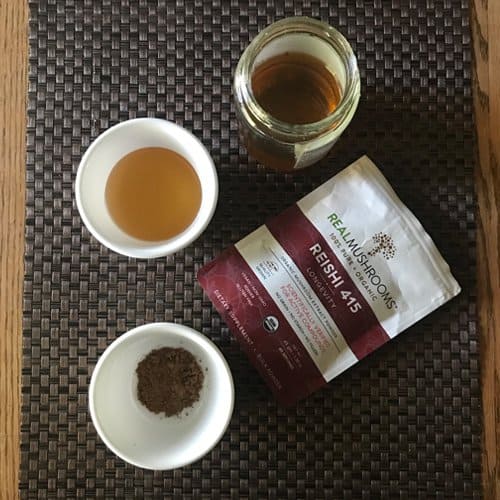 Ingredients
Method
Mix it all together in a bowl
Apply on your skin & let it sit for 5 minutes
After 5 minutes, gently massage the honey blend into your skin.
Rinse with warm water and a cloth
Follow up with some jojoba oil or your regular moisturizer
Ingredient Benefits
Reishi - Hydrating, Anti-inflammatory, Antioxidant
Manuka Honey - Antimicrobial, Anti-inflammatory & Soothing * Great for acne-prone skin
Chaga Soothing Skin Balm
Real Mushrooms has formulated this topical skin-care recipe to incorporate the powerful antioxidant properties of Chaga. This recipe is for nourishing and healing dry, cracked, or inflamed skin.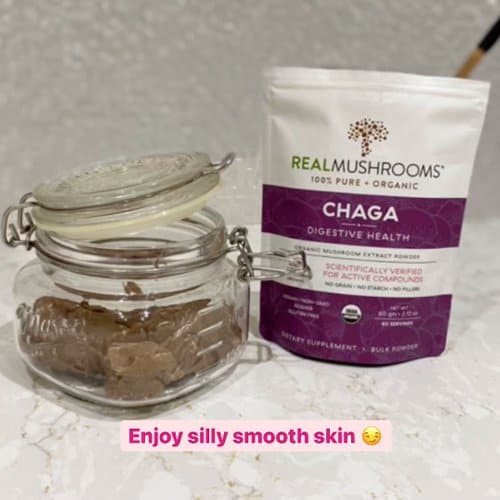 Ingredients
9 Tbsp shea butter
6 Tbsp extra virgin coconut oil
3 Tbsp cacao butter
10 drops tea tree oil (This is optional. Feel free to experiment with different essential oil blends here!)
Method
Using the double boiler method. Add the shea, cacao, and coconut oil. Melt at low heat until everything is mixed just right. Be mindful not to turn the heat up too much!
Next, add the essential oil, if desired, and chaga powdered extract. Use a whisk to combine everything nicely.
Pour mixture into a small mason jar or some other fun creative jar you intend to use! Store in the refrigerator. It will need at least 2-4 hours to solidify. You can then store at room temperature. This will keep for roughly 6 months.
Ingredient Benefits
Chaga - Contains SOD (superoxide dismutase) and melanin, which boosts skin nourishment and protective factors from everyday stressors like environmental toxins, UV light, dehydration, and nutrient-poor food.
Shea butter, extra virgin coconut oil, cacao butter - This trifecta of natural moisturizers mimic the oil our skin naturally produces and therefore their fatty acids are readily absorbed by our skin to hydrate it. They are also known to possess their own antioxidant and anti-inflammatory properties, so are helpful in repairing damaged, irritated, and inflamed skin.
Tea tree oil - This essential oil has anti-bacterial, anti-viral and anti-inflammatory properties which make it ideal for protecting abraded skin from infection, helping to diminish skin inflammation, and even to repair skin from acne lesions.
Brightening & Moisturizing Tremella Mask
This Real Mushrooms-formulated recipe incorporates Tremella to deliver a moisture boost, matcha for extra-soothing antioxidant power, and apple cider vinegar for its capacity to gently exfoliate skin and leave it looking glowing.
*Note: those with very sensitive skin, or with cracked or broken skin, should consider replacing the apple cider vinegar with water.
Ingredients
¼ cup matcha
2 tbsp bentonite clay
1 tsp Tremella powder
⅓ tsp apple cider vinegar
1 tbsp water (add more to achieve desired consistency)
Method
Mix the water and bentonite clay. (Add just a little water at a time until it reaches your desired consistency)
Add the matcha and Tremella powder until it blends into the mixture smoothly.
Finally, add the apple cider vinegar.
Apply the mask all over the face, except your eyes and lips.
Let the mask dry for 15-20 minutes.
Wash the mask off with luke-warm water.
Follow up with your regular moisturizer or some jojoba oil
Ingredient Benefits
Matcha - Antioxidant, Anti-Bacterial, Anti-inflammatory
Tremella powder - Antioxidant, Hydrating
Apple cider vinegar - Exfoliating
Bentonite clay - Antimicrobial, Anti-inflammatory, Anti-Irritant, Detoxifying
Skin Care Drink Recipes
Cacao 5 Defenders Elixir
Amanda and Jacqueline formulated this elixir to be taken in the morning to provide an anti-inflammatory and energetic boost to your day. Your skin will benefit from the ample antioxidants and antimicrobial ingredients in this recipe.
Ingredients
2 capsules or 1/2 tsp of Real Mushrooms 5 Defender Blend (or any mushroom blend of your choice)
1 tbsp raw cacao
1 tsp coconut oil
1 tsp manuka honey or maple syrup
¼ tsp cinnamon
1 mug full of boiling water or warmed milk or nut mylk
A shot of espresso (optional)
Method
Add all ingredients to a blender
Blend
Drink and enjoy!
Ingredient Benefits
Cacao - Antioxidant & Triggers the release of endorphins and mood-enhancing neurochemicals in the brain
Coconut Oil - Antimicrobial & Source of healthy fat
Manuka Honey - Antimicrobial & Soothing
Cinnamon - Helps balance blood sugar & Antibacterial and Antifungal
Espresso - Antioxidant & Boost of Energy
We hope you have fun creating these recipes at home and experimenting with mushrooms in your wellness routine. If you do create one of these recipes we would love to see it! Tag @real_mushrooms, @oh.dandelion, and @AmandaGangoso in your Instagram photos!
References
1. Cheung, P.C. Mushrooms as Functional Foods; John Wiley & Sons: Hoboken, NJ, USA, 2008; pp. 1–34.
2. Miles, P.G.; Chang, S.T. Mushrooms: Cultivation, Nutritional Value, Medicinal Effect, and Environmental Impact, 2nd ed.; CRC Press: Boca Raton, FL, USA, 2004; pp. 1–26.
3. Poucheret, P.; Fons, F.; Rapior, S. Biological and pharmacological activity of higher fungi: 20-Year retrospective analysis. Cryptogam. Mycol. 2006, 27, 311–333.
4. Ahmad, M.F.; Ahmad, F.A.; Azad, Z.; Ahmad, A.; Alam, M.I.; Ansari, J.A.; Panda, B.P. Edible mushrooms as health promoting agent. Adv. Sci. Focus 2013, 1, 189–196.
5. El Enshasy, H.A.; Hatti-Kaul, R. Mushroom immunomodulators: Unique molecules with unlimited applications. Trends Biotechnol. 2013, 31, 668–677.
6. Kalacˇ, P. A review of chemical composition and nutritional value of wild-growing and cultivated mushrooms. J. Sci. Food Agric. 2013, 93, 209–218.
7. Hyde, K.D.; Bahkali, A.H.; Moslem, M.A. Fungi—An unusual source for cosmetics. Fungal Divers. 2010, 43, 1–9.
8. Camassola, M. Mushrooms—The incredible factory for enzymes and metabolites productions. Ferment. Technol. 2013, 2.
9. Badalyan, S.M. The main groups of therapeutic compounds of medicinal mushrooms. Med. Mycol. 2001, 3, 16–23.
10. Nguyen, G; Torres A. 11 Sept. 2012, Systemic Antioxidants and Skin Health. pubmed.ncbi.nlm.nih.gov/23135663/#:~:text=Most%20dermatologists%20agree%20that%20antioxidants,as%20preventing%20wrinkles%20and%20inflammation.
11. Majtan, J; Milos J. 1 Apr. 2018, β-Glucans: Multi-Functional Modulator of Wound Healing. NCIB. www.ncbi.nlm.nih.gov/pmc/articles/PMC6017669/.
12. Du, B, et al. 11 Mar. 2013, Skin Health Promotion Effects of Natural Beta-Glucan Derived from Cereals and Microorganisms: a Review. National Library of Medicine, pubmed.ncbi.nlm.nih.gov/23494974/.
13. Markova, N, et al. 15 Apr. 2009, Skin cells and tissue are capable of using L-ergothioneine as an integral component of their antioxidant defense system. National Library of Medicine, https://pubmed.ncbi.nlm.nih.gov/19439218/
14. Huang, T, et al. 30 July 2018, Cosmetic and Therapeutic Applications of Fish Oil's Fatty Acids on the Skin. NIH,www.ncbi.nlm.nih.gov/pmc/articles/PMC6117694/.
15. Kawamura, A, et al. 2011, Dietary Supplementation of Gamma-Linolenic Acid Improves Skin Parameters in Subjects with Dry Skin and Mild Atopic Dermatitis. NIH, U.S. National Library of Medicine, pubmed.ncbi.nlm.nih.gov/22123240/.
16. Balbas, G, et al. 20 June 2011, Study on the Use of Omega-3 Fatty Acids as a Therapeutic Supplement in Treatment of Psoriasis. NCIB, NIH, www.ncbi.nlm.nih.gov/pmc/articles/PMC3133503/.
17. Brenner, M, and J Hearing. 1 May 2009, The Protective Role of Melanin Against UV Damage in Human Skin. NCIB, NIH, www.ncbi.nlm.nih.gov/pmc/articles/PMC2671032/.
18. Wang, J. et al. 2017, December 1. Emerging Roles of Ganoderma Lucidum in Anti-Aging. NCIB. https://www.ncbi.nlm.nih.gov/pmc/articles/PMC5758346/.
19. Zhao, H, et al. 2011, December 10. Spore Powder of Ganoderma lucidum Improves Cancer-Related Fatigue in Breast Cancer Patients Undergoing Endocrine Therapy: A Pilot Clinical Trial. NCIB. https://pubmed.ncbi.nlm.nih.gov/22203880/.
20. Cui , X. Y. et al. 2012, February 15. Extract of Ganoderma lucidum prolongs sleep time in rats. NIH. https://pubmed.ncbi.nlm.nih.gov/22207209/.
21. Yan, Z.-F., et al. 2014, August 13. Inhibitory and Acceleratory Effects of Inonotus obliquus on Tyrosinase Activity and Melanin Formation in B16 Melanoma Cells. NIH. https://www.ncbi.nlm.nih.gov/pmc/articles/PMC4145793/.
22. Murav'eva, D. A. et al. 1981, January 1. Chemical and medicobiological properties of chaga (review). Pharmaceutical Chemistry Journal. https://link.springer.com/article/10.1007%2Fs11094-006-0194-4.
23. Hyde, K. et al. 2010, July. Fungi - An unusual source for cosmetics. ResearchGate. https://www.researchgate.net/publication/226231469_Fungi_-_An_unusual_source_for_cosmetics.
24. Shen, T. et al. 2017, August. Tremella fuciformis polysaccharide suppresses hydrogen peroxide-triggered injury of human skin fibroblasts via upregulation of SIRT1. NIH. https://www.ncbi.nlm.nih.gov/pmc/articles/PMC5561887/.
25. Ruan, Y. et al. 2018, May 2. Tremella fuciformis Polysaccharides Attenuate Oxidative Stress and Inflammation in Macrophages through miR-155. NIH. https://pubmed.ncbi.nlm.nih.gov/29854576/.
26. Hseu, Y.-C. et al. 2020, February 12. The Antiaging Activity of Ergothioneine in UVA-Irradiated Human Dermal Fibroblasts via the Inhibition of the AP-1 Pathway and the Activation of Nrf2-Mediated Antioxidant Genes. Hindawi. https://www.hindawi.com/journals/omcl/2020/2576823/.
27. Taofiq, O. et al. 2016, October 14. Development of Mushroom-Based Cosmeceutical Formulations with Anti-Inflammatory, Anti-Tyrosinase, Antioxidant, and Antibacterial Properties. NIH. https://www.ncbi.nlm.nih.gov/pmc/articles/PMC6274557/.
28. Sharpe, E., Farragher-Gnadt, A. P., Igbanugo, M., Huber, T., Michelotti, J. C., Milenkowic, A., . . . Bou-Abdallah, F. (2021). Comparison of antioxidant activity and extraction techniques for commercially and Laboratory prepared extracts from SIX mushroom species. Journal of Agriculture and Food Research, 100130. doi:10.1016/j.jafr.2021.100130
29. Sharifi-Rad, J., Butnariu, M., Ezzat, S., Adetunji, C., Imran, M., Sobhani, S., . . . Martins, N. (2020, August 25). Mushrooms-rich preparations on wound healing: From nutritional to medicinal attributes. Retrieved April 08, 2021, from https://www.frontiersin.org/articles/10.3389/fphar.2020.567518/fulld
30. DeFino, J. (2018, November 23). Is this the new hyaluronic acid? Retrieved April 08, 2021, from https://www.thezoereport.com/p/snow-mushroom-skincare-products-could-replace-all-your-hyaluronic-acid-serums-13176008
31. Park, Y.K., Lee, H.B., Jeon, E.J., Jung, H.S., Kang, M.H. 2008, 'Chaga mushroom extract inhibits oxidative DNA damage in human lymphocytes as assessed by comet assay', BioFactors, vol. 21, no. 1-4, pp. 109-112. doi.org/10.1002/biof.552210120
32. Solano F. (2020). Photoprotection and Skin Pigmentation: Melanin-Related Molecules and Some Other New Agents Obtained from Natural Sources. Molecules (Basel, Switzerland), 25(7), 1537. doi.org/10.3390/molecules25071537
33. Sande, D., Oliveira, G. P., Moura, M., Martins, B. A., Lima, M., & Takahashi, J. A. (2019). Edible mushrooms as a ubiquitous source of essential fatty acids. Food research international (Ottawa, Ont.), 125, 108524. doi.org/10.1016/j.foodres.2019.108524