An easy-to-make, paleo butternut squash soup that packs a powerful, cozy punch with healthy vegetables, bone broth, warming spices, and immune-boosting mushrooms!
Soup season is upon us - and now is also the time to double-down on protecting our immune systems from colds and flus! This soup recipe not only brings the medicinal power of mushroom extracts, but the age-old go-to of bone broth* to benefit the body with nutritious marrow.
Soups are an incredibly easy and delicious way to sneak in a bunch of good-for-you ingredients. And over here at the Real Mushrooms headquarters, those healthy ingredients always include some mushroom extracts. In this case - Turkey Tail. We paired it with flavorful spices, healthy vegetables, and nourishing bone broth* - leaving you with the ultimate cozy Butternut Squash Soup that's packed with extra nutrients & bio-compounds.
Get ready to enjoy comfort and delicious health benefits with this paleo-friendly soup recipe!
*For a vegan version of this soup, simply substitute mushroom broth or your favorite vegetable broth!
Paleo Butternut Squash Soup Ingredients
What's in it and why is it healthy?
Butternut Squash: Cue the short-cut happy dance. You can actually use pre-cut, frozen butternut squash, and it tastes just as good. Squash is lower in starch than potatoes, easy to digest, won't send your blood sugar skyrocketing, and loaded with beneficial prebiotic fibers to feed your good gut bacteria.
Garlic & onion: These add some major flavor, while also boosting your immunity. They are anti-inflammatory prebiotic fuel to promote the growth of beneficial bacteria in your gut.
Broth:

If using bone broth, this marrow-derived base will be therapeutic for your digestion, skin, joints, and brain function. Of course, you can use mushroom broth or your favorite vegetable broth instead to make this soup vegetarian/vegan.

Real Mushrooms Turkey Tail: This will help really turn up the immune-boosting properties of the soup. Turkey Tail can stimulate cytokine production, increase natural killer cells and overall nourish your body's natural defense system. And because we want you to get all 100% of that immune-boost, we only use real 100% organic mushrooms with no added starch or fillers.
Garnishes & More: Top your soup bowl with whatever you want! We suggest toasted pumpkin seeds, green onion, a handful of fresh greens, a squeeze of lime, or some tangy sauerkraut. Of course, if you want to keep up with the paleo theme, you can use grain-free bread.
What you're left with is a creamy, savory butternut squash soup. Our version is a bit more on the savory side, but If you'd like a savory & sweet profile, try adding some apple to the mix.
How to make the Paleo Butternut Squash Soup
All you need to make this easy and healthy butternut squash soup is a large sauté pan or stockpot, a chopping knife, and either an immersion blender or a stand blender.
Recipe rundown
Chop your squash (or just use pre-cut canned or frozen), garlic, and onion.
Add your ingredients in the pan and sauté (minus the coconut milk and garnishes).
Cook until the soup reaches a simmer and the squash is tender.
Blend until you have a smooth consistency.
Taste and season.
Serve and enjoy.
That's all there is to it!
Easy. Nourishing. Delicious. This soup is great to make ahead of time and ready to enjoy throughout the week. You can store it in the refrigerator for 4-5 days or freeze up to a few months. Or you can serve your whole family a simple and healthy meal that comes together in under 30 minutes. Either way, it makes a great addition to the weekly menu!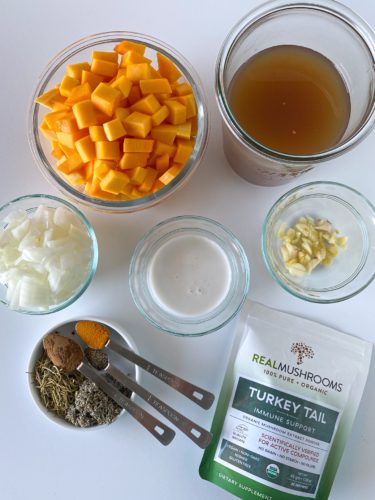 Servings: 4
Time: 30 minutes
Soup Ingredients
1 TB avocado oil
3 cups chopped butternut squash
3 chopped and peeled garlic cloves
1 chopped small yellow onion
2 cups broth
1 tsp ground sage
1 tsp ground rosemary
1/2 tsp turmeric
1 tsp salt
1/4 tsp ground pepper
1/3 cup full fat coconut milk
1 tsp Real Mushrooms Turkey Tail
optional: 1/4 cup chopped apple
optional garnishes and to serve: fresh squeeze of lime, crusty bread, arugula, green onions, sauerkraut
Soup Directions
In a large sauté pan, add your avocado oil and butternut squash. Sauté on medium-high heat for 6-8 minutes or until squash is slightly tender.
Add your garlic and onion and continue to sauté for 3 minutes.*
Add your broth, sage, rosemary, turmeric, salt, pepper, and Turkey Tail.
Bring to a simmer and cook for 15-20 minutes or until butternut squash is tender and soft. Let the mix cool for 10-15 minutes.
With a blender, blend until the soup is smooth.
Once blended, add your coconut milk.
Serve with any of your favorites: crusty bread, green onion, handful of fresh greens, sauerkraut, pumpkin seeds, or more!
*If you'd like to add the apple, you can do so at this time.
Enjoy this Paleo Butternut Squash Soup in good health
This soup is fall comfort food at its nourishing finest. It's a delicious and satisfying way to help nurture your body and boost your body's natural defense system.
But remember, you can be eating all the nutritious foods and taking all the supplements, but if you don't take time to nurture the other parts of yourself, it'll be a losing battle. And we want you to be victorious this season.
So for a holistic, well-rounded approach to health remember to take time to mindfully rest; to connect with others; and to slow down and embrace the simple pleasures of life - like this cozy, warming and nutrient-dense butternut squash soup.
Easily give your other recipes a power boost
If you don't want to use Turkey Tail, you can easily try out another mushroom extract. Each has their own unique profiles and benefits, and you can learn about each one with our article highlighting the top 7 benefits of the main medicinal mushrooms. These different mushroom extracts can easily be added to whatever you're cooking up in the kitchen.
Join the mushroom recipe challenge! Get creative in the kitchen with different ways to get more mushrooms in your diet. Invent your own recipe and share via insta @realmushrooms. We will feature the winner's recipe on the blog & give you a coupon for any Real Mushroom product of your choice!
SHOP MUSHROOMS!