Valentine's Day - a time when love is in the air. A time to celebrate affection, romance, and friendship. A time for all things sexy, sweet, and mushrooms.
Wait, mushrooms?!
That's right, mushrooms! Mushrooms in the form of Chaga Powder and Turkey Tail Powder can indeed be sexy! Especially when they're rolled into decadent Chocolate Truffles. Besides, what makes a better treat or gift than something that tastes sinful but is loaded with superfood ingredients to keep you healthy?
More about Chaga and Turkey Tail
If you're still scratching your heads trying to figure out how mushrooms are sexy, let's break it down.
Nobody wants to have gut issues or the sniffles, especially on their special, romantic, fun night.
That's where these mushrooms shine, particularly when you consume a small amount of them daily. Chaga swoops in for some digestive support and gut health, and Turkey Tail rolls in with that important immune health. The bottom line is these allies help you feel your very best. And when you're feeling your very best, you feel your most sexy, right? You feel your most confident and thriving. And that's what we're striving to help you feel!
The great news is, these easy, paleo, vegan, no-bake truffles have both of these mushroom allies.
And just like you want the real deal, authenticity in your partner and friends, you're looking for the same in your mushrooms. That's where Real Mushrooms has your back with their 100% organic mushroom extracts with no added grain, starch, or fillers - so you know you're getting all the beneficial compounds, like beta-glucans.
They truly are your friends with benefits.

Other Ingredients Needed
Besides the Chaga and Turkey Tail mushroom extract powders, the other ingredients you'll need are:
Coconut milk: You just want to make sure you use full fat here, ideally BPA-free too.
Gelatinized maca powder: Maca root is known to boost mood and libido — what better to use in these sexy truffles?! The gelatinized part ensures that you won't get intestinal distress that can sometimes come from eating raw maca.
Cayenne pepper: a fun way to add a little spiciness to the truffles and to the night! Of course, you can leave it out if you prefer.
Chocolate: feel free to use your favorite chocolate here, such as Real Mushrooms' chocolate bars!
Maple syrup: This is optional if you'd prefer your truffles a bit on the sweeter side. Feel free to substitute with honey. For a low-glycemic option, you can use yacon syrup.
Sea salt: this brings out the sweetness and the rich, chocolatey flavor.
Cacao powder: You can substitute dark cocoa powder.
Hemp hearts: Adds a little texture to the truffle coating while giving you a healthy dose of fatty acids, vitamins, and fiber.
How To Make these Sexy Valentine's Day Chocolate Mushroom Truffles
The good news is these no-bake, paleo, and vegan chocolate mushrooms truffles come together effortlessly and easily.
Let's break down the recipe:
Heat the coconut milk.
Add maca, Chaga, Turkey Tail, and cayenne.
Stir in your favorite chocolate and pinch of salt until melted.
Refrigerate for one hour.
Scoop the firm truffle batter into balls and roll in a mix of cacao powder, hemp hearts, and pinch of salt.
Enjoy!
That's it! The majority of the time the batter is in the refrigerator firming up, so you can attend to other fun Valentine's Day festivities.
How Long Do They Last? How Do You Store Them?
These chocolate mushroom truffles will last up to four days in the refrigerator. They're best stored in an airtight glass container. Alternatively, you can freeze them for longer shelf life.
Sexy Mushroom Truffles
Yields: 10-12 large truffles
Cook Time: 20 minutes
Total Time: 1 hour 20 minutes (an hour of which is refrigeration)
Ingredients: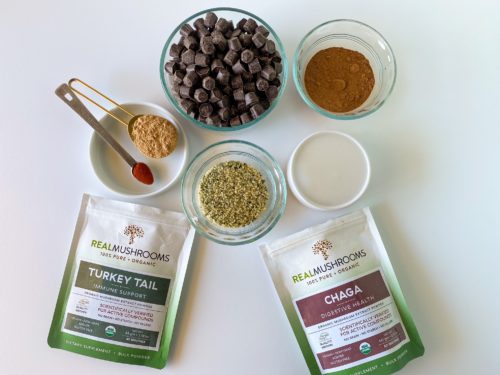 ½ cup full-fat coconut milk (BPA free)
1 tablespoon plus 1 teaspoon maca powder (gelatinized)
1/2 heaped TB Real Mushroom's Chaga
1/2 heaped TB Real Mushrooms Turkey Tail
¼ teaspoon cayenne pepper
12 ounces bittersweet or semisweet chocolate
1 tablespoon maple syrup (optional)
pinch of sea salt
¼ cup raw cacao powder or dark cocoa powder
¼ cup hemp hearts
Directions:
Heat the coconut milk until it's simmering.
Remove from heat, and whisk in the maca, Chaga, Turkey Tail, and cayenne.
Stir in the chocolate and maple syrup, and add a pinch of salt.
Once the chocolate has melted, refrigerate for 1 hour, until the ganache is slightly firm.
Place the dark cocoa powder, hemp hearts, and a pinch of salt in a shallow dish with a tight-fitting lid. Stir to combine.
Scoop one tablespoon of the ganache into truffle balls (I used a small cookie scoop), dropping each one into the cocoa mixture. Working a few at a time, shake gently to coat the truffles.
Repeat with the remaining ganache. Refrigerate for up to four days.
Enjoy your Valentine's Day Chocolate Mushroom Truffles in Good Health
When chocolate meets gut and immune health, it's always time to celebrate, making these the perfect treat to honor you and all your loved ones. And not just on Valentine's Day, but every day!
We can't think of a tastier way to celebrate love, health, and community.
So head to the kitchen, make use of those health-boosting mushroom powders, and here's to a day and season filled with all things love, health, friends, and family.
Easily give your other recipes a power boost:
There are so many different culinary combinations you can create with mushrooms! For this recipe, you don't have to use Chaga or Turkey Tail - you can easily substitute with your own favorite mushroom extracts. Each has their own unique profiles and benefits. To learn more, you can read our article which highlights the top 7 benefits of the main medicinal mushrooms. These different mushroom extracts can easily be added to whatever you're cooking up in the kitchen.
Join the mushroom recipe challenge! Get creative in the kitchen with different ways to get more mushrooms in your diet. Invent your own recipe and share via insta @realmushrooms for a chance to be featured.
SHOP MUSHROOMS!