This flatbread recipe combines wholesome ingredients with the health benefits of Cordyceps mushrooms, creating a decadent yet nutritious meal that is sure to be a crowd-pleaser.
Whether you're looking for a savory appetizer, a light meal, or a dish to impress your dinner guests, this Cordyceps mushroom and caramelized onion flatbread recipe is sure to tick all the right boxes. Bonus: it also ticks the multi-benefit health box too!
The combination of earthy mushrooms, sweet onions, and tangy goat cheese on crispy flatbread is a flavor explosion. And, when you throw in Cordyceps' ability to enhance energy, improve respiration, and support the immune system, you have one powerful and tasty meal.
What are the health benefits of Cordyceps mushrooms?
Cordyceps mushrooms have been used for centuries in Traditional Chinese Medicine to address a variety of ailments, to strengthen the lungs and kidneys, and to improve a person's vitality.
Today, Cordyceps mushrooms are gaining popularity in the Western world for their many health benefits (and their fictitious role in a video game/tv series).
Cordyceps mushrooms are rich in antioxidants, vitamins, and minerals, but they have also been shown to:
balance your inflammation response;
support your testosterone levels & libido;
maintain blood sugar balance & heart health; and,
Learn more about the abundant benefits of Cordyceps mushrooms here.
From Traditional Chinese Medicine all the way to your kitchen, you can now enjoy all those benefits when you whip up this delicious flatbread!
What do Cordyceps mushrooms taste like?
Cordyceps' taste can vary depending on how it is prepared and what it is prepared with. Some have described it as having an earthy and nutty flavor, with a hint of umami. It pairs excellently with the goat cheese, caramelized onions, and balsamic vinegar found in this recipe.
In general, fresh Cordyceps have a more mild, earthy flavor, similar to other mushrooms, and dried Cordyceps have a slightly stronger flavor.
When consumed in a powder extract form, the taste is very mild and easily masked by other ingredients, making it a great addition to soups, stews, and pre-workout smoothies!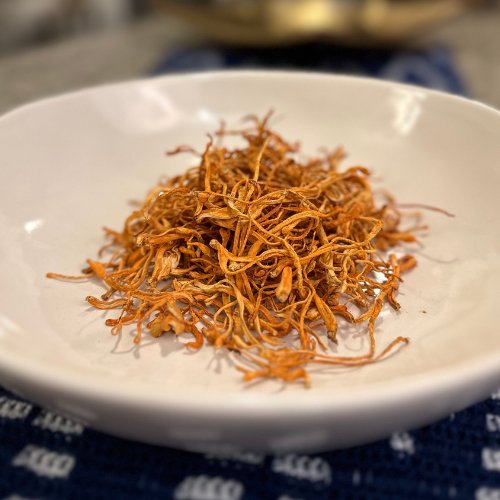 Where to buy dried Cordyceps mushrooms for cooking
For an in-depth shopping guide, take a look here. The gist is:
How to cook dried Cordyceps Mushrooms
Dried Cordyceps mushrooms are incredibly easy to cook. We suggest poaching them for this recipe. For a detailed run down, you can take a look at this article.
The basics of poaching dried Cordyceps:
Soak the Cordyceps for 5 minutes and then drain.
Bring a pot of water to a low boil and simmer for one minute then strain.
Throw them in an ice bath to stop the cooking.
And that's it! As we said, easy!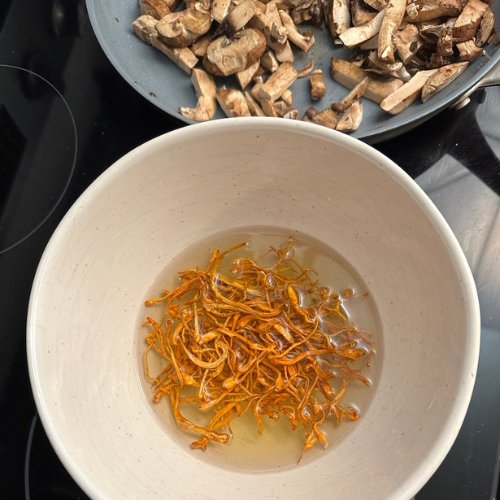 How to Make this Cordyceps Mushroom & Caramelized Onion Flatbread
Keeping with the theme of ease, this whole recipe requires just a few ingredients and can be done in a short amount of time. The most time-consuming part is caramelizing the onions - everything else can be done in under 20 minutes! However, we guarantee you the effort of doing a slow, proper caramelization of your onions will bring you outstanding flavor. It will make this dish restaurant-worthy.
Here are the basics:
Make the Cordyceps as described above.
Caramelize the onions.
Fry the shiitake mushrooms.
Coat the flatbread in olive oil and top with Cordyceps, onion, shiitake, and goat cheese.
Bake it in the oven for up to ten minutes
Remove and serve with balsamic vinegar.
The longest part of this recipe is cooking the onions because you want them to really caramelize. The wait is worth it though because your guests and your taste buds will be crediting you with culinary praise, thinking you slaved for hours over the recipe.
Ingredients
1 cup dried Cordyceps mushrooms
1 cup slices of fresh shiitake or button mushrooms
1 white or yellow onion, sliced thin
2 1/2 tbsp olive oil
1 tsp sugar
½ cup goat cheese, crumbled
1 tbsp balsamic vinegar
Pre-baked flatbread or puff pastry
Salt & pepper to taste
Directions
Poach the Cordyceps according to the directions here.
Caramelize the onions in olive oil with a little salt and sugar (you can use the excellent instructions in this blog post). They are ready when they are a deep golden brown.
Fry the shiitake mushrooms in olive oil, salt, and pepper to taste.
Coat the flatbread lightly in olive oil.
Top the flatbread with caramelized onions, shiitake mushrooms, Cordyceps mushrooms, and goat cheese.
Put the flatbread in the oven at 350 F degrees for up to ten minutes until the cheese is warm.
Remove from the oven and drizzle with balsamic vinegar before serving.
Enjoy!!
Important notes about the recipe:
Don't overcook the mushrooms.
DO cook the heck out of the onions on low heat for at least 40 minutes (that's the secret to true, sweet caramelized onions).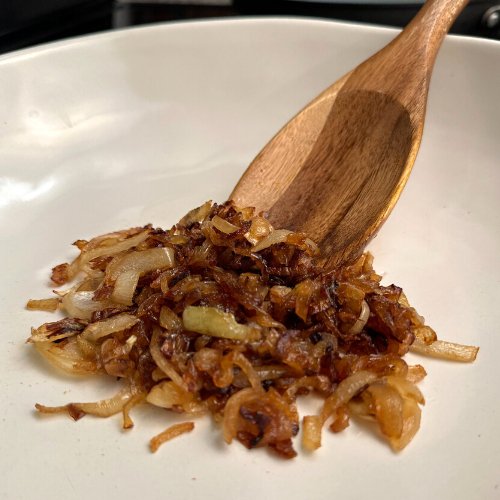 If you're looking for an easy and satisfying way to incorporate the benefits of Cordyceps mushrooms into your diet, this flatbread is for you! Whether you're looking for a boost in energy, endurance, or immunity, or simply trying to maintain a healthy lifestyle, this Cordyceps flatbread is a wonderful choice.
So invite some friends over, throw a dinner party, or just treat yourself to a true culinary delight and give this recipe a try!
Get the health benefits of Cordyceps without any fuss: discover Real Mushrooms' Cordyceps supplement: