If you're looking for a new way to use mushrooms in your cooking, look no further than Cordyceps. This medicinal mushroom is gaining popularity in the culinary world for its earthy flavor and wide range of health benefits. Eating Cordyceps mushrooms, a.k.a. caterpillar mushrooms, is one way to bring diversity and color into your everyday meals. The unique nutritional profile of this mushroom also makes it a winner for the health-conscious foodie.
Cooking Cordyceps is easy, and there are endless possibilities for recipes. We'll show you the simplest way to prepare Cordyceps mushrooms so you can enjoy their delicious flavor and health benefits any time you want.
Where to Buy Cordyceps Mushrooms
When shopping for cordyceps mushrooms, you might notice there are two main varieties: Cordyceps sinensis and Cordyceps militaris.
The first, Cordyceps sinensis a.k.a Himalayan gold, is a functional mushroom that grows in very few regions of the world. Additionally, Cordyceps sinensis only grows on the caterpillar of one very specific moth. Given such precise growing circumstances, it has become so rare and sought after that the price tag is out of reach for most people (around $20,000 per kilogram!). Its alternative name clearly rings true as Cordyceps sinensis is the most expensive mushroom in the world - gold indeed!
The good news is Cordyceps militaris is a wonderful and very affordable alternative. It can be commercially cultivated on brown rice or wood substrate. This makes the Cordyceps mushroom more readily available for the average consumer, and it provides the same kind of healthy compounds as the sinensis variety. In fact, Cordyceps militaris contains even higher concentrations of the key health-supporting compound, cordycepin (which will be discussed later in the article). Good news for our bodies and our wallets!
A few helpful hints for your shopping excursions:
Dried Cordyceps militaris are generally easier than finding fresh ones.
You can buy them online or Asian food markets will usually have them, too.
They will be easy to find in stores around a city's Chinatown because Chinese Traditional Medicine practitioners use them.
And if you see mushrooms labeled Cordyceps sinensis with a lower price tag, you know something fishy is going on (i.e. it's probably fake)!
Why It's Worth Eating Cordyceps Mushrooms
Now that you know what you're looking for and where to buy it, why would you even want to include Cordyceps in your diet in the first place? What health benefits do Cordyceps mushrooms have? And the all-important question, do they taste good?
If you like an earthy and nutty flavor, with a hint of umami, then the answer is yes, Cordyceps mushrooms do taste good! And if you've been looking for a new culinary ingredient with an abundance of health benefits, then eating Cordyceps is for you!
The Neutraceutical Value of Cordyceps
Pleasant taste and positive health support are two huge reasons to give this mushroom a try. But, if you're not quite convinced yet, let's dive further into the benefits of Cordyceps militaris from its nutraceutical standpoint.
First things first, what does "nutraceutical" mean? The word was first introduced by DeFelice who combined the two words "nutrition" and "pharmaceutical" and defined it as "food or a part of food which not only impart health benefits but also contributes in preventing or treating various diseases." To sum it up, nutraceuticals are components found in food that play an important role in maintaining your normal physiological function and well-being (1, 2). They're the good stuff you want, and cordyceps has plenty of them!
In fact, Cordyceps is full of nucleosides, polysaccharides, sterols, proteins, amino acids, polypeptides, and vitamins. And if you're scratching your head trying to figure out what that means for your body and health, this table breaks it down for you.
As you can see from the table, there are various bioactive components found in Cordyceps, and they all have great therapeutic effects. Out of all of them, though, cordycepin is considered to be the most vital.
Cordyceps have a wide range of therapeutic potential. Studies have shown that Cordyceps mushrooms can support your health in the following ways (3, 4, 7):
balance your inflammation response;
support your Testosterone levels & libido;
maintain blood sugar balance & heart health; and,
Talk about a small-sized mushroom with big talents!
The Nutritional Benefits of Eating Cordyceps
On the nutritional side, Cordyceps militaris contains vitamins B1, B2, B12, E, and K. And that's not all - it is abundant with proteins, fats, essential amino acids, volatile oils, carotenoids, phenolic compounds, flavonoids, and minerals (Fe, Ca, Mg, Ni, Sr, Na, Ti, Pi, Se, Mn, Zn, Al, Si, K, Cr, Ga, V and Zr). Finally, Cordyceps militaris has different types of healthy carbohydrates like monosaccharides, oligosaccharides, sterols, nucleosides, and polysaccharides like beta-glucans, (3, 9, 5, 8, 6).
Vitamins, check. Minerals, check. A nutritional powerhouse, check. Something you probably want to include in your diet, check check!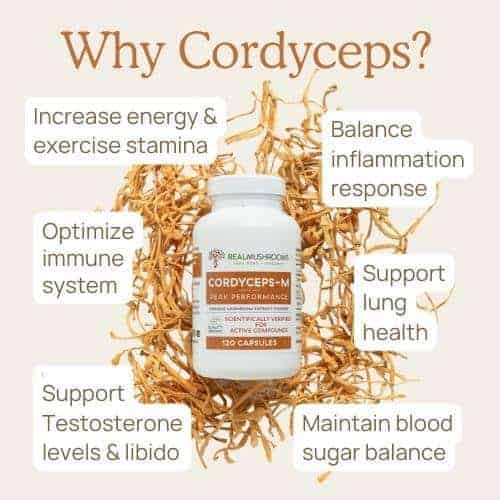 The Basics of Cooking Cordyceps
Now that you know how beneficial this mushroom is for you, you'll want to discover ways to use it. The great news is, Cordyceps is easily prepared and can be added to many recipes to boost both the taste and nutritional profile. To show you just how easy, here's a basic rundown of how to cook dried Cordyceps:
Ingredients:
1 ounce (30g) of dried Cordyceps mushrooms
Water for soaking and for poaching
Favorite seasonings: salt, pepper, sesame oil, etc
Instructions:
Place your dried Cordyceps in a bowl filled with enough water to cover them. Soak for 5 minutes.
Drain the Cordyceps and place them in a saucepan filled halfway with water. Bring the water to a very low boil and simmer for 1 minute while stirring. Be mindful not to overcook unless you want a soggy mess - they don't take long to soften!
After simmering, transfer the softened Cordyceps to a bowl filled with ice water. You can use a slotted spoon for this. Submerge the Cordyceps in the ice water for 5 minutes. This stops the cooking to keep the texture and color.
After the ice bath, drain and season to your liking.
Serve warm or cold! Add to pasta, stir frys, salads, pizza, soup, or any of your favorite dishes. You really can't go wrong!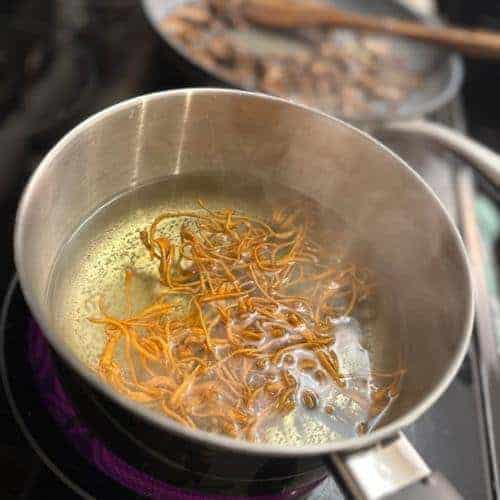 5 Creative Uses of Cordyceps in Recipes
Once you've got the basics of cooking Cordyceps down, you can move on to the fun part - finding your favorite food combinations with it. The delicious taste and versatility of Cordyceps mushrooms make them an easy addition to numerous meals.
If you need some help getting the creative juices going, consider adding cordyceps to these dishes:
Garlic and olive oil pasta with shallots and chives.
Chicken soup or egg-drop soup.
Stir fry of tofu, cabbage, peppers, chili, and sesame oil.
Caramelized onion and goat cheese flatbread.
Make your favorite version of the dishes and throw some Cordyceps in it. In all cases, try to cook the Cordyceps just until they soften. Otherwise, overcooking these mushrooms will turn them rubbery and will make eating Cordyceps a less pleasant experience.
Getting the Benefits Without Eating Cordyceps
Although cooking Cordyceps is incredibly simple, there's an even easier route; one where you can get all those health benefits on a daily basis - without turning on the stove at all. Enter Cordyceps supplements.
Tips For Buying Quality Cordyceps Supplements:
There are 3 types of cordyceps supplements that are commonly found on the market: Cordyceps CS-4, Cordyceps myceliated grain, and extract of Cordyceps mushrooms (militaris). All are very different, and the last one is what you want if you're looking to get the most benefit for your dollar.
It's important to find Cordyceps supplements that have actual mushrooms in them, not mycelium (the root structure of mushrooms). This is because you want to make sure you're receiving the higher levels of all those incredible health-supporting compounds that are found in the actual mushroom. Interesting fact, most North American-grown Cordyceps products are myceliated grain, and that grain ends up being a large portion of the final product. You don't want to be paying for grain!
Besides not containing any mycelium, you also want to make sure that the supplement has no added starch or grain of any kind. You want to make sure the powder contains high amounts of those bioactive compounds, and you're not just consuming fillers.
Make sure the supplement facts panel specifies beta-glucan content (one of the primary compounds that make Cordyceps healthful) and look for certified organic.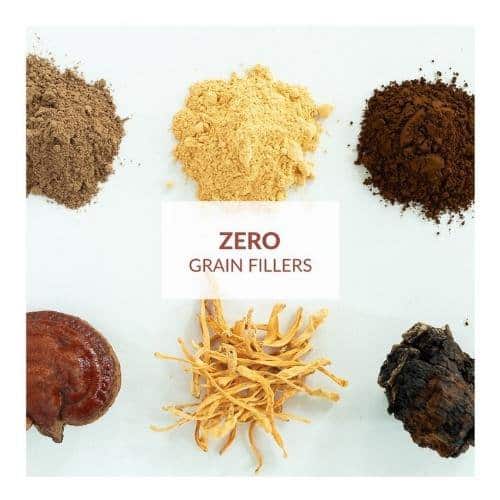 You can find Cordyceps supplements in capsule form or as a powder. You can add the powder to your favorite tea, coffee, or hot chocolate. Or sprinkle it on top of salads, eggs, soups, stir frys, your favorite dishes, etc. There's truly no limit to what you can do with Cordyceps extracts.
If you're looking for other creative ways to easily add Cordyceps extract powder to your snacks and drinks, check out this article.
Whether you decide to get creative in the kitchen and whip up some culinary masterpiece with Cordyceps mushrooms, toss some on your favorite dish you're already cooking, or you go the supplement route - one thing is sure: you can't go wrong with eating Cordyceps!
References:
1. Ahmad F., Ashraf S.A., Ahmad F.A., Ansari J.A., Siddiquee R.A. Nutraceutical Market and its Regulation. Am. J. Food Technol. 2011;6:342–347. doi: 10.3923/ajft.2011.342.347.
2. Ashraf S.A., Adnan M., Patel M., Siddiqui A.J., Sachidanandan M., Snoussi M., Hadi S. Fish-based Bioactives as Potent Nutraceuticals: Exploring the Therapeutic Perspective of Sustainable Food from the Sea. Mar. Drugs. 2020;18:265. doi: 10.3390/md18050265.
3. Elkhateeb W.A., Daba G.M., Thomas P.W., Wen T.C. Medicinal mushrooms as a new source of natural therapeutic bioactive compounds. Egypt. Pharm. J. 2019;18:88–101.
4. Bawadekji A., Al Ali K., Al Ali M. A Review of the Bioactive Compound and Medicinal Value of Cordyceps militaris. J. North Basic Appl. Sci. (JNBAS) 2016;1:69–76. doi: 10.12816/0021378.
5. Hur H. Chemical Ingredients of Cordyceps militaris. Mycobiology. 2008;36:233–235. doi: 10.4489/MYCO.2008.36.4.233.
6. Li S., Li P., Ji H. RP-HPLC determination of ergosterol in natural and cultured Cordyceps. Chin. J. Mod. Appl. Pharm. 2011;18:297–299.
7. Wang D., Zhang Y., Lu J., Wang Y., Wang J., Meng Q., Lee R.J., Teng L. Cordycepin, a Natural Antineoplastic Agent, Induces Apoptosis of Breast Cancer Cells via Caspase-dependent Pathways. Nat. Prod. Commun. 2016;11:63–68. doi: 10.1177/1934578X1601100119.
8. Yang F.Q., Feng K., Zhao J., Li S.P. Analysis of sterols and fatty acids in natural and cultured Cordyceps by one-step derivatization followed with gas chromatography-mass spectrometry. J. Pharm. Biomed. Anal. 2009;49:1172–1178. doi: 10.1016/j.jpba.2009.02.025. [PubMed] [CrossRef] [Google Scholar]
9. Zhu J.S., Halpern G.M., Jones K. The scientific rediscovery of a precious ancient Chinese herbal regimen: Cordyceps sinensis: Part II. J. Altern. Complement. Med. 1998;4:429–457. doi: 10.1089/acm.1998.4.429. [PubMed] [CrossRef] [Google Scholar]