A recipe for an easy paleo mole sauce that tastes like it's been simmering all day, done in 20 minutes, and boosted with health benefits from Chaga Mushroom extract.
A good sauce can be a game-changer to flavor up food, and a good dose of Chaga Mushroom extract can be a game-changer to boost up your health. So we thought, why not pair the two together!
Thus we bring you not just any mole sauce, but an easy-to-make, paleo, Chaga mole sauce that's not only delicious but anti-inflammatory and gut-nourishing too.
So what's mole sauce anyway?
If you've enjoyed a lot of traditional Mexican cuisine and tasted a rich sauce that smells a bit like chocolate and tastes a bit spicy, smoky, nutty, and earthy-sweet - that's the mole sauce! There are different types of mole sauce (not all contain chocolate), each with their own individual flavor profiles and ingredients, but they usually all contain a fruit, chili pepper, nuts or seeds, and particular spices.
So we combined all the traditional elements and added a dose of Real Mushrooms Chaga to boost the nutrition even more.
Why Add the Chaga Extract?
One of the benefits of Real Mushrooms 100% organic mushroom extract powders is the ease and versatility of consuming them. They can easily be added to baked treats, cooked dishes, beverages, and yes, sauces!
The other benefit of Real Mushrooms extracts is that you're also getting a high dose of nutrition and health benefits, with no added starch or fillers (that are often found in mushroom products).
For example, in this mole sauce, you're getting a dose of digestive, skin, immune, brain, and liver support from the 100% Chaga extract. Due to its high concentration of antioxidants, Chaga helps make this sauce a tasty and medicinal go-to that you can enjoy over your veggies, protein, and so much more.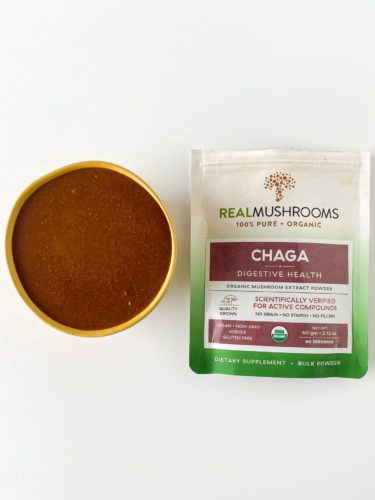 Bonus: Chaga pairs very well with chocolate. And it's not only the taste that pairs well, the chocolate actually helps your body absorb the Chaga more efficiently due to the fact that cacao is a vasodilator ( it widens your blood vessels). Win, win!
How do you use mole sauce?
The options are endless for how you can use the sauce. The fun part is being creative in your kitchen, but we'll include some ideas to get you started.
Put it over:
enchiladas
tacos
burritos
nachos
beans
rice
veggies
your favorite protein (eggs, chicken, beef, fish, etc)
Customize your sauce!
Feel free to experiment and come up with the perfect sauce that's to your liking. For example, if very spicy foods aren't your thing, feel free to omit the jalapeño altogether. And if you want a bit of a sweet sauce, feel free to add some honey or your favorite sweetener to the mix.
How to save your mole sauce, can it be frozen?
You can refrigerate leftovers in an airtight container for 4-5 days or freeze for up to 3 months.
Tools You'll Need
immersion blender
large saucepan
measuring cups/spoons
Servings: about 2 ½ cups
Prep Time: 5 minutes
Cook Time: 20 minutes
Total Time: 25 minutes
Ingredients for Paleo Chaga Mole
1-2 TB avocado oil
3-5 garlic cloves, minced (about 3 TB)
1 small yellow onion chopped
optional: one sliced and cored jalapeño (could also use 1/2 to make it less spicy or omit altogether)
1/4 tsp chili powder
1/2 tsp cinnamon
1 tsp cumin
1 tsp dried oregano
pinch of ground cloves
pinch of coriander
2 TB cassava flour (to thicken)
2 ¼ cups vegetable broth or bone broth
2 TB of your favorite nut or seed butter (we used almond butter)
1 TB tomato paste
1 TB cacao powder
1/2 TB Real Mushrooms Chaga Powder
1 tsp sea salt
optional: if you like it a bit sweet, drizzle in some honey or your favorite sweetener
Directions for Paleo Chaga Mole
Heat the avocado oil in a medium saucepan over medium-high heat. Add your onion, garlic, and jalapeño (if using) and sauté until they're tender. Should take about 5-7 minutes.
Then add your chili powder, cinnamon, cumin, oregano, cloves, coriander, and cassava flour and mix until everything is combined.
Add your broth.
Add your nut butter, tomato paste, cacao powder, Chaga, and salt. Stir until combined on medium-high heat. Bring the sauce to a simmer and stir until it's thickens a bit.
Blend the mixture until it's smooth. You can use an immersion blender or put the mixture into a blender. Be very cautious when blending, making sure the sauce has cooled to a lukewarm temperature.
Carefully taste. Add your sweetener if you'd like it a bit sweet.
Serve and enjoy!
Enjoy this Chaga Mole Sauce recipe in good health
Traditionally, mole sauce is quite the labor-intensive recipe to make, but we threw in some shortcuts to make it a bit more manageable for those that don't have hours to spend in the kitchen.
We also threw in some Chaga Mushroom extract to help bring in some anti-inflammatory, brain, immune, gut, and liver support.
As to how you enjoy it, that's up to you! We love to encourage our readers to get creative in the kitchen. It's a fun way to connect with your food, to connect with your senses, and to connect with yourself.
So have fun with it and we'd love to see your creativity!
Easily give your other recipes a power boost
If you don't want to use Chaga, you can easily try out another functional mushroom extract. There are wonderful options, each with their own unique profiles and benefits. To learn more, you can read our article which highlights the top 7 benefits of the main medicinal mushrooms. These different mushroom extracts can easily be added to whatever you're cooking up in the kitchen.
Join the mushroom recipe challenge! Get creative in the kitchen with different ways to get more mushrooms in your diet. Invent your own recipe and share via insta @realmushrooms. We will feature the winner's recipe on the blog & give you a coupon for any Real Mushroom product of your choice!
SHOP MUSHROOMS!