We've compiled 9 of our crowd-favorite vegetarian winter recipes for simple but comforting meals to help you stay satisfied and healthy through the season. These meals, drinks, and snacks are packed with beneficial superfood ingredients, including our organic mushroom extracts to help support cognition, energy, and immune system function.
Each year during the change of seasons our immune systems can take a dip, so too can our mood and energy levels. These medicinal mushroom enhanced recipes can help keep you on top of your game.
Vegetarian Winter Drink Recipes
Mushroom Golden Milk 2 Ways
The golden milk trend is here to stay and we couldn't be happier. From the anti-inflammatory properties of turmeric to it's earthy yet sweet flavor, this rhizome continues to be a fan favorite. We've created two versions: one for the morning and the other for evenings.
Which do you prefer?
Pumpkin Spice Latte and Smoothie
We have two amazing spiced pumpkin pie latte recipes: a traditional hot latte and a cold smoothie adaptation!
Of course, our Pumpkin Spice Latte, withholds the artificial ingredients, flavors, preservatives, starches, and fillers and adds an extra dose of immune-boosting Turkey Tail mushroom extract.
This second recipe is prepared as a cold smoothie but it's delicious warmed up for an elixir style beverage! If you don't have the pre-made cold brew, you can make your own by adding any traditional "pumpkin spice" blend to your coffee.
Anti-inflammatory Chaga Chai Latte
In certain traditions, a chai spice recipe is passed down between generations within a family. Families will have their own particular take on the blend of spices, and it's often kept as a "family secret." We created a special Chaga Chai Latte and we'd like to pass it on from our family to yours!
Vegetarian Winter Snacks & Treats Recipes:
Pumpkin Pie Spice Protein Bars
Once you open your pumpkin puree can for the aforementioned Pumpkin Spice Latte, you can use the extra puree to make these simple Pumpkin Pie Spice Protein Bars. These bars are made with just a touch of sweetener to elevate the spices, so you don't have to worry about a sugar crash! The mushroom of choice for this recipe is Lion's Mane, though we've enjoyed others such as Reishi and Chaga.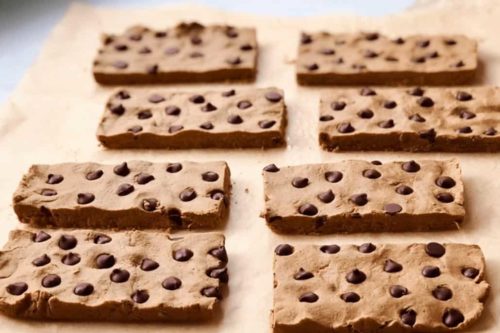 Keto Baked Donut Holes
These cinnamon "sugar" warm bites of love are a perfect winter weekend treat. As always, we've incorporated a Real Mushrooms extract powder into the recipe: Lion's Mane. Known to support having healthy neurons and brain cell communication, Lion's Mane is commonly referred to as the "focus and brain" mushroom.3 Bake a double batch and keep extras in the fridge for an easy weekday morning snack! Get the full recipe here or watch the video below:
Peppermint Chocolate Sweet Potato Cake
It's a classic winter combo, peppermint chocolate, with a fun twist.  The bold flavors of chocolate, peppermint, and our 5 Defenders Powder mix wonderfully with the sweet potato. Perfect as a special holiday dessert or even as a random act of self-love! This Peppermint Chocolate Sweet Potato cake is a guilt-free delight.

Vegetarian Winter Meal Recipes:
Keto Stuffed Mushrooms
As it gets darker earlier in the day, it's nice to have something warm but simple for dinner. This oven-baked mushroom dinner is ready in under 45 min - including cooking time! It's as simple as:
Prep/cut your ingredients.
Make the stuffing mix.
Stuff the mushrooms.
Bake the mushrooms in the oven.
Enjoy!
Paleo Butternut Squash Soup with Mushroom Extract
Some things are classics for a reason and we think a good butternut squash soup is no exception. Fall harvests bring bounties of squash varieties that are great for soup season. Butternut squash is one of those soup staples you'll want in your recipe lexicon! Now is also the time to double-down on protecting our immune systems from colds and flus. This soup is a warm and comforting way to get the health benefits of mushrooms by not only adding medicinal mushroom extracts but by using a base of mushroom broth. After you watch the video below, you can find the full recipe details here.
Paleo Mole with Chaga
The complex, full flavor of this Chaga enhanced mole recipe is worth every ingredient on the list. A good sauce can be a flavor game-changer and this easy, 20-minute mole delivers just that! It pairs Real Mushrooms Chaga Powder with a touch of cacao for depth and warmth from the chili and cumin powder. It's great when used on all types of proteins, vegetables, and of course, mushrooms!
By the way, if you're wondering if heat affects the efficacy of your mushrooms in these recipes (it doesn't) check out our in-depth guide to dual-extraction. As always, we are not only fully transparent in our supply chain and ensure the highest possible quality, but we are also very passionate about sharing and educating every chance we get. We aim to supply the very best in an easy-to-use way because we believe in your worth and value, your time and money.
We hope these functional mushroom-infused recipes can give you a boost this fall and winter. Our organic, fruiting body mushroom extracts can be used not only in the recipes above but in a variety of ways! Follow us on Instagram @realmushrooms to see how other Real Mushrooms fans are using their extracts!
References
Shen, Y., Jia, L. N., Honma, N., Hosono, T., Ariga, T., & Seki, T. (2012). Beneficial effects of cinnamon on the metabolic syndrome, inflammation, and pain, and mechanisms underlying these effects - a review. Journal of traditional and complementary medicine, 2(1), 27–32. https://doi.org/10.1016/s2225-4110(16)30067-0
Anh, N. H., Kim, S. J., Long, N. P., Min, J. E., Yoon, Y. C., Lee, E. G., Kim, M., Kim, T. J., Yang, Y. Y., Son, E. Y., Yoon, S. J., Diem, N. C., Kim, H. M., & Kwon, S. W. (2020). Ginger on Human Health: A Comprehensive Systematic Review of 109 Randomized Controlled Trials. Nutrients, 12(1), 157. https://doi.org/10.3390/nu12010157
https://pubmed.ncbi.nlm.nih.gov/12675022/